UPFRONT Including...Corker litigation, selection of next AG, Ward voter-fraud indictment and irregularities elsewhere, DA Gibson in the soup, opinions on next Supreme, Bryson raises Cooley, lobbyists registering in droves, 1Point in extremis, Maddox...READERS: We'd like your ideas on this first issue of Nashville Attorney. Please write Milt Capps with feedback. more
SPOTLIGHT: Bass Berry tackles pivotal NYSE role $20 million reserve supports Nashville firm's regulatory audits, following SEC orders that included censure of the exchange. more
FOCUS: Chancellor Lyle renders ruling under seal Fisk sell important O'Keeffe art to raise funds for the university, over the protests of a Santa Fe museum. more
COURTS Merritt raises 'race' issue in 6th Circuit sentencing review, Ganier evidence ruling awaited, disruption in Anderson County, new judge in Smyrna, Gaylord-Opryland in wrongdeath action, Judge Dalton a beacon, juvenile crime... more
PEOPLE Neal supports Fletcher, Warfield supports Charlie, Donelson steps down from Med, Wilson sounds-off on Geier, U.S. Atty., Titans GC, Edge profiled, Birch reflects, Warfield honored, Stewart on Metro referendum, Nason suspended... more
LAW FIRMS Waller GC seedbed, Baker's DC office, Bass in Intergraph deal, Smith Cashion offices, Drescher likes it small, Adams and Reese building on the Row...
more
REGIONAL NEWS Franklin mulls Law Dept., prosecutors tell of death-penalty experience, Judge blames wife's sexual orientation, courthouse security gets scrutiny... more
LAW EDUCATION Nashville School of Law not for sale, UT's interim Law dean, Lipscomb's conflict institute, Cal Turner program at Vanderbilt... more
ATTORNEY RESOURCES Update on those 'Best' and 'Super' lawyer rankings in Tennessee; new models and metrics for law firm profitability and leveraging partners vs productivity; lawyer placement firms are hot... more
THE CALENDAR Events near and far, including one seminar that could prepare you to represent Nashville's athletes and entertainment artists... more
UPFRONT
CORKER — Earrrrly Monday, Oct. 9, Nashville attorney Joe Prochaska of Williams and Prochaska, PC will be on the road for an 8 a.m. (Eastern time) court session in Chattanooga. Hamilton County Chancellor (Part II) Howard N. Peoples will hear a motion submitted by U.S. Senate candidate Bob Corker's lawyers at Miller & Martin (Roger Dickson), in which they ask in Chancery Court permission to withdraw from representing the former Chattanooga mayor in lawsuit involving an environmental easement, citing concerns about possible conflicts of interest relative to other clients, Times Free Press, Oct. 3. Prochaska represents the plaintiff environmental groups. Corker has been scheduled for deposition, Oct. 20, in the lawsuit.

ATTORNEY GENERAL — Oct. 12 is still the target to begin public hearings on 14 applicants for Tennessee Attorney General to begin. Summers wraps-up eight years as Attorney General, AP via Tennessean, Sept. 30. Former AG Summers committed to Waller Lansden in September, NashvillePost.com, Sept. 19.

State charge of voter fraud against GOP activist Shirley Johnson Ward of Covington is going before grand jury, Comm. Appeal, Oct. 5. Ed Bryant is among her defense team. Earlier NashvillePost.com story, Aug. 25. Metro voter-fraud tactics linked to person with GOP ties; Davidson County elections administrator Barrett has informed Elections Commission and District Attorney of findings, Tennessean, Oct. 6. Lawyer Jeffers, running for public defender, questions votes in 8th Judicial District, Knox. News Sentinel, Oct. 6.

GIBSON CONTROVERSY — Tennessee Supreme Court Board of Professional Responsibility Disciplinary Counsel Sandy Garrett told Nashville Attorney Oct. 4 that former Cookeville DA William E. Gibson has "has not filed any answer or response requesting a hearing," following the TSC's Sept. 25 temporary suspension of his license to practice law. TBI is investigating criminal aspects of the situation. The suspension followed reports of Gibson having communicated inappropriately with convicted killer Christopher B. Adams. Subsequently, the AP reported that Gary Joseph Latham, convicted of aggravated child abuse in the death of a young girl has asked his conviction be overturned, citing Gibson letters as evidence, Knox. News Sentinel, Sept. 28.

TSC SELECTION — Bredesen would prefer selection await appointment of fifth Justice, AP via Knox. News Sentinel, Oct. 4. A sampler of opinion on the near imbroglio: Jackson Sun, Sept. 24. Commercial Appeal, Sept. 24 and Sept. 11. Tennessean editorial on Supreme selection, Tennessean, Sept. 21 and Sept. 10. Knox. News Sentinel, Sept. 21. Times Free Press, Sept. 20. Kerr column, Tennessean, Sept. 20. Daughtrey column, Tennessean, Sept. 10. Humphrey columns, Knox. News Sentinel, Sept. 7 and Aug. 27. Related: Bonnyman recuses herself from Supreme Court nomination case, NashvillePost.com, Sept. 20. Judicial Section Commission split on whether to hire a lawyer to counter Gov. Bredesen, Tennessean, Sept. 20. For FULL COVERAGE, visit NashvillePost.com, search term "Supreme".

TSC CANDIDATES — Supreme Court nominee Judge Koch eschews political label for himself, believes Bredesen selection will be fairly handled, NashvillePost.com, Sept. 22. Ken Whitehouse interview with Memphis Circuit Committee Judge D'Army Bailey, NashvillePost.com, Sept. 20.

CAMPAIGN — GOP gubernatorial candidate Jim Bryson pressed issue of Cooley ticket handling during first debate with Bredesen on on Oct. 3, City Paper, Oct. 4. With Attorney General support, the Tenn. Bureau of Investigations denied files pertaining to the 2004 speeding ticket given Deputy Gov. Dave Cooley file to attorney Arthur F. Knight III of Becker, Fleishman, Brown & Knight, P.C., represe who is representing former trooper Bryan Farmer. Farmer alleges he suffered discrimination due to partisan considerations, Tennessean, Sept. 27.

TENNESSEE LOBBYISTS with clients under contract have til Oct. 9 to register with the new Tennessee Ethics Commission. TEC Executive Director Bruce Androphy (at left) told Nashville Attorney Tuesday, "we're really quite pleased" with the pace of registration via the new website.

As of this morning, more than 400 lobbyists and employers of lobbyists had registered through the online portal, out of hundreds who registered for the year-ending 2006. Authorizing legislation here. Related: Androphy adds Turner as staff counsel, NashvillePost.com, Sept. 13. Release on Androphy hire, Aug. 28. Tennessean editorial, Sept. 5. Worried about "ethics gap" resulting from filing schedule, column, Knox. News Sentinel, Sept. 16. Interview with Androphy, Tennessean, Sept. 10.

1POINT IN EXTREMIS — Plaintiff wants Stokes jailed, NashvillePost.com, Oct. 4. Tennessean, Oct. 5. Under a cloud, CEO Stokes offers his side of the story, NashvillePost.com, Oct. 4. Stites' Dianna Baker Shew argues for Beck/Arnley Worldparts Corp. that 1Point chief can't hide behind 5th Amendment, NashvillePost.com, Sept. 27. Founder Stokes trying to help firms find other third-party benefits administrators, Sept. 26. Pink slips at 1Point, Sept. 22. Metro lawyers poised to sue, Sept. 21. Trauger recuses herself from 1Point case, Sept. 20. Assets missing at 1Point, Sept. 15. Related coverage: Tennessean, Sept. 22 here and here. For LATEST NEWS, visit NashvillePost.com, search term "1Point".

MADDOX FOUNDATION — Maddox workers said Costa boasted of affair, Tennessean, Sept. 22. Former Gov. Musgrove denies affairs, NashvillePost.com, Sept. 22. Allegations against Costa in Maddox Foundation lawsuit, AP via Comm. Appeal, Sept. 22. Alleged toe-licking, NashvillePost.com, Sept. 21. Costa's own statements suggest sexual behavior, as Maddox saga continues, NashvillePost.com, Sept. 29. Justice Court Judge and Southaven Muni. Court Judge Karen Saunders joins board of Maddox Foundation, following departure of Tommye Maddox Working, Comm. Appeal, Sept. 4. For LATEST NEWS, visit NashvillePost.com, search term "Maddox".
SPOTLIGHT: Bass Berry tackles pivotal NYSE role
Moving regularly in and about the New York Stock Exchange, a platoon of lawyers from Bass Berry & Sims PLC is now deep into the firm's assignment to conduct a series of SEC-ordered regulatory audits of the exchange's floor-trading policies and procedures.

The NYSE retained Bass Berry as independent regulatory auditor in late 2005, after the Securities and Exchange Commission imposed censure and cease and desist orders against the stock exchange, while implementing administrative proceedings that promise to keep NYSE trading operations under scrutiny for at least eight years.

The NYSE agreement with the SEC obliges the exchange to create a reserve of at least $20 million in anticipation of expenses associated with at least four two-year cycles of regulatory audits, and other steps the SEC might deem necessary.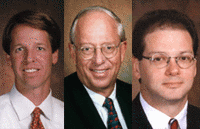 Davidson, Cheek, Overby

These and other orders and sanctions resulted from years of SEC study, investigation and legal action aimed at remedying what the SEC deemed deficient NYSE regulatory efforts, including surveillance of unlawful conduct by some NYSE market-making specialists and floor traders.
It's an auspicious win for Bass Berry. The sheer numbers at client NYSE are impressive: On a recent average trading day, 1.8 billion shares valued at $68.5 billion were traded; and, NYSE-listed operating companies recently showed global market capitalization north of $22.6 trillion.
Closer to Earth, Bass Berry's regulatory auditor role affords the firm an enviable vantage point, as the NYSE contends with pressures to alter the long-standing roles of specialists and brokers, and as the exchange, itself, evolves toward supporting trades through an electronic communications network.
At the same time, the NYSE assignment seems certain to take the firm that cut its corporate-securities teeth on work for Jack Massey and J.C. Bradford & Co. even farther into the rarified atmosphere of the legal industry.
Page Davidson, the 46-year-old chair of Bass Berry's corporate and securities practice, says similar demand for independent legal and regulatory auditors and investigators is rising, and clients are looking for firms based outside New York City, with track records of success in dealing with complex issues.
Davidson says the firm's reputation is further buffed by the fact that amid HCA's proposed $33 billion buy-out transaction, 22 Bass Berry attorneys constitute the team that is providing corporate counsel to the Nashville-based hospital corporation. In addition, thus far in 2006 Bass Berry has handled 15 public offerings, including three initial public offerings.
Jim Cheek shares Davidson's perspective. Cheek is the corporate and securities lawyer credited by his colleagues with leading Bass Berry not only to its NYSE role, but also to its role as corporate counsel to HCA.
Cheek also cites the firm's relatively high degree of freedom from conflicts of interest; and, its decision to avoid fragmenting lawyers among "super-specialties," thereby ensuring freer teaming of attorneys who gain meaningful experience in the most important aspects of client work.
Cheek indicated it is this environment that has attracted such lawyers as Allen Overby, the 43-year-old former SEC attorney who now leads Bass Berry's ongoing work for the NYSE. Overby told NashvillePost.com that eight or more Bass Berry attorneys are working on the project.
Cheek adds, "our willingness to put ourselves into that playing field" was a big factor in establishing critical national visibility for the firm.
He explained that he and others at Bass Berry have made a practice of becoming involved in "national external affairs" through "policy-driven" professional organizations. Cheek, 63, is a former chair of various law- and securities-oriented committees of the NYSE, the American Bar Association, the National Association of Securities Dealers and the American Bar Association. In addition, both he and attorney Barbara Mendel Mason, who is of-counsel to the firm's corporate and securities practice group, have served as chair of the Business Law Section of the American Bar Association.
Note: NYSE representatives acknowledged receipt of inquiries from NashvillePost.com, but did not provide responses to questions posed prior to publication of this story. Ideas for Nashville Attorney? Write here.

FOCUS: Chancellor Lyle renders ruling under seal
Earlier this week, Davidson County Chancery Court Part III Chancellor Ellen Hobbs Lyle issued and placed under seal a ruling that could determine whether or not Fisk University will proceed with a new fund-raising effort, or will instead move closer a scheduled Dec. 4 trial opposite the Georgia O'Keeffe Museum of Santa Fe, N.M.
Fisk, represented by Bone McAllester Norton PLC, asked Lyle for a summary judgment that would reject the O'Keeffe Museum's objection to Fisk's planned sale of a pair of paintings the university has possessed for more than 50 years: Georgia O'Keeffe's "Radiator Building — Night, New York" (1927) and Marsden Hartley's "Painting No. 3."

Neither Fisk University representatives nor counsel for the parties returned Nashville Attorney phone calls this morning, prior to deadline. Today is Jubilee Day on the Fisk campus.

If things turn out not to have gone Fisk's way, the trial could subject Fisk University President Hazel R. O'Leary's proposed sale of a legacy art to the kind of scrutiny that surrounded her predecessor, Carolynn Reid-Wallace, who was criticized for contemplating the sale of university art in 2002. O'Leary succeeded Reid-Wallace in 2004.

Radiator Building
The Museum, represented locally by Sherrard & Roe PLC, argues that the two works — which some believe would fetch Fisk $20 million at sale — are, despite having been owned by Georgia O'Keefe, part of the dozens of photos and paintings comprising the Alfred Stieglitz Collection, named after the renowned photographer and established at Fisk following their donation by O'Keeffe, who was then Stieglitz' widow. The Museum contends O'Keeffe had forbidden any of the works to be sold-off in this manner. Fisk sees the two paintings it would sell as O'Keeffe's gifts, distinct from the works of the original Stieglitz Collection, and says the art may be sold. Fisk also insists that the Museum has no standing to sue in this manner, a claim the Museum rebuts.
The dispute touches 101 works in Fisk's possession, including not only Stieglitz photography and O'Keeffe and Marsden paintings, but also works by Picasso, Cézanne, Renoir and others, and valued in a 2002 appraisal at $31.4 million. Fisk representatives explain the university needs to sell the paintings to generate funds for a new science building, endow faculty chairs and restore funds to its endowment, which has been depleted to fund operations. Fisk also wants to upgrade its art galleries, including the Carl Van Vechten Gallery where the Stieglitz Collection was on display until temporarily stored for preservation at the Frist Center for the Visual Arts.

Neither Fisk University representatives nor counsel for the parties returned Nashville Attorney phone calls this morning, prior to deadline. Today is Jubilee Day on the Fisk campus.

The Bone team includes Charles W. Bone, Stacey A. Garrett (lead) and C. Michael Norton. Lead attorney for Sherrard is Bill Harbison. Related story, The New Mexican, Sept. 10, 2006.♦ Story ideas for NATTY? Write here.
COURTS
Nov. 27 is the deadline for submitting comments on the Tennessee Supreme Court 2007 Rules of Procedure and Evidence, posted Sept. 22.



MerrittSenior Judge Gilbert S. (Gil) Merritt Jr. said in Cincinnati Sept. 21 a defendant 'shouldn't have to go to Vegas for justice', and questioned whether race was factor in the severity of sentencing of Knoxville drug dealer Richard Jones, Knox. News Sentinel, Sept. 22. Merritt was blasted when he ruled in favor of a stay last summer in the Sedley Alley execution, NashvillePost.com, June 28. In 2004, Merritt's dissenting opinion suggested that prosecutors, investigators and reviewers had erred, Tennessean editorial posted here. In 2003, Merritt went to Baghdad to help set up the Iraqi judicial system, Nashville Scene.

Update on U.S. vs Al Ganier: On Sept. 20, members of the U.S. Attorney's Nashville office and attorneys defending Sundquist-era contractor Albert Ganier III were allotted 15 minutes each before a panel of three judges in the 6th Circuit Court of Appeals in Cincinnati to present arguments pro and con the Feds' petition to include potentially incriminating evidence against Ganier. As of Friday afternoon, the judges had not ruled in the matter. The wait could be days or months. Related: Education Networks of America CEO David Pierce notes company never accused of
wrong-doing and has Ganier long departed, City Paper, Aug. 28. BusinessTN, April 2006. Background on Ganier trial, NashvillePost.com, Aug. 2, 2005.

'Closet' murder case raises question in defense counsels' minds re whether or not illegal immigrants can get a fair trial here, Tennessean, Oct. 5.

AOC will be involved: A newly seated Anderson County Juvenile Court judge said an attorney with no business in her court interrupted an emergency hearing and made derogatory remarks to her. Judge April Meldrum said a special judge will be appointed to determine if lawyer Victoria Bowling should be held in contempt of court for her conduct, and "if so, what sentence would be imposed.'' Knox. News Sentinel, Sept. 14.

Barnes resigns Bass Berry to serve as Municipal Court Judge for City of Smyrna, release Aug. 18. She was sworn in, Sept. 1.

Bridgestone Americas and BFS Diversified Products are among 14 defendants in lawsuit over failure of Louisiana Superdome roof, Tennessean, Sept. 2.

Alleged wrongful death: Texas judge transfers Texas lawsuit against Opryland Hotel and Gaylord Entertainment Company to Middle Tennessee District, City Paper, Sept. 28. Gaylord attorney may seek summary judgment.

CHD Meridian and Comprehensive Care litigation in struggle over exec Hinson, before Chancellor Bonnyman, Sept. 11, NashvillePost.com.

TN Court of Appeals: Attorneys for Erlanger Medical Center found in contempt of court for seeking records for litigation between hospital and physician, during lawsuit stay, Chattanoogan.com, Sept. 11.

Tipton succeeds Wade at Tennessee Court of Appeals as presiding judge, Sept. 12.

U.S. District Court for the Middle District of Tennessee Judge Todd Campbell receives 61 Novartis product-liability lawsuits, City Paper, June 16.

General Sessions Court Division III Judge Angie Blackshear Dalton aims to be 'beacon' for area youth, particularly African-American women, City Paper, Sept. 5.

On Sept. 27, former Circuit Judge Lillie Ann Sells, who was defeated in the Aug. 3 race for 13th Judicial District Judge by a 10-vote margin, lost her challenge to the election outcome to opponent David Patterson, after a Chancery Court trial heard by Judge Ben Cantrelle of Nashville, in Cookeville. Tennessean, Sept. 28.

Metro Nashville DA sees increase in violent crimes by juveniles, City Paper, Aug. 30. The Tennessee Supreme Court, in an apparent reversal of decades of precedent, issued an opinion that juveniles are not entitled to a jury trial. Knox. News Sentinel, Sept. 18. TSC opinion, here.

Senior U.S. District Judge James H. Jarvis sought to reverse sentencing in gambling-promotionOct. 4. case, but Assistant U.S. Attorney John MacCoon's protest in Knoxville triggered reversal of reversal, Knox. News Sentinel, Oct. 4.

You be the Judge: Likes and dislikes about Nashville Attorney? Write here.
PEOPLE
James Neal of Neal and Harwell PLC was on the defense for Gov. Fletcher in Kentucky, confronting charges of patronage, Louisville Courier-Journal, June 6. An agreement for improved personnel practices came in August, and seems to have put the matter on hold; Neal remains Fletcher's counsel.


Lewis R. Donelson IIILewis R. Donelson III, 88, of Baker Donelson fame, resigned Sept. 6 as chairman of the board of the financially troubled Memphis Regional Medical Center, ceding the chair to John H. Morris III, founder and chairman of Jack Morris Auto Glass, a past president of the Memphis Chamber and a former member of the finance committee of Lamar Alexander for President. Earlier stories, Comm. Appeal, Aug. 30.

Justin P. Wilson of Waller Lansden offers his opinions on "Geier and End of Reconstruction," op-ed, Tennessean, Sept. 13.



MorfordU.S. Attorney Middle Tennessee -- On Sept. 29, the U.S. Justice Department named Craig S. Morford to succeed former U.S. Attorney Jim Vines, who joined the Washington, D.C. office of King & Spalding. Morford has served as first assistant U.S. attorney in the Northern District of Ohio, in Cleveland, where he had served since 1987, during which time he led prosecution of former U.S. Rep. Jim Traficant (D-Ohio) and of a trio suspected of membership in a terrorist sleeper cell in the Detroit area. He also held roles in an an organized-crime strike force and with the IRS. Morford holds a law degree from Valparaiso University School of Law and a B.A. from Hope College. NashvillePost.com, Oct. 2; Tennessean, Oct. 3. City Paper, Oct. 3. A BusinessTN piece (May 2005) explored the attorney's triumphs and travails, and chronicled the history of the office where reputations were burnished for such luminaries as Gil Merritt, Jim Neal and Fred Thompson. US Atty Vines not necessarily out of hot water, City Paper, Sept. 18.

Justice Adolpho A. Birch Jr. reflects on his legal career, seems to reject notion of quotas in filling Supreme Court seats, The City Paper, Aug. 30.

PUBLIC SERVICE — Stites & Harbison PLLC's Nashville office has named its third guide-dog trainee, "Charlie," in honor of Charles H. Warfield (photo, right),

Warfield and Charliethe 81-year-old co-founder of Farris Warfield and Kanaday, with which Stites combined in 2001. Seven-month-old Charlie trains in Stites offices each day, under the watchful eye of puppy raiser and Marketing Manager Becky Dan, who ensures Charlie's schedule includes sitting-in on videoconferences, attending client dinners and otherwise learning to adjust to office routine. Next summer, Charlie rejoins Southeastern Guide Dogs, Inc., for six months' training, culminating in being matched with a blind person.

Baker Donelson's Gary Brown provides testimony, advice to U.S. Senate's Permanent Subcommittee on Investigations, Memphis Daily News, Oct. 5. Brown's Enron experience led to ethics-industry role, NashvillePost.com, March 27.

Dundon of Neal & Harwell is leading case against Karaoke for Famous Music LLC, NashvillePost.com, Oct. 5. City Paper, Oct. 6.

Former AG Summers joins Waller Lansden, NashvillePost.com, Sept. 19. Tennessean, Sept. 20.

Tennessee Titans General Counsel Steve Underwood promoted by Adams to COO, City Paper, interview, Sept. 28

Bass Berry & Sims attorney Andy Smith joined Brookdale Senior Living as EVP and General Counsel, NashvillePost.com, Sept. 27.

Criminal Defense Attorney Jim Todd chosen for Metro's Sexually Oriented Business Licensing Board, Tennessean, Sept. 20.

Profile: Kathryn Reed Edge of Miller & Martin, p. 31, Nash. Bus. Journal, Sept. 8.

Allan F. Ramsaur, executive director, Tennessee Bar Association, was named Association Executive of the Year for lifetime contribution to the profession, achievement with his own association and service to the organization, as well as other professional, civic and community organizations. Tennessean, Aug. 27.

Jean Crowe, attorney with Legal Aid Society, was named to the American Bar Association Commis. on Domestic Violence, Nash. Bus. Journ., Sept. 22, p 15, not on web.

Shelley Munroe is now firmwide recruitment manager for Associates at Baker Donelson BearmanMunroe has been with the firm seven years. (Colleague Sue Porter handles lateral recruitment in Nashville.)

Baker Donelson named Brett A. Oeser as an of counsel attorney in construction group, Tennessean, Sept. 17.

D. Page Kelley III is now a partner in Gladstone Baker Kelley, PLLC, the Music Square entertainment law firm, NashvillePost.com, Sept. 20. Tennessean, Oct. 5.

Boult Cummings adds Henry for telecom and emerging technologies practices, NashvillePost.com, Sept. 8, City Paper, p. 10, Sept. 19.

Lynn Morrow named to head Entertainment and Sports Section of TBA. She's a partner with Adams Reese/Stokes Bartholomew's entertainment and new-media team. NashvillePost.com, Aug. 17.

Renard François, an associate at Bass, Berry & Sims PLC, has been appointed to a U.S. Department of Homeland Security advisory committee, NashvillePost.com, Sept. 20.

Lisa Karen Atkins, J.D., named Tennessee State University's first in-house university counsel and chief of staff for TSU president Melvin N. Johnson, p. 5, City Paper, June 16. Release here.

Erik Oren Thorngren joined Manier & Herod as associate, focusing on surety and fidelity law. Tennessean, Aug. 27.

Legal Aid Society and Nashville Pro Bono program have announced new board members and Legal Society officers. Clisby Barrow, a trial lawyer with Walker, Bryant Tipps & Malone was appted by NBA to Legal Aid Society board. Andree Blumstein of Sherrard & Roe, joined the Pro Bono board. Legal Aid officers include: Kathryn F. Edge, president (Miller & Martin), N. Houston Parks, first vice pres. (First Farmers & Merchants Bank). Susan Kay, second vice pres. (VU Legal Clinic). Richard Evans, third vice pres. (private practice); Valerie Martin, secretary (comm. volunteer); John Andrew Goddard, treasurer (Bass, Berry & Sims). Charles H. Warfield, member at large (Stites & Harbison); John Pellegrin, imm. past pres., (private practice). Tennessean, Aug. 27.

Charles Warfield of Stites and Harbison was honored in September for lifetime contributions to the legal profession, during a gathering of the Tennessee John Marshall American Inn of Court, at Franklin.

Charles K. Grant, a shareholder in the Nashville office of Baker, Donelson, Bearman, Caldwell & Berkowitz, PC, received the NAACP Tennessee State Conference President's Award for work streamlining process for returning voting rights to former felons deemed to be rebuilding their lives, City Paper, Sept. 29, not on web. Release Sept. 28. Related story, City Paper, Sept. 1. Grant was also recognized for helping produce a Diversity Summit.

Metro Arts Commission public-art selection process will be more open public in future, according to Stites & Harbison attorney Jeff Ockerman, who chairs the public arts committee. Related, City Paper, Sept. 28.

Tenn. Assn. of Criminal Defense Lawyers announced board officers and new members: Randall E. Reagan, president, attorney at law, Knoxville; Caryll S. Alpert, president-elect, Federal Defenders Office; Lorna S. McClusky, Massey & McClusky, Memphis; Jerry P. Black, secretary, law prof., UT College of Law; William D. Massey, past president, Massey & McClusky, Memphis; and, new appointees Mark D. Slagle, Johnson City and Mike Whalen, Knoxville, E. TN reps.; J. Robin McKinney Jr. and James A. Simmons, middle Tenn. reps.; Jeffrey J. Mueller Jr. and James A. Simmons, middle Tennessee reps.

Lobbyist, attorney and activist Stewart Clifton expresses concerns about Cunningham-led proposal for a referendum on obtaining public consent on future Metro property-tax increases, Nashville Scene, Sept. 28.

George H. Nason, a Franklin lawyer, was suspended from the practice of law by the Tennessee Supreme Court on Sept. 1, according to a Sept. 6 press release from the court's Board of Professional Responsibility. Nason entered a guilty plea to mail fraud and bank fraud, according to the Board's announcement. Nason must notify all clients of his status and is prohibited from representing himself as an attorney.
LAW FIRMS
A SOURCE OF CORPORATE GCs — A Waller Lansden Dortsch & Davis spokesperson says five of the firm's attorneys have left to become general counsel to prominent Nashville-based healthcare companies, since 1999: Howard Wall became Province Healthcare's Senior VP and General Counsel (and is now Senior VP and General Counsel for Capella Healthcare). Bill Carpenter became the Senior VP and General Counsel of LifePoint Hospitals. Today he is CEO and President of the company.

SundockChris Howard became the Executive VP and General counsel of Psychiatric Solutions. And, earlier this year, John Sundock became the Senior VP and General Counsel of Renal Advantage; and, Paul Gilbert became the Senior Vice President and General Counsel of LifePoint Hospitals. The firm enjoys substantial market share in publicly reported healthcare transactions that closed during the first half of this year showed 41 deals, including hospitals, dialysis enterprises and companies in the psychiatric or behavioral health sector. Non-public transactions are not included in this count.

Baker Donelson appoints Kennedy to head Washington, D.C., office and adds Leggitt to federal health policy group in capital. Release (PDF), Sept. 14.

Bass Berry serves as legal advisor to Intergraph Corp. for its proposed acquisition by an investor group led by Hellman & Friedman LLC and Texas Pacific Group, in a $1.3 billion transaction. Intergraph release, Aug. 31.

Boult Cummings team representing Surgis Inc. in litigation vs. Surgical Concepts & Innovations (Orlando), NashvillePost.com, Oct. 3.

Smith Cashion and Orr buys Third Ave. building, Nash. Bus. Journal, Sept. 8.

Hornbeck Law opens office on Music Row at 1019 16th, p. 10, Nashville City Paper, Oct. 6, not on web.

Drescher & Sharp partner stresses determination to remain independent small law firm, despite consolidation trend, p. 29, Nash. Bus. Journal, Sept. 8.

Greenebaum Doll & McDonald attorney group jumps to Nashville office of B'ham-based Burr & Forman, NashvillePost.com, Sept. 1; Nash. Bus. Journal, Sept. 1. City Paper, p. 9, Sept. 5, not on web.

Page Kelley joins Gladstone Baker Kelley, PLLC, for entertainment. Kelley was formerly in solo practice and earlier was VP with Word Entertainment, NashvillePost.com, Sept. 20.

Joe Brazil, former in-house counsel for EMI Music companies, had a decade or more to size-up opportunities with Adams and Reese LLP, before joining the firm Oct. 2. Brazil, 39, has known and periodically worked closely with colleagues in his new Music Row home for at least nine years, thanks to his work for a dozen Nashville labels during the past 13 years — work that often placed him opposite Adams and Reese attorneys working for performers and entertainment companies. NashvillePost.com reported Oct. 2 on Brazil's label-side roles, NashvillePost.com, Oct. 2. Add: Brazil began his career with Nashville's Evans, Jones & Reynolds PC. Related, Tennessean, Oct. 4.

Submit comments and items for possible publication in Nashville Attorney, write here.
REGIONAL NEWS
City of Franklin aldermen defer disposition of City Administrator Jay Johnson's proposal to create a city Law Department, rather than relying on outside counsel, following announced resignation of role by City Attorney Doug Berry. Tennessean, Sept. 27.

United Music Heritage (Memphis) seeks to obtain royalty compensation for musicians of earlier era who have gone unpaid, Memphis Daily News, Sept. 21.

Ipix Corp.'s assets being sold under bankruptcy proceedings, with bids due Oct. 23. Knox. News Sentinel, Oct. 5.

Sleepless Nights: Death-penality prosecutors (Woodhall, DA for 26th Judicial District) and defense attorneys (Googe, Tatum) recount sleepless nights in trial of David Lynn Jordan, and the arduous appeals process that follows Jordan's death sentence, Jackson Sun, Oct. 1.

Sen. Jerry Cooper's lawyer requests venue change from Chattanooga to Winchester, AP via Knox. News Sentinel, Sept. 19.

Thomas Alva Austin, former Roane County general sessions judge blames word of wife's alleged lesbian affair led him to accept kickbacks from driving schools, AP via OakRidger.com, Aug. 28. Austin's guilty plea set stage for more quirks, Knox. News Sentinel, Sept. 7.

Knox County charter issue set before Tennessee Supreme Court, Knox. News Sentinel, Sept. 7. Knox Chancellor Fansler will hear petition for special election for presumably term-limited county posts, Knox. News Sentinel, Sept. 7.

10th District Chancellor Jerri Bryant organized a seminar on courthouse security, prompted in part by courthouse violence in Roane County, Times Free Press, Sept. 23.

In Hamilton County, Juvenile Court Judge Bailey seeks support for local juvenile detention facility, Times Free Press, Sept. 6.

DEATHS - Chattanooga attorney William L. "Bill" Taylor Jr. of Spears, Moore, Rebman & Williams, Chattanoogan.com, Sept. 29. Wesley Lee Asbury, a former Eighth Judicial District judge. Knox. News Sentinel, Sept. 27. Trenton County's Limmie Lee Harrell Jr. dies of natural causes at 65, en route to courthouse. Jackson Sun, Sept. 12.

Help define the region for Nashville Attorney. Send your thoughts, write here.
LAW EDUCATION
Nashville School of Law Dean Joe C. Loser Jr. told Nashville Attorney Tuesday that "Nashville School of Law is not for sale and probably will not be within the foreseeable future," then adding, "you can delete the 'probably'." He continued, "Our school is in solid financial condition, we have a strong student body, our applications are up, and we have no reason to try to sell it or give it away." A merger between NSOL and Tennessee State University had been offered as a possibility during the long-running Geier litigation, recently settled. A columnist recently argued for the merger, Tennessean, Sept. 26. Loser, a 1959 NSOL alumnus, has been dean 20 years. In June, he told the City Paper that NSOL's mission didn't require becoming a 'prestigious' or 'high-dollar' law school, City Paper, June 12. NSOL recently added faculty, NashvillePost.com, Sept. 22.

Nashville's Institute for Conflict Management at Lipscomb University programs include: Nov. 28, discussion of religious conflict, with Bruce Feiler, CNN Commentator; and, on Jan. 26, 2007, with Ken Starr, dean of Pepperdine Univ. Law and former Whitewater Prosecutor. The institute is led by Larry W. Bridgesmith, formerly an attorney with Waller Lansden, now executive director and associate professor. Story on his appointment, NashvillePost.com, June 17.

UT College of Law — John Sobieski, interim dean of the College of Law at University of Tennessee told Nashville Attorney on Monday he remains undecided regarding whether or not he will apply for the deanship, after a university search committee is launched in Spring 2007. Sobieski, 60, has taught nearly 35 years at UT Law, having joined the college after an Illinois Supreme Court clerkship, which followed earning his J.D. at University of Michigan in 1970, and his B.S. at Loyola, 1967. Former UT Law Dean Thomas C. Galligan Jr. departed, July 28, for the presidency of Colby-Sawyer College, New London, N.H. Sobieski assumed the dean's responsibilities Aug. 1, 2006, in a two-year appointment.

VU Law — Professors King and Speir have won a $250,000 grant to study habeas corpus cases, release Sept. 22. Professor Mike Newton disusses his experiences with the Iraqi Law Tribunal, Sept. 22, here. Newton background. VU School of Law calendars, here. Cal Turner Program for Moral Leadership in the Professions, interdisciplinary program at Vanderbilt University, details here. Order of Coif for Class of 2006 announced by Vanderbilt School of Law, release Sept. 20.

What should we learn from this issue? Tell Nashville Attorney, write here.

ATTORNEY RESOURCES
JUST DON'T CLAIM YOU'RE 'GREAT' — The inaugural "Tennessee Super Lawyers" ranking will be out in December, following by roughly 90 days the release of competitor "Best Lawyers in America." Best Lawyers' 23rd consecutive Tennessee listing included about 317 Nashville lawyers and about 696 statewide. The forthcoming Super Lawyers list will include approximately 5 percent of Tennessee's 14,400 lawyers, according to a Super Lawyers spokesperson, or about 720 persons. On Sept. 21, the Office of the Chief Disciplinary Counsel Lancy B. Bracy within the Board of Professional Responsibility of the Supreme Court of Tennessee issued an advisory opinion, chronicling that the BPR had been asked for an opinion on attorneys' participating in balloting for the well known lists. The BPR reported it was "unable to prove" that the methodologies of the two lists were "indiscriminate" (think, "biased") or that lawyers get their names on the lists by paying for inclusion, which would constitute advertising that is not permitted (in line with a formal 2004 ethics opinion). Contrary to an e-mail recently provided Nashville Attorney in behalf of "Super Lawyers" by that publisher's agent, the BPR opinion, not surprisingly, stops short of "approving participation"; rather, the BPR said in its opinion only that if a lawyer is selected and listed, law firms and lawyers "are permitted to advertise" that fact, provided the lawyers don't "go further and refer to themselves subjectively as 'super' or 'the best' on the basis of such designations..." Neither Nashville Attorney nor NashvillePost.com routinely runs results of the subject listings. Explore "Best Lawyers" and "Super Lawyers" (not yet posted). Best Lawyers is published in 50 markets, while younger Super Lawyers is published in 31 markets. "Super Lawyers" says it mails ballots to a total 800,000 lawyers; "Best Lawyers" provides ballots to about 29,700. In recent conversations with Nashville Attorney, publishers of each list described their practices as, well, superior.

Law firm profitability and associated business model should be reviewed at this time of year, according to Juris Inc. Founder Tom Collins, via his MorePartnerIncome.com blog, Sept. 21. Other recent posts included law-firm metrics, here; and, correlations between high partner productivity vs firm earnings that flow from delegating work to nonpartners, here.

Lawyer placement is hot: The Inc. 500 includes two Nashville-linked companies involved in finding assignments for attorneys are on the list: Brentwood-based Counsel On Call, ranked 347, listed for the third year running. Also, American Legal Search, formed in Nashville in 2001 by Joe Freedman, founder of Amicus Legal Staffing and eConception, has cracked the 500 at #473, although the magazine lists its current headquarters as Birmingham, Ala. rather than Nashville. NashvillePost.com, Aug. 23.

Nashville's major firms hike Associates' starting pay to $100K, Nash. Bus. Journal, Aug. 25.

Current Tennesseee Bar Association officers and Board of Governors, here.

Nashville Bar Association officers and Board of Directors, here.

Sound off: Give us your feedback on Nashville Attorney - write here.

THE CALENDAR
Oct. 5-6 — TBA 18th Annual Health Law Forum Embassy Suites Cool Springs, details here.

Oct. 6-7 — "Keeping Faith with the U.S. Constitution in Changing Times," conference at Vanderbilt School of Law, here.

Oct. 9 — Deadline to apply to participate in Court Admissions Ceremony at U.S. Supreme Court, Washington, DC, as part of annual TBA Academy, Dec. 5-7.

Oct. 10 — Memphis Bar Association parody "Entertaining Motions," with spoof of "Deal or No Deal." Proceeds benefit the Community Legal Center (CLC) and Memphis Area Legal Services (MALS), which both provide legal help and advice for low-income people. Memphis Daily News, Aug. 10.

Oct. 19 — Mediation Day in Tennessee. See related release from Tenn. Supreme Court, here. Coalition forms for Mediation, here.

Oct. 27 — Tennessee Bar Association is partnering with Nashville Bar Association, Nashville Bar Foundation, Tennessee Lawyer's Association for Women, Lawyer's Association for Women Marion Griffin Chapter, and Napier-Looby Bar Association to present "Diversity Summit II: Recruitment and
Retention Solutions," Oct. 27, at the Bar Center. Lpointer@tnbar.org.

Oct. 27 - Memphis Area Legal Services (MALS), The Exchange Club Family Center and the Shelby County District Attorney General's Office are hosts for "Legal Legs for Justice" 5K Run/Walk, a benefit event. For information, (901) 737-0853. Register here

Nov. 2 — The TBA Entertainment and Sports Committee hopes its "Winds of Change" seminar (with CLEs) will help instate lawyers do more work for Tennessee-based athletes and recording artists and labels that currently go out of state for counsel and services. Issues range from "new and creative music deals," to issues and expectations associated with representing athletes. Details and registration here.

Nov. 3 — TBA Hot Topics in Real Estate seminar, Nov. 3, details here.

Nov. 14 — Nashville Bar Association swearing-in ceremoney for new attorneys, 3 p.m., A.A. Birch Building. Info: (615) 242-9276.

Nov. 16 — Nashville Bar Association annual Memorial Services, Downtown Presbyterian Church.

Nov-Dec — TBA Ethics Roadshow 2006 • Nov. 16 in Knoxville, Nov. 30 in Nashville, Dec. 8 in Chattanooga, Dec. 15 in Memphis.

Nov. 16-17 — Tennessee Intellectual Property Law Association 2006 Fall Symposium. Agenda includes patent prosecution in China and India, IP analysis in product development process, ethics, ethics and IP, hot topics and recent developments. Details.

Dec. 7 — Nashville Bar Association annual meeting, Loews Vanderbilt Plaza Hotel. Details to be posted within about a week, here.