Bills in hopper: General Assembly, VCs eye TNInvestco expansion
By Milt Capps
Published Monday, February 1, 2010 12:19 pm


Legislation now before the General Assembly puts in-play the expansion of Tennessee's eight-month-old TNInvestco capital-formation program.
The two place-holder bills that were introduced last week by State Senators Jim Kyle (D-Memphis) and Jack Johnson (R-Franklin) provide no details regarding the ultimate thrust of efforts to revise and expand a state program that has, thus far, helped to fund six new venture-capital funds in Tennessee.

The filing of the bills does, however, seem to signal the beginning of an array of lobbying efforts that could mean expanding cumulative TNInvestco tax-credit allocations to a cumulative $200 million or more, from the program's original $120 million.

With that much money on the table, various camps are organizing to protect what they have, or to enlarge the TNInvestco program to bring more funds into the tent.



Lobbyist Baylor Swindell (right) confirmed this morning that her firm, The Windrow Group, is registered for 2010 to represent Enhanced Capital Partners, which succeeded last year in securing a TNInvestco billet.

In addition, lobbyist Bo Johnson acknowledged to VNC his firm has been exploring representing two previously unfunded TNInvestco contenders. VNC has confirmed those funds are Memphis Biomed Ventures Tennessee, based in Memphis and close to MB Venture Partners; and, NEST-TN LLC, based in Tullahoma and close to Marcum Capital.

Though they finished out-of-the-money in November, management of Memphis Biomed and NEST have often made clear their continued desire to win access to TNInvestco capital, but executives with those funds have declined comment or failed to respond to VNC queries. They are each hoping to rally support for $20 million in TNInvestco allocations.

During the 2009 General Assembly session, Johnson and partner Nathan Poss represented three out-of-state funds that introduced an early concept for a capital-formation program in Tennessee, and found immediate bipartisan support for such legislation, which is positioned as nurturing young small Tennessee-based businesses in potentially high-growth fields. The original impetus evolved into legislation we know as TNInvestco, today.

The three funds were Enhanced Capital Partners, Advantage Capital Partners (St. Louis) and Stonehenge Capital Corp. (Columbus, Ohio). Of the three, only Enhanced secured a berth among the six TNInvestco-capitalized funds, after partnering with Nashville-based Council Ventures to form Council and Enhanced Tennessee Fund.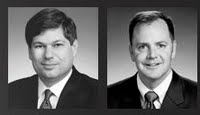 While they have not yet indicated their views on the $40 million in tax-credit allocations sought by Memphis Biomed and NEST-TN, Economic and Community Development Commissioner Matt Kisber and Revenue Commissioner Reagan Farr (at left, L-R respectively) have repeatedly affirmed their intention of seeking an additional $40 million in credit allocations to fund two other funds they believe deserve funding, but which missed the cut in November. The TNInvestco ceiling would go from $120 million to $160 million if Reagan and Kisber succeed in winning increased allocations for Tennessee Angel Fund and Solidus-TNInvestco.

Those two Nashville entrants had been accorded "alternate" status during last year's competition, which would have allowed one or both of them to receive $20 million in credit allocations each, if one or more of the round's six original winners had failed to meet TNInvestco requirements. Executives with the two hopeful funds have indicated they're naturally supportive of expanded TNInvestco funding and are relying on the Bredesen Administration to secure it.

Farr has said repeatedly that all six winners met TNInvestco requirements.

Nonetheless he and Kisber have said they'll press for funding for the two "alternates," in the interest of achieving greatest "transformative" impact for the overall TNInvestco program.

A layman's reading of the law now enabling TNInvestco suggests the General Assembly has granted Farr and Kisber broad discretion in such matters. In advance of the filing of the new TNInvestco legislation, General Assembly members have indicated they favor some expansion of funding, but will also want to know more about the competition and expectations of TNInvestco-funded funds.

However, last week, a demand for State documents was filed in Chancery Court in Davidson County by local venture-capital investor Larry Coleman, who has called into question the administration of the TNInvestco program. The firm in which Coleman is a partner – Franklin-based Coleman Swenson Booth – failed to win either funding or 10-firm finalist status, after competing in a field of 25 applicants.

Sen. Johnson's bill (SB3898) says only it's aimed as revising "various provisions of the Tennessee Small Business Investment Company Credit Act," or TSBICCA, which is TNInvestco's enabling law. Johnson is chairman of the Senate commerce committee.

Sen. Kyle's caption bill (SB3839) mentions only the need to redefine "qualified distribution" within the TSBICCA act, but it or successor bills are likely to be freighted with a number of TSBICCA sought by the Administration or others.

For example, State Revenue Commissioner Reagan Farr indicated months ago he'd probably seek to add to the law a provision related to mitigating losses that might be associated with the death or departure of key executives within the TNInvestco funds. ♦