Chamber CEO: 'Fever pitch' battle vs recession requires tough calls
By Milt Capps Last updated 12:17 p.m.
Published Thursday, October 1, 2009 12:06 pm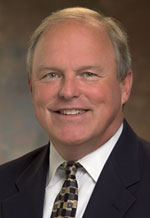 Ralph Schulz, president/CEO, Nashville Area Chamber of Commerce
Ralph Schulz, the president and CEO of the Nashville Area Chamber of Commerce, says, "What keeps me awake at night is 'What business environment will this settle into'."
Guardedly optimistic regarding the economy, Schulz told VNC during an interview Tuesday, "Nashville has the feel of a place that's starting to work its way through it. When I talk with CEOs, they're not as wary as they were before."

If his gut proves right, Schulz and the region can heave a sigh of a relief at the fading of turmoil that left the Chamber swinging 25,000 jobs short of its employment-growth objective for the fiscal year that ended June 30.

Despite surpassing the year's goals for expanding and relocating companies, reality showed that instead of gaining the 11,500 jobs targeted by the Chamber for the year, the region lost 14,733, with unemployment 7.4 percent at the end of the period. In contrast, two years ago the Chamber was able to announce it had handily surpassed all its key objectives.

Despite earlier banner years, amid the Great Recession the Chamber logged 28.7 percent of its three-year employment goal, for the period that ended June 30.



Against that backdrop, Schulz said that "just in the last month and a half" he's getting signals that things are picking-up, with relocation prospects, in particular, "getting more serious with their questions" about the advantages of locating in Nashville.

Meanwhile, Schulz told VNC Tuesday, he's continually running scenarios in his mind, based inevitably on imperfect information, because "in this climate, you have to make decisions before you can get all the information – it's a riskier time."

"You want to be ahead of the curve," he added. Thus, Schulz is continually adjusting for new information, which he gleans from his broad personal network, as well as from scouring media, studying reports from the Chamber research department and reaching out to anyone among the Chamber's roughly 2,300 members whom he thinks can help.

The Chamber's website reflects dozens of programs and initiatives, most of which will continue, at least for now. In addition, recent public statements by Chamber officials and others have made clear that the proposed new Convention center, regional transportation and other priorities will be getting rapidly increasing attention, in coming months.

Meanwhile, the Chamber is already on-record as being committed to such things as helping the recently launched Nashville

Entrepreneur Center raising an initial $1 million-plus for its operations. The Entrepreneur Center is currently staffed and supported by the Nashville Technology Council, but will be an independent nonprofit company. NTC is an independent organization that is a tenant in the Chamber's Commerce Street headquarters.

In addition, Schulz told VNC his reconnaissance has brought more sharply into focus the relentless erosion of the region's manufacturing jobs, and the Chamber may take a fresh look at what can be done with respect to that sector, which has been particularly sensitive to changes in automotive employment.

A Chamber staff member contacted by VNC said the Nashville region's manufacturing employment peaked in 1998, and fell another 20 percent or more in the past two years.


Even before the current slump, a report published in early 2008 indicated that Nashville's "critical" advanced-manufacturing sector would, barring some intervention, only produce about 427 jobs in the coming decade.

These and other topics are likely to be rolled-up into the Chamber's five-year strategic planning process, now underway with the help of consultant Market Street Services, based in Atlanta.

The planning effort should produce by July 2011 a five-year plan for Partnership 2020, the Chamber's economic-development initiative, the sponsors of which are the source of about 42 percent of the Chamber's operating budget, each year.

Schulz said he's grateful that Chamber members represent an advantage that most CEOs of small businesses don't have, and he views those members as part of "a team that extends into the community" – people he feels "are all in it with us."

As evidence, he notes that "2,000 members" renewed Chamber commitments in the past year, and "stuck with the Chamber when a lot of them had to make decisions that were right down to the bone..."

Schulz acknowledges that in trying not to let opportunities slip through Chamber fingers, he has stretched Chamber resources about as far as they'll go.

Schulz said Chamber staff are stretched thin, and "working at such a high pitch that it can't continue this way." At some

point, either Chamber initiatives will have to drop to more sustainable levels, or staff will be added and additional funding attracted.

"This is a no-raise, no-bonus year at the Chamber," he said, adding that the staff are nonetheless "working harder, without the financial growth that usually comes with that."

Nonetheless, for the moment, such efforts as the Chamber's work to shore-up existing businesses that might be imperiled or considering relocating elsewhere are continued unabated.

Chamber data provided VNC this morning indicates that since July 1, Chamber existing-business staff have made nearly 80 proactive visits to businesses, and are actively engaged in 30 business-expansion or retention projects with existing
businesses. Thus far this fiscal year, such efforts have contributed to at least seven business expansions – five in Davidson County, two in Williamson County – including PriceWaterhouseCoopers, The Arthritis Foundation, Emdeon, Simplex, PromiseCare, BMI and Hayward Pool Products.



Nonetheless, due to resource constraints, Schulz and crew are throttling-down a bit on some fronts. For example, Chamber staff are reassessing how best to proceed with the "Prosperity Project," which was originally aimed at evaluating a number of regional "livability" factors, while drawing "the business community and community-at-large together to promote innovative and assertive gains in economic, cultural and creative prosperity."

While the Prosperity project is being re-examined, according to the Chamber's recent annual report plans are proceeding for the establishment of "a research clearinghouse for the region," among other initiatives.

Plans are also underway for the Chamber's second annual Business Outlook Summit, which will be Jan. 27, 2010, at the Franklin Marriott in Cool Springs. The event was held this year at Lipscomb University.

With those and other factors in mind, the Chamber's annual membership drive is set to begin Monday, Oct. 5, with a goal of 390 new members and a minimum of $175,000 in new dues payments. The new members will help underwrite a Chamber operating budget pegged at about $6.5 million for the current fiscal year. (The highly regarded Nashville Health Care Council is a department of the Chamber, but NHCC has its own dues structure. The Chamber has 43 employees, the NHHC seven.)

Schulz, now 56, became president of the Chamber in October 2006, following a national search in the wake of the departure of his predecessor Mike Neal, now chief of the Tulsa, Okla., chamber. Schulz had previously led the rejuvenation of Nashville's Adventure Science Center, during his seven-year tenure as chief executive there.

Prior to the science center, Schulz was vice president of marketing and development at NFIB and executive vice president of NFIB's education foundation. The bulk of his career prior to that was with Junior Achievement, where he served as president and CEO of chapters in New York City, Dallas and Jackson, Miss., after beginning his career with the youth-based nonprofit in Nashville in 1974. From 1990 to1996, he was national executive vice president for Junior Achievement, based in Colorado Springs.

In August this year, the Nashville Area Chamber of Commerce, which traces its lineage back to 1847, was named the 2009 Chamber of the Year by the American Chamber of Commerce Executives. ♦