Claritas Capital: Montgomery is now resident entrepreneur
By Milt Capps Last updated 3:11 p.m.
Published Monday, March 1, 2010 8:53 am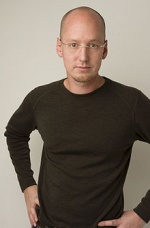 Mark Montgomery, EIR
Claritas Capital
Claritas Capital has confirmed e-commerce entrepreneur Mark Montgomery's arrival there as entrepreneur in residence.
Montgomery, 42, is most closely associated with the founding and celebrated rise of music- and brand-centered e-commerce player Echomusic LLC, in Nashville.

Responding to a VNC query Saturday, Claritas management said Montgomery will mainly work with existing portfolio companies, presumably in areas of e-commerce, marketing and sales; and, support Claritas principals in managing and reviewing dealflow.

Montgomery will also spend some time helping Claritas principals in fundraising for Claritas equity and debt funds, perhaps including the 9-month-old mezzanine facility, Claritas Capital Specialty Debt Fund LP.

Claritas Managing Director John Chadwick (at right) told VNC, in part, that Claritas will leverage Montgomery's digital media
and entrepreneurial experience, as well as his "proven ability to profit from [tech-driven] disruption in a multi-billion dollar industry through technology and business model innovation."

Also responding, Claritas Managing Director Don McLemore noted Montgomery was previously recruited for his digital-media expertise to the board of directors of Nashville startup StudioNow, a Claritas portfolio company that recently sold to AOL for $38 million.


Said McLemore (at left), in part, "Mark's experience, insight, and intuition in digital media have directly benefited our entrepreneurs and clients through his involvement with StudioNow... We are eager for Mark to continue the value creation for additional portfolio companies as he officially partners with Claritas Capital as an Entrepreneur in Residence."

Yesterday, The New York Times reported on the uptick in entrepreneurs in residence at VC firms, describing their roles and the financial terms of such arrangements in Silicon Valley. The Times' report suggested EIRs and VCs often represent "remarkable pairings" capable of producing huge wins among startups.

In addition to StudioNow, the Claritas portfolio includes several digital-media assets, including MyOutdoorTV.com, Dobie Media and FiledBy. VNC research suggests all three of those firms are preparing for capital rounds.

Echomusic, a 1999-vintage start-up, reportedly once employed about 90 workers here, including a reported dozen software developers. According to Montgomery, the company at one point had offices in Atlanta, Los Angeles and London, in addition to Nashville.

According to one analyst writing in 2009, Montgomery's Echo "started it all" when it came to digital-entertainment e-commerce, but was weakened by music labels' blocking their access to music product, and by the supposed unpreparedness of artist-clients to take full advantage of the content-management and e-commerce tools that Echo had pioneered in the sector.

Today, three years after Echo's 2007 sale of controlling interest for a reported $25 million, few vestiges of the promising Echo enterprise remain.

The company has now long been relocated to Los Angeles, where research indicates a small staff is mainly focused on supporting Ticketmaster's event-ticketing business and perhaps marketing the Echotools technology suite.

In 2007, following a year in which Echo's business had reportedly tripled, Montgomery and his co-owners sold Echomusic to Ticketmaster, then a division of Barry Diller's Interactive Corp. (IAC), an enterprise with its share of disputes with performers and other creatives, over the years.

Montgomery had co-founded Echomusic with Neil Einstman. Montgomery explained this morning there were three "junior partners" in Echomusic: Pinky Gonzalez, J.D. May and Doli Stepniewski. Stepniewski, he said, co-authored the Echotools technology.

Montgomery noted also that prior to the sale to Ticketmaster, a single round of capital came from Acorn Ventures, based in the Bay Area.

In a 2007 interview, Montgomery expressed frustration that in the wake of Echo's sale, Ticketmaster was being portrayed as "the big bad Devil," and he vowed to use "the IAC family" to "find great talent for the company and recruit them into the local Nashville market," creating what he called "a tech beacon in the South."

Echo's ultimate fate is not unfamiliar to observers of the Nashville tech-venture scene.

For example, in 2003, a fast-growing Nashville computer-based trainer Transcender Corp., founded 11 years earlier by Aneel Pandey and possessed of stellar reputation among computer professionals, was bought by Kaplan Professional, a training subsidiary of Washington Post Co., and merged into an Atlanta-based Kaplan division.

At the time, word around the deal was that Kaplan mainly wanted the Transcender brand and the aura around it, which it secured in the course of eliminating a competitor. All former Transcender jobs here are believed to have migrated or dissipated.

No one associated with the sale of Echomusic to Ticketmaster has publicly confirmed the sale price; but, in confirming his new role, Montgomery, speaking for Claritas, told VNC the deal had returned "nearly a 10 multiple to investors."

After its acquisition of Echomusic, Ticketmaster Entertainment subsequently merged into Los Angeles-based Live Nation, which is, itself, currently entertaining a buyout bid from Liberty Media Corporation, based in Meridian, Colo.

One bio indicates Montgomery is a former president and board member of the Americana Music, and at one point a voting member of the National Academy of Recording Arts and Science (NARAS), as well as a member of the Country Music Association and other groups.

He has also been active in such local initiatives as the formation of the emerging Nashville Entrepreneur Center. Montgomery originally came to Nashville as a musician and vocalist, but quickly moved into music production, marketing and sales.

Green Bay-reared Montgomery earned a bachelor's in advertising and public relations at the University of Wisconsin-Stevens Point, in 1990. On Feb. 24, VNC tentatively reported Montgomery's then-unconfirmed appointment at Claritas. ♦