DMA taps Buffkin Group to find CEO to face Digital Era
By Milt Capps
Published Thursday, March 11, 2010 9:25 am




Craig Buffkin
The Buffkin Group
Buffeted by discord and with Digital Era pressures mounting, the Direct Marketing Association has retained The Buffkin Group LLC of Nashville to conduct the search for the global trade association's next CEO.
Craig Buffkin, the 43-year-old founder of the Franklin-based executive search and consulting firm, told VNC his firm bested 17 other national and international search firms for the assignment from New York City-based DMA.

The final competitive round included Buffkin Group versus Heidrich & Struggles, Korn Ferry, Executive Connections and Spencer Stuart.

It was Spencer Stuart that had recruited former DMA CEO John Greco through a six-month national search.

Greco stepped down in January, having served more than five years. Industry media reported that Greco's term was ultimately spoiled by charges of financial mismanagement and secrecy. One report said Greco's compensation for 2008 totaled more than $800,000.

Buffkin told VNC that DMA is not yet prepared to publish the CEO's job description or compensation information. However,



Buffkin said the CEO currently has five reporting executives and a total DMA complement of about 80. DMA has more than 3,000 member companies, including half the Fortune 100, which are resident in a total 49 nations. DMA has several subsidiaries, including the Internet Alliance.

Buffkin said DMA is currently open to the CEO's being based in either New York City or Washington, D.C., the latter the scene of regulatory and legislative skirmishes over mailing and e-mailing, file-sharing security breeches, consumer privacy and other crucial issues.

In a recent interview, Buffkin told VNC his 10-year-old firm aims to put as many as seven CEO candidates in front of a DMA selection committee within six weeks, with an eye toward having a new CEO in harness by summertime.

In tackling the assignment, the Buffkin team reports to a DMA search committee led by board member and American Institute for Cancer Research EVP-COO Kelley Browning.

In a DMA release published today, Browning said, in part, that his committee decided the Buffkin Group was "in tune with our transformative thinking" and expressed confidence in Buffkin's ability to deliver.

The person who wins the DMA leadership role will confront the need to restore some members' confidence in their trade association.



In recent correspondence to DMA Members, Board Member and Interim President & CEO Robert Allen (at left) said, in part, that while awaiting DMA's new CEO, he was taking steps to "restore the trust of all our members," adding that he hopes his interim efforts "will rekindle our traditional base, particularly catalogers, and further increase interest, cooperation and trust among the direct marketing community as a whole."

The next DMA CEO will answer to a formidable board of directors, including top-tier leadership drawn from Allied World Assurance Co., Time Inc., Merkle Inc., and hawkeye (New York/Dallas marketing agency). The remaining 40 or so DMA board members represent such firms as OgilvyOne Worldwide, Microsoft, Meredith Corp., Nielson Claritas, Acxiom, eBay International, R.R. Donnelley and Reader's Digest Association.

In today's press release, DMA Board Chairman Eugene Rait (Allied World) said, in part, "The new DMA President & CEO will need a comprehensive understanding of the association marketplace; a deep knowledge of direct marketing practices; management skills; visibility within the industry; and outstanding credentials across a wide range of traditional and new media, particularly digital and social channels. [The new CEO's] understanding of direct marketing practices and grasp of direct marketing's impact on the US economy are critical."

The DMA CEO slot has been held by only two men during the past 14 years. Each seemed to have the credentials and experience DMA sought at the time.

For example, beyond the fact former CEO Greco (below right) held a Columbia University MBA and a bachelor's in electronic engineering, he also had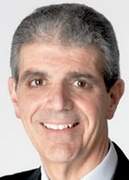 gained broad experience as CEO of the Yellow Pages Integrated Media Association, as well as across decades in marketing, Internet, software development and related fields with AT&T Corporation. Greco had also previously served as a marketing executive at R.R. Donnelley & Sons Company and with Donnelley's Financial Business Unit.

Published reports hint that Greco may have erred in bringing aboard DMA a former Yellow Pages colleague to handle financial operations.

In addition to Managing Partner Buffkin, the assignment will drawn heavily on Partner Roland Lundy, and Buffkin's New York City-based Partner Tom Rosenwald, whose focus is the advertising, communications and marketing-services sector.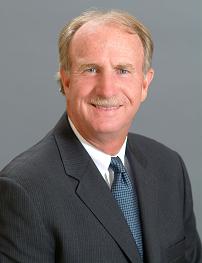 Lundy (at left) heads the firm's Media/Publishing and nonprofit sector practices. He is a former president and CEO of Word Entertainment, which was during his tenure a $130 million Christian entertainment-publishing company under ABC/CapCities. Lundy manged the sale of Word to Thomas Nelson Publishers, in 1992.

Rosenwald's previous search clients over the years have included dozens of employers, ranging from then-Federal Express and the Washington Redskins, to Omnicom, Grey Interactive and Hasbro. He is also a leader of New York City alumni of Dartmouth College ('56) and Dartmouth's Amos Tuck School of Business Administration.

Among other roles in his career, Manhattanite Rosenwald spent a decade with Heidrich & Struggles in New York City, where he was senior partner.

Prior to founding The Buffkin Group, Buffkin was a vice president with Professional Recruiting Solutions-Nashville, a national technology search firm.

Before his search career, Buffkin was a turnaround specialist and direct-marketing executive. He earned his bachelor's at the University of North Carolina and his MBA at UNC's Kenan Flagler School of Business.

The Buffkin Group has offices in New York City and Stamford, Conn., as well as in Franklin's Cool Springs area.

Responding to a VNC query for this story, Buffkin estimated that the DMA represents Buffkin's 400th assignment since he formed Buffkin & Associates, in 1999. The Buffkin Group identity was adopted in 2006. ♦