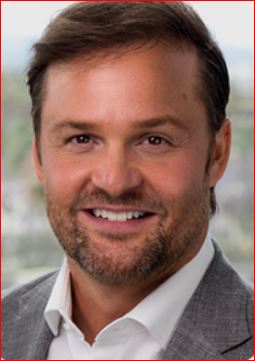 SPHERECOMMERCE LLC, the integrated payments technology and security software provider, won't be deterred in its role as M&A consolidator by the frothy valuations it often observes, said Executive Chairman Andrew Rueff, who's office is in downtown Nashville, his hometown.
Backed by Chicago-based Waud Capital, Rueff told Venture Nashville that Sphere is "on a path to do about three to five deals per year" and that he expects to announce his next transaction, soon. This story will be updated, as warranted.
In 2017, Waud Capital, which has north of $2BN assets and makes control investments only in healthcare services and in business/technology services, acquired and combined TrustCommerce and Anovia Payments, to create Sphere, overseen by Rueff, who's been a Waud operating partner since January 2017.
Shortly after Rueff's appointment, industry outlet PaymentSource reported that Waud was allocating an initial $100MM for the Rueff-led venture.
Sphere announced this April that it had made a strategic investment of undisclosed magnitude in Qgiv Inc., the Lakeland, Fla-based provider of cloud-based fundraising software that facilitates payments as part of its solution for nonprofit, faith-based, political and charitable organization fundraising.

Now, frequent traveler Rueff's challenge is to grow the platform. He and Executive Assistant Jenny Carmichael currently hold down the fort at Industrious Nashville Gulch on Demonbreun.
Most of Sphere's roughly 200 total employees are in California and Florida, with most of the balance spread between NYC and Dallas.
Sphere CEO Steve Rizzuto carries the flag in NYC, where Chief Revenue Officer Anthony Lucatuorto is also posted.
The company's careers page indicates continued technology hiring. Rueff also indicated that appointments focused on corporate M&A and business growth are likely as Sphere expands.
Rueff said the company is eyeing M&A deals in several flavors, in the U.S. and Canada.
In the broadest sense, Sphere is looking solely for integrative payments and security software, weighted toward industry verticals including healthcare, education, nonprofit and transportation/transit, as well as e-commerce horizontally.
Rueff said the company is examining several potential acquisitions that would be synergistic with other Sphere offerings. Targets are typically running at $5MM annual revenue or better, with sales and profit margin percentage gains together totaling 40 or better, inline with the "Rule of 40."
Such acquisition targets will typically have "a path toward profitability" within roughly 12 months, said Rueff.
"We're in a frothy market, no question about it," Rueff continued, with the sector's smaller software or payments businesses trading at 2x-3.5x revenue, ranging to 6x-7x revenue for "very strong" growth.
Asked about "transformative" M&A involving targets with perhaps $100MM revenue or larger, Rueff said one or more such deals seem likely to occur, at some point.
In addition to deals involving a change of control, Sphere is scouts possible minority investments in younger startups that would gain by having Sphere's capital and its contribution to strategy and other matters.
And, like most growth-oriented companies, Sphere keeps an eye peeled for opportunities to hire talented individuals who might also hold a book of business; and, for strong channel partners and integration opportunities.
Asked to elaborate on healthcare opportunities, Rueff offered an example, saying that via its TrustCommerce unit Sphere now can integrate with EPIC adopters to facilitate and secure payment transactions, provide gateways, encryption, token transactions and more.
VNC also research suggests that because Sphere/TrustCommerce has previously integrated with GE Healthcare, Carepoint, Relay Health (Relay was subsequently acquired by McKesson, the tech component of which later merged with Nashville-based Change Healthcare) and others, Sphere may now have entre for building a substantial healthtech presence, here and elsewhere. Sphere's Healthcare Payments page is here.
Notable also is the fact that two months ago Waud announced its appointment of Atlanta-based Ken Collins as principal in Healthcare Services. And, earlier this year, Waud announced its Paul Sutphin had been named principal for its Business and Technology Services investment team, as well as being an observer with the Sphere board of directors.
Asked about the company's advisors, Rueff noted he relies on attorneys with Kirkland & Ellis in Chicago; and, with the Dallas law firms of Munsch Hardt; McGuire Craddock (Melissa Winchester); and, Reeve Augustine Alarkhia (Zahara Alarkhia).
The company's accounting is with Armanino and its sole lender is Goldman Sachs, said Rueff. Ernst & Young's Chicago-based Tom Huitnink counseled the company on its Transfirst transaction.
He noted that Texas-based Heather Mark PhD is Sphere's corporate compliance and security director, and the company's CFO is Steven Neel.
The company's general counsel is Lindsay Hudson JD. VNC research indicates Hudson was formerly corporate counsel for TransFirst Holdings. She earned her law degree at South Texas College of Law (2003) and her bachelor's at Texas A&M (2000).
Rueff said the advisory network he has developed over the years includes a number of trusted former advisors, notably Steve McLaughlin of Bay Area-based FT Partners.
Rueff said he remains open to approaches by would-be advisors with sector experience.
Sphere's executive chairman seems to have paid his dues. Earlier in his career, Rueff was the Dallas-based SVP and chief administrative officer of merchant acquirer TransFirst Holdings, created following the recapitalization of ACS Merchant Services, an effort he co-led.
In 2014, then-TransFirst Inc. shelf-registered a $100MM IPO, later withdrawing it ahead of its sale to PE Vista Equity Holdings. TransFirst IPO underwriters were slated to have been BOA Merrill Lynch, Goldman Sachs, JP Morgan, and Deutsche Bank Securities. In 2016, Vista sold TransFirst to listed TSYS for more than $2.3BN.
Rueff is also a member of the board of Waud-backed ChiroTouch, the San Diego-based practice-management software provider. Rueff's LinkedIn is here.
Waud was an early backer of Franklin-based Acadia Healthcare, under founding CEO Joey Jacobs, who in late 2018 was replaced by the Acadia board with Debbie Osteen, previously president of the Behavioral Health Division of Universal Health Services, Inc.
Rueff and his wife, who is a Vanderbilt University alumna, reside in Davidson County.
Sample sources on SaaS/Fintech valuations reviewed by VNC: FT Partners | Quartz | TopTal | SaaS-Cap | Crunchbase | VNC
. last edited 1713 CT 26 Aug 2019
---