Life-sciences startup aims to leverage Vanderbilt technology
By Milt Capps Last updated 12:40 p.m.
Published Monday, December 7, 2009 8:42 am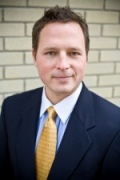 Eric Elmquist and Compliant Therapeutics are having a tough Monday
The story of two Nashville start-ups took a sudden twist this morning, but it still seems likely that Vanderbilt University technology may soon improve medicine.
Earlier today, we reported Nashville entrepreneur and scientist Eric Elmquist's proposed drug-delivery products had received a warm welcome during last week's SEBIO Investor Forum, at Charleston, S.C. Elmquist, by day a 31-year-old associate scientist with BioMimetic Therapeutics, presented Compliant Therapeutics LLC to potential biotech and pharmaceutical investors, Dec. 4.

However, earlier today, after this morning's VNC story reached the scientist whose team produced the technology Elmquist intended to rely upon in future, the prospects for Elmquist's company quickly became clouded.

Compliant proposes to create products for delivering drugs using nanotechnology-produced particles that ensure longer-time gradual release of medicines, thereby improving the odds of patients failing to comply with dosage and frequency instructions.
Elmquist had told VNC he has been exploring with Vanderbilt University technology-transfer officials the licensing of intellectual property Elmquist said was developed by principal investigator Eva Marie Harth, (at right) Ph.D., who leads the Harth Research Group at Vanderbilt.

VNC research leaves little doubt some such discussions had been underway at some level within the VU Office of Technology Transfer and Enterprise Development.

However, soon after this story was originally posted, Dr. Harth responded by contacting VNC to make clear it is her understanding that the technology developed in her group will, in fact, be licensed to a recently formed company, Revalida LLC, which state online records indicate was formed months ago. Harth said the new venture would involve a number of her Vanderbilt colleagues, including David Calkins, director of research within the Vanderbilt Eye Institute; and, Alice van der Ende, a Ph.D. graduate student at Vanderbilt.

Harth insisted she had made this clear to Elmquist over a period of months, but in a subsequent conversation this afternoon with VNC, Elmquist said that had not been his understanding. This story will be updated, as warranted.

Elmquist has planned that his first product, dubbed OcuDel, would target degenerative ocular diseases, such as glaucoma, which typically requires treatment for years. Glaucoma patients are often older persons, and are often resistant to or unable to follow pharmaceutical instructions. An estimated 30 million or more persons are affected by glaucoma or elevated pressure within the eyeball each year, globally. Patients' non-compliance is a major problem in treatment all patients.

In a series of interviews with VNC, Elmquist said a number SEBIO attendees seemed "extremely interested" in his plans for

his nano-therapeutics company.

Elmquist said he seeks roughly $500,000 to support the next year's work on Compliant, including optimizing the nano-delivery technology, outreach to pharmaceutical companies and perhaps testing in animals. He foresees a subsequent A-round capital raise of $5 million.

Compliant has received what Elmquist described as a small initial investment from his opthalmologist father, Trevor Elmquist, D.O., who was first to tell Elmquist of the problem of patients failing to comply with instructions for taking their medicines.

Compliant was one of four finalists in the SEBIO BIO/PLAN competition, which was won by Restorative Physiology Group, a medical-devices venture based in the the Charleston area and aligned with the Medical University of South Carolina.

Elmquist has been availing himself of Tennessee resources to sharpen his approach to his new business. For example, he recently attended a seminar for entrepreneurs held by TECworks Executive Director Jan Bouten, in Memphis.

Elmquist said he has retained Hutchison Law Group, located in Raleigh, near Research Triangle Park; and, his logo was designed by a long-time friend who is actively looking to establish a Nashville presence for his graphics-design and interactive firm, Deep Sky Studio, currently based in Ft. Myers, Fla.

Elmquist, a 31-year-old from Ft. Myers, returned to Nashville nearly two years ago, following a postdoctoral fellowship at Massachusetts Institute of Technology. He earned his Ph.D. in bio-organic chemistry at Vanderbilt in 2005 and his bachelor's at the University of South Florida, in 2000. ♦