McWhorter-backed coalition, Solidus-backed company are health-reform allies
Milt Capps
Published Thursday, October 23, 2008 2:24 pm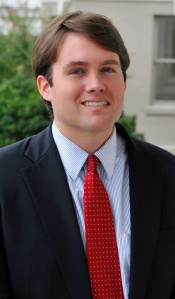 Landon Gibbs of SHOUTAmerica
At 26, he's a student of politics and shares his mentor's passion for rescuing America's wobbling healthcare system.
What's more, Landon Gibbs believes he can get 1 million mostly young Americans to sign a commitment to improving the nation's healthcare before Inauguration Day, Jan. 20, 2009. He will do that, he says, largely by using new social-media tools, as well as traditional campaign techniques.

Gibbs is executive director of SHOUTAmerica, the budding nonprofit youth-mobilization initiative.

"You can't silence a million voices," Gibbs said yesterday during an interview with VNC. Still, he said, "My biggest fear is that after the election we'll go back to the way we used to, and [young Americans] won't have a voice, anymore."

Gibbs may find the leverage he needs to keep those voices alive within the nation's dire economic situation. The current crisis, he said, "could be a catalyst for some type of reform movement in healthcare." Job losses and rising insurance costs could help ensure SHOUTAmerica's insurgency produces more than a good civics lesson for impassioned youth.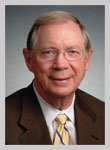 SHOUTAmerica's operations are currently underwritten entirely by personal financial support from prominent Nashville businessman Clayton McWhorter (at left).

McWhorter, 74, was originally a pharmacist, and for years has been an active philanthropist, as well as founder of private-equity firm Clayton Associates. In earlier decades, McWhorter bore the titles of chairman, president and-or COO for Hospital Corporation of America, HealthTrust and LifeTrust America.

Gibbs said he will soon unveil SHOUTAmerica's "Virtual Think Tank" that will draw on citizens Gibbs consistently refers to as "young individuals," in addition to leveraging a network of health-activist organizations. The new hive-mind will produce or republish white papers and other analyses of key healthcare issues, creating the intellectual ammo for Gibbs' Powerpoint-armed legions.

Earlier this month, Gibbs convened his youthful cadre for the first SHOUTAmerica Healthcare Leadership Conference, at Nashville's Scarritt Bennett Center. There, 100 college students representing the Fifty States and a total student population of about 1 million, gathered to set priorities, sound the alarums and exhort one another to action. At that point, the formal SHOUTAmerica organization was only a few weeks old.

During the same event, Gibbs also unveiled the "Declaration of Commitment," a call to arms for "responsible healthcare reform," which Gibbs hopes will attract at least 1 million signatories, who are to be mobilized by members of the collegiate cadre.

Gibbs is also considering ways to sustain signers' involvement in the cause and in adopting healthier behavior, including decisions, by creating recognition badges and other incentives to enlist others.

Gibbs is also working with Nashville-based Change:Healthcare, which has an online platform that, in addition to business offerings, features the blogs, video and other services Gibbs says his cadre needs to enlist other youth, nationwide. Gibbs said today that SHOUTAmerica will also have its own full-scale platform, and will not be dependent on others' venues.

Two-year-old, venture-backed Change:Healthcare was formed to provide goods and services to consumers, employers and administrators and others who want to monitor provider performance, manage bills and benefits paperflow and compare costs of goods and services. A year ago, the company received $1 million in A-round funding from Solidus Company.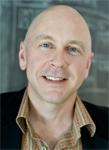 Robert Hendrick (left), Change:Healthcare's 41-year-old co-founder, told VNC this afternoon that a series of conversations with Gibbs had led Change:Healthcare and SHOUTAmerica to collaborate. Hendrick said his company provides its nonprofit ally free use of its cost-manager platform. He declined to provide other financial details of the relationship. Change:Healthcare, itself, uses mildly guerrilla tactics to push its for-profit pro-consumer services; e.g., the company recently published a free e-book that gotten broad publicity, "My Healthcare is Killing Me."

The clout of previously uncultivated media followers and issue stakeholders has also been demonstrated by such organizations as MoveOn.org; and, by former Vice President Al Gore's work through the Alliance for Climate Change, his launch of CURRENT TV network, his donations to fund Green-oriented advertising and his direction of investments toward green technologies.

Gibbs said he believes youth are more engaged in politics at this time partly because Democrat standard-bearer U.S. Sen. Barack Obama demonstrated early in his presidential campaign the power of getting-out the youth vote, racking-up impressive showings, for example, in key states such as Iowa.

Before joining Clayton Associates to serve as a McWhorter aide, Landon worked in The White House as deputy associate director of the Office of the Counsel to the President. Landon is from Ashland City and earned his bachelor's at Vanderbilt University, studying economics and political science. ♦