Metro fund targets volatility and budget pressure
By Milt Capps updated 25 February 2011
Published Wednesday, September 2, 2009 2:05 pm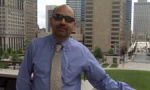 Metro CIO Fadi BouSamra
Spelling of BouSamra's named corrected throughout 25 Feb. 2011.-Ed.
The Metro Nashville Employee Benefit System's chief investment officer says he's aiming for further reductions in portfolio volatility, partly in order to help reduce budgetary pressure on Metro government.

CIO Fadi BouSamra told VNC in a recent interview that he will seek approval from his investment-oversight committee to direct up to $170 million in funds allocated for equity investing toward hedge-funding investing.

BouSamra said today he now expects the hedge-fund topic to be discussed in October, at which point, he said, the committee and he will consider criteria for the new program and will decide whether to "hire a handful of fund of funds' managers; have a fund-of-funds manager create a custom portfolio for us; or, have a consultant build the program."

He told VNC that, as a result of the current climate, he and the committee are also exploring opportunities related to "distressed debt opportunities," some of which the fund has begun to pursue.


BouSamra (at left) said he believes hedge-fund investing will dampen portfolio volatility, and thereby help reduce pressure for increased Metro budget contributions to support benefits payouts from the EBS fund.

Later this month, BouSamra said, he expects to issue a request for proposals from money managers interested in providing overall investment counsel to the fund. That role is now played by Cleveland, Ohio-based Segal Advisors, which is completing a five-year contractual term with Metro, and which is allowed to bid on the successor contract.

Metro EBS assets are managed by about 15 money managers, which were listed in the second-quarter 2009 performance report (page number 64), issued in August. Since June 30, the EBS has retained an additional money manager, Vermont-based Champlain Investment Parters, which is running nearly $40 million under two contracts associated with small- and mid-cap equities.

In its most recent win, Champlain bested competitors Principal Global Investors and Wellington Management. The invitation-only search was managed by Segal Advisors.

BouSamra explained that investing in hedge funds should help smooth-out the performance of the Metro EBS porfolio, which is currently valued at about $1.73 billion, up from $1.6 billion, where it stood as of June 30.

BouSamra has been with the Metro Treasurer's office six years, and became chief investment officer just over two years ago.
He said about 10,000 persons currently receive Metro EBS pension checks.

There are about 15,000 active Metro employees (fire, police and other). Metro teachers are not in the Metro EBS program; rather, they are supported by the Tennessee Consolidated Retirement System, which, as reported by VNC, has been charting a new course in private equity.

BouSamra said that apart from hedge funds, other techniques for smoothing-out performance have worked well through the recently calamitous national economic period; but, as the EBS fund grows in value, dramatic downturns in valuation would almost inevitably overwhelm those methods, if they are not augmented. ♦