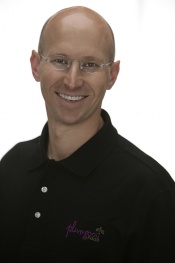 Update 5:58 PM: Satz says the firm has "closed everything down" and is "not preserving any accounts," despite earlier entertaining that option.-Ed.
Plumgood Food, Nashville's first online grocery shopping and delivery company, is set to close this afternoon, four years after its launch by Co-Founders Eric and Katherine Davis Satz.
Agility, quality, innovation, strong resumés and nearly $3 million in venture and angel funding were not enough to sustain Plumgood in the face of dramatically increased competition and an economy that is throttling consumer spending.
Plumgood's liquidation of retail goods became public the day before Thanksgiving, but that didn't keep committed Nashville transplant Eric Satz from running the next morning in the Boulevard Bolt, where after the race he told a reporter he'd posted a respectable 41-minute five-miler.

Asked by VNC about his personal plans, Satz said, "I will stay in nashville. Raising capital in this environment is next to impossible for a business not yet cash flow positive. There is still the possibility of a [Plumgood] sale and the institutional accounts are key in that regard. I don't know what I will do next and would be happy to speak with anyone who wants to speak with me about the future." He has asked employers to contact him regarding hiring Plumgood employees.
The Plumgood closure seemed abrupt to many. Satz had continued to talk bullishly about the firm's prospects, until shortly before the plug was pulled. Not long before, Plumgood had launched new children's menu offerings, cut delivery charges, spoken of expansion to other markets, and was banking its recently launched delivery of Purity Dairies' products to grow the customer base.
With plans to start Plumgood, Satz had relocated five years ago to Nashville from New York, with his co-founder Katie, a native Nashvillian.
Despite the noisy failure a few years earlier of online grocer Webvan - which had raised, and largely lost $800 million in
venture capital, Satz's rigorous business plan, street savvy and intensity were among factors that allowed him to survive running the gauntlet in the conservative local angel-investor community, then-aborning.
Nonetheless, after each Plumgood funding round, kibbitzers on industry blogs continued to question the viability of a standalone grocery retailer. Their skepticism seemed to grow, as diverse companies such as Amazon.com, Kroger and Harris Teeter began to ramp-up competition for organic and natural-foods providers. This was locally illustrated most recently by Trader Joe's opening in Green Hills, about two weeks before the financial cleaver hit the chopping-block at Plumgood.
Most industry observers seem to believe online will prove ancillary to traditional stores in most markets, with "dot.com" still relying on integration with "dot.bam" (bricks and mortar-based) companies. Others say online's boom awaits only the Boomer generation losing their driver's licenses to aging.

Still, locals had hope for Plumgood. The Satzes has succeeded, it seems, in establishing their reputation for quality and service -- which even industry naysayers concede as crucial elements.

And, Satz has the chops. Prior to the move homeward, Satz had driven IPOs, private placement and M&A for Internet-based businesses within DLJ Merchant Banking, an arm of Credit Suisse. Earlier, he handled financial-restructuring business, while an assistant vice president at UBS, a firm that also has strong Swiss lineage. Satz earned his bachelor's in economics at Amherst College, of which Katie is also an alumna.



Although sale of the company remains at least a remote possibility, and Satz has hinted other online companies may target Nashville, Plumgood's rapid wind-down signals the what is apparently the first such loss for Nashville Capital Network, for which Plumgood was the first NCN-coordinated transaction. NCN currently maintains a 17-company portfolio.
It is also a loss for Solidus Company, the early-stage venture capital company known for employing an "evergreen" investment philosophy, rather than establishing the traditional 8- to 10-year shelf-life for portfolio vintages.
Responding to a VNC query earlier this week, tough-minded, but joyless Solidus Partner Vic Gatto limited his comments to assuring that "all efforts are being made in a difficult situation."

Solidus has $50 million under management, Gatto said, and a portfolio of 19 companies, including Plumgood. The Solidus portfolio also includes J. Alexander's Corporation (NASDAQ:JAX), which recently described its third quarter as "awful," with the largest quarterly decline ever posted by the upscale-oriented company, and a net loss of $1.9 million.
As with each startup, rise or fail, Plumgood has created opportunities for other firms with which it has partnered over the past four years, including Atiba Software, Point 3 Media, Advanced Payment Solutions, Loud & Clear Communications, Xebec Management, and local advertising, accounting and other service firms, some of which may now be creditors. ♦