CLARITAS Capital, the 22-year-old Nashville PE/VC investment firm, is raising more capital for further healthcare plays via its Claritas Health Ventures, but it's also investing in music, entertainment and related businesses alongside Claritas' young affiliate, Emerald Plus.
Two days ago, Claritas Capital updated the status of Claritas Healthcare Fund LP, showing the SEC it then had $14.4MM-in from a total 20 investors.
The same day, Claritas Opportunity Fund VII LP filed on raising about $23.3MM from 72 investors.
Those were certainly nice to harvest as we made our rounds of the venture beat, but our research for an update on Claritas turned-up something more surprising.
Operating in something close to stealth mode, Claritas Capital and its emerging Emerald Plus fund have quietly put together a batch of Web3.0 portfolio investments, including MoviePass, the New York-based tech startup that supports subscription payments and distribution of credits for tickets to movie-showings in theaters that accept debit cards.
A recent MoviePass Seed financing of undisclosed magnitude was led by Animoca Brands, the Hong Kong-based game software, blockchain and venture capital entrant. VNC's research suggests the Seed round may've been in the $2.3MM range.
Reached late this afternoon by VNC for a quick brief on the Emerald effort, Claritas' recently appointed Executive Director for Strategy Jem Hudson MBA sent an outline that strikes us as a slightly provocative guide to the mindset behind the ambitious gambit, as follows (quoting):
Emerald+ deploys capital into emerging ventures that are poised to transform our culture through cutting-edge technology innovations that will reimagine end-user engagement and redefine concept of ownership.
We seek early-stage technology ventures with cultural relevance and significant market potential.
The Emerald Strategy is at the intersection of Innovative Technology, Cultural Influence, and Market Disruption.
The Emerald+ strategy is rooted in the idea that technology increasingly has the power to define the zeitgeist.
Technological innovation has had profound impact both on how we create content and how we experience it.
The Emerald+ strategy targets carefully identified industries at the forefront of the current cultural transformation, with significant market disruption.
Hudson promised there'll be further operational and targeting details, in the near future. This is a running story and coverage will be updated, as warranted.
While we await that update, the existing Emerald Plus website -- which is soon to be refreshed -- says the fund invests in early-stage startups and established growth companies, with its lens on ventures "that are rethinking the distribution and consumption of content, and the future payment rails" that come with that consumption -- "and how what happens in that industry will reverberate in the global economy."
Equally striking is Emerald's assertion that it aims to invest in "ventures in decentralizing technologies, the infrastructure [within] metaverse systems and the real-time payment networks and platforms of on-chain computing."
The Emerald portfolio page today lists: MoviePass (MovieOne) | Animoca Brands | MeAndMine | WaitRoom | Vivid Labs | Snowcrash | [3 Feb. 2023 1208 - Others that appeared on an outdated webpage were excised from this list, on guidance from Emerald.]
Other Seed investors in MoviePass included Gaingels, Harlem Capital, PKO VC and Sandhill Angels, according to Variety, Jan. 12. MoviePass is said likely to undertake another round by the end of 2024.
John Chadwick
Other Emerald team members with Sharecare roles include Co-Founder, Chairman and CEO Jeff Arnold; President and Chief Marketing Officer Dawn Whaley; President and Chief Financial Officer Justin Ferrero; and, Clinical Chief Scientific Officer (Clinical) Walter De Brouwer, who was also a cofounder of Emerald portfolio company Snowcrash; Snowcrash Head of Markets Marina Titova (a former Sharecare executive); and, Advisor David Clay, an advisor and former chief investment officer for Grinnell College.
Claritas Capital Founder John Chadwick is a member of the Emerald investment team and co-leads Emerald strategy with the aforementioned Walter De Brouwer PhD.
VNC notes that Chadwick is also a member of the board of directors of Sharecare, which is a Claritas portfolio company of long-standing.
In the past eight years, Sharecare has acquired at least two Tennessee companies, including the Nashville's area's Visualize Health and the Total Population Health Service division of the former Healthways, now known as Tivity Health.
Beyond what's afoot with Claritas and Emerald, here's a bit of MoviePass backstory: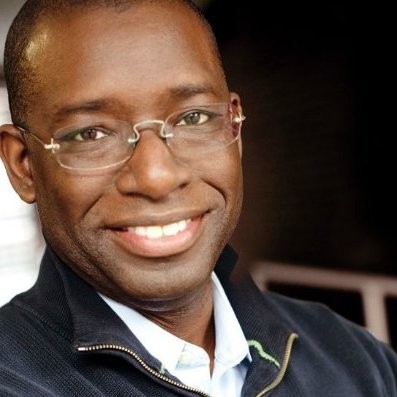 Stacy Spikes
The MoviePass brand relaunched as as a 2022-vintage startup, after now-CEO and Co-founder Stacy Spikes in 2021 acquired certain assets previously held by majority owners of a precursor business, which ceased operations in 2020. Spikes had held similar leadership roles in the prior MoviePass venture, 2011-2018. Other background: 1 | 2 | 3 | 4 |
Momentum? MoviePass signed-up nearly 800,000 users in a single five-day portion of its autumn-2022 beta-test of USIO card-issuance and payments technology, according to San Antonio-based Louis Hoch, president and CEO of Usio Inc. (Nasdaq:USIO). Hoch's comments came in a press release this week.
Note: In our 2021 coverage of the above-mentioned HC Fund and Opp Fund VII, Claritas management said the firm was then approaching $400MM in equity investments, about $250MM of which had gone to healthcare-related businesses. The firm had then invested in more than 70 businesses, 29 of which were Tennessee-based companies at the time of Claritas investment.
Earlier VNC coverage of Claritas Capital is here and of John Chadwick here. VNC

. last edited 3 February 2023 1208hrs
---