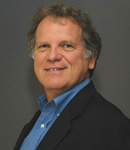 The nation's early-stage venture capital community is "broken," and VCs are investing "later and safer" in proven companies, rather than in startups.
Fortunately, the bearer of that message, angel-syndication advocate John May, will be toting some solutions in his baggage, when he arrives Nashville, this week.
May is a principal in New Vantage Group, based in Vienna, Va., and is chairman emeritus of the Angel Capital Association.

May is to be a panelist for "Investing in Healthcare: The Early- and Growth-stage Perspective," a luncheon program co-hosted tomorrow by the Nashville Health Care Council (NHCC) and Nashville Capital Network (NCN). The program also includes Moderator Jim Bradford, dean of the Vanderbilt University Owen Graduate School of Management; and, panelists Marty Rash, American Pathology Partners; Bob Crutchfield, Harbert Management; and, David Wilds, First Avenue Partners.

In an interview with VNC last week, May said that while he's not yet prepared to call the turn of the Recession, he added, "I don't feel as concerned as I did" in the final quarter of 2008. He described himself as "cautiously optimistic," overall.
He does, of course, realize that there are now many fewer millionaires in the U.S. writing checks for angel investments. May also recognizes that the weak initial public offering sector is stymieing later-stage venture-capital investment, and is suppressing valuations of early-stage companies that take their valuation signals from similar companies that do well with IPOs.
However, May suggests that in the early-stage context the IPO factor may be more important as a "psychological" factor, in that it may deter entrepreneurs from putting their companies into play, while awaiting better valuations.

Equally important, May said the lack of IPO "comparables" as proxies for pricing early-stage ventures almost certainly siphons-off the "momentum and froth" that often come into play when assessing the prospects for "cheaper, faster and better technology."
Meanwhile, May has advice for entrepreneurs who've maxed-out their home equity lines and credit cards, as well as for investors looking for new approaches to early-stage deals.
For active investors, May encourages greater collaboration, including formal co-investing and syndication of deals among individual angels, angel networks, family wealth offices, government grant and incentive sources, corporations, fund managers and others.
Such cooperation, May said, will allow angels to invest in "VC-like deals" and will allow all parties to contribute to due-diligence effort and other duties, as well investing capital.
May's firm, New Vantage, has apparently defined a niche for itself in such matters. New Vantage creates and manages early-

stage venture funds for active angels; enters joint-venture partnerships with regional angel clubs; and, provides consulting and training for in-formation or existing groups of angels, non-profits and government entities.

New Vantage's website indicates the company is also somehow aligned with World Trade Center Dulles Airport Capital Partners, and is affiliated with other firms that invest in United Kingdom growth companies that are seeking to market their goods and services in the U.S.
For entrepreneurs, May's advice is more fundamental:
While these are "tough times" for raising capital, he said, these are good times to "hunker down...get a customer" and design "a business model that takes a little cash as possible and gets [entrepreneurs] as much progress as possible."
May observed, too, that while investors have made themselves scarce, it's a pretty good time for recruiting valuable advisory-board members, who may later invest or influence others to do so.
Beyond the more obvious merits of his suggestions, May stresses that even if a company doesn't attract private investment, this is the perfect time for owners to demonstrate that "they know how to be resourceful with limited cash, and that gets rewarded on the other end," when investment begins to flow.
Lest the point be missed, May stressed that these are no times for entrepreneurs to think they're going to muddle through the recession by consuming investors' equity, while drawing a full salary.
May also stressed that, particularly amid the current crunch, this is also no time for surprises, and communicating reliably and honestly with all stakeholders is imperative.
Sounding every bit the man who relishes his work, May insisted that while some angel investors have become venture capitalists and are out of the early-stage game, there's not a "wholesale leaving-behind" of early-stage, underway. Rather, he believes the result is actually a richer, more diverse mix of investors.
There remains, said May, a large community of true angel investors who love the "raw deal," who focus on the "size of the dream," the achievements of the entrepreneur and the "art of the possible," despite constrained resources.

Those angels, said May, are invariably people who see "the market half-full," rather than half-empty.
Finally, May suggested, angels tend to be people who rather than working "agent to agent" to invest in VCs' portfolio companies, prefer to deal "principal to principal" with entrepreneurs. "What could be more juicy?" May asked. ♦