NEWSBITS, March 18, 2010
By Milt Capps Last updated 6:52 p.m.
Published Thursday, March 18, 2010 12:19 pm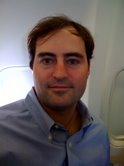 David Mason (left), who was CEO of Nashville-based StudioNow before its sale in January to AOL for $36.5 million, is now SVP of the AOL Content Platform, reporting to former Google executive David Eun, who has spent the past couple couple years managing Google's strategic partnership with YouTube. Earlier, Eun worked for AOL's then-parent, Time-Warner, as VP-operations in TW's media-communications group.

Education Network of America (ENA), the Nashville-based network provider to schools and libraries, today

announced winning a $14.3 million grant from the National Telecommunications and Information Administration (NTIA) to build broadband infrastructure in Indiana to enable improved education, training and connectivity access opportunities for 145 of Indiana's underserved schools and libraries. Maybe this will help stop those rumors the company is for sale.

► Music City Research Consortium, an initiative reported earlier by VNC and led by Tennessee State University, will not advance during the current General Assembly session, it seems. Dr. Evelyn Thompson, who's leading the effort, said the half-dozen universities in the group will not be seeking State support this year, but will look toward the future. She said the group will probably not have its first meeting til after the spring semester ends.


Start-Up Tips: On April 7, serial entrepreneur Marcus Whitney will discuss finding the "magic and money" to succeed in tech ventures. Whitney recently co-founded JumpStart Foundry, is CEO of Remarkable Wit, CTO of Moontoast and still at least loosely affiliated with Emma, among other interests. Details at DigitalNashville.

Mid-TN Life Sciences advocacy heats-up: The Tennessee life-sciences industry's collaboration with educators for workforce
and economic development will be the focus of a May 5 meeting cosponsored by BioTN and Mind 2 Marketplace, nonprofits focused on advancing tech-sector employment, innovation and commerce in Middle Tennessee. The meeting Noon-2:30 p.m. at Cool Springs Life Sciences Center includes former Bredesen advisor and SCORE Managing Director for Advocacy and Communications Wil Pinkston; and, National Science Foundation Advanced Technological Education (ATE) Program Leader V. Celeste Carter, Ph.D. Conferees may explore supporting a Tennessee application for major grants funding through the NSF ATE program. Coincidentally, on the day of the BioTN event some Tennessee bio-life sciences executives will be out of town attending the annual BIO conference, being held this year in Chicago.



Nashville Technology Council's annual Technology! Nashville event is May 7 at Gaylord Hotel. NTC has a mobile-applications super roundtable on April 1, details here. Mining a similar vein, MobileX breaks out at Cadillac Ranch March 27, with discussions of mobile-sector ventures, investing, technologies and markets. Details here.


Futurity.org, an online university news channel for folks interested in basic research, has expanded from North America base to include science news from British universities. Vanderbilt University was a founding member of Futurity.org, which was a response to declining news-media coverage of science and academic activities.

► San Francisco-based Med-Vantage has been tapped by Blue Cross Blue Sheild of TN to provide provider quality data to BCBSTN members.


Chrysalis Ventures Founder and Chairman David Jones (left) and others have joined with Greater Louisville Inc. (the local chamber) to create the Greater Louisville International Professionals, a new economic development initiative to make Louisville more attractive to international entrepreneurs, according to a report in BusinessFirst, Louisville's bizjournal. A frequent panelist in Nashville, Yale- and Yale Law-educated Jones has previously held executive positions with Humana, the U.S. Department of State and Bank of Boston.

Nashville-based Aegis Health Group, a healthcare business-development agency, announced its PRISM physician-contact and -relationship management software, customizable to individual hospitals. See related VNC story on former Aegis executive's startup venture.

Memphis-based Asentinel, a telecom life-cycle management firm, announced the opening of an office in Amsterdam and the deployment of a Euro, Africa, Mid-East sales force. Release here.

UPS COO David Abney will address the Chattanooga Chamber's April 28th Innovation luncheon, says Chattanoogan.com

Knoxville-based Scripps Interactive named New York City-anchored Lisa Choi Owens to SVP Digital Media, overseeing FoodNetwork, TravelChannel and social and mobile media. The KNS has it. ♦