Private equity: State pension fund commits $150MM
By Milt Capps
Published Wednesday, August 19, 2009 8:47 am




Lamar Villere
Up to $150 million for private-equity investments has been allocated to several prominent companies now managing funds for the Tennessee Consolidated Retirement System.
It was the first such TCRS action since state law was changed to allow the pension fund to make private equity investments.

Lamar Villere, director of the TCRS private equity program that began operations this year, told VNC in an interview this week that commitments have been made to three firms, and further commitments may be made yet this year to bring 2009 total allocations to the targeted $300 million.

The firms and their TCRS commitments:

Hellman & Friedman Capital Partners VII LP of San Francisco received a TCRS commitment of up to $75 million.
TA XI of Boston may call for up to $50 million in capital from TCRS.
Khosla Venture III of Menlo Park may call for up to $25 million.
TA Associates just a week ago announced the closing of its $4 billion fund XI, and has declared the new fund is targeting healthcare, technology, financial services, business services and consumer, with equity investments projected to range from $60 million to $350 million each.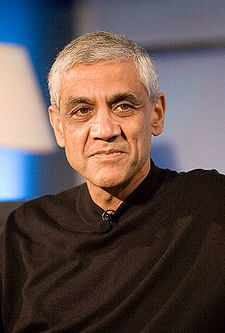 Khosla Ventures was founded by Delhi-born Vinod Khosla (at left), a former partner in Kleiner Perkins Caufield & Byers and the co-founder in 1980 of Sun Microsystems. Khosla focuses on early-stage companies in the Internet, computing, mobile, silicon technology and clean-technology sectors.

Hellman and co-investor General Atlantic own controlling interest of Nashville-based and now publicly held Emdeon Inc.

Villere downplayed the notion of competition among potential fund managers, explaining, "We've met with a lot of groups and these were three that we thought were good groups for our initial investments...good groups with very long high-quality track records."

He said it is likely two or three further appointments will be made this calendar year. Toward that end, he said he is in conversation each business day with potential fund managers. About once a week, those contacts include conversations with Tennessee-based fund managers.

With the PE program's launch now behind him, Villere said, "all of a sudden I have an actual porfolio that I have to pay attention to...in addition to looking at new investment opportunities."

Villere's role requires him to be actively engaged with each fund manager, with an eye toward ensuring targeted performance and adherence to state investment rules. TCRS has no direct control over the fund managers' investment decisions.

Villere noted that with no staff other than himself, he has been reliant upon strong support from other TCRS departments and the office of the Tennessee Attorney General.

Villere is TCRS' first private-equity director, and has been in his post six months. During that time, he and TCRS colleagues, with long-standing TCRS consultant Strategic Investment Solutions, have developed private-equity allocation guidelines, identified the first slate of three fund managers and made allocations to those fund managers.

Villere said he worked closely with TCRS Chief Investment Officer Michael Brakebill and Treasurer David Lillard, and other TCRS staff, and obtained approval for the fund-manager commitments from the investment committee of the TCRS board of trustees.

Responding to a VNC request, Villere also confirmed that in addition to support from the state AG, external legal counsel is provided by Morgan, Lewis & Bockius LLP (New York City) and K&L Gates LLP (Seattle). ♦