SpecialOps: ExBellum combat veterans target business imperatives
By Milt Capps updated
Published Monday, May 6, 2013 9:59 am





Judson Kauffman
Co-founder/CEO
Updated: In 2018, the now Texas-based founders exited Exbellum and cofounded Terradepth, a data-as-a-service company focused on actionable knowledge about oceans, according to their LinkedIns. Our May 2013 story is below.-Ed.
---
EXBELLUM, the Brentwood firm that connects special-operations veterans with employers who need high-impact players, is quietly preparing to raise some capital.
The year-old company was founded by Judson Kauffman and Joe Wolfel, both 30, both married and both less than three years out of the U.S. Navy, where they served as Navy SEALs.
Initial operations have been funded by friends, families and themselves. Kauffman would not discuss details of ExBellum's preparations for a raise. He confirmed that the firm's advisors include attorneys with McKenzie Laird, accountants with LBMC and it banks with Wells Fargo. Its website is by Dibs Creative (Dallas), said Kauffman.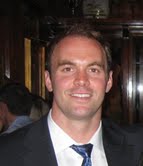 Joe Wolfel
The ExBellum website
is here
, their concept statement
is here (pdf)
and an uncommonly well produced video message about their mission appears
on Vimeo here
. ExBellum stresses the thorough vetting of candidates that make it into its website community.
They make no direct reference to the hoaxes wrought by men pretending for personal gain to be special-ops veterans, in the years since the Vietnam War.
In materials provided by Kauffman, ExBellum asserts, "Over the next 10 years, an estimated 25,000 special operations personnel will be exiting the military and searching for civilian opportunities; there is an estimated current U.S. workforce of approximately 90,000 former special operators." Their case is ably stated in the pdf.
They pair have created an online database and employer-operator matching site to address the challenges facing former military and para-military veterans in transition to civilian life.
Kauffman is president and CEO of ExBellum and is, according to his
Linkedin
, pursuing a business degree at Belmont University. Wolfel's
Linkedin
shows his most recent affiliation was as a senior consultant with McChrystal Group, in Northern Virginia. Wolfel is a graduate of the U.S. Naval Academy.
Declining to discuss details of their military service and commendations, Kauffman told VNC, "We both have significant combat experience throughout the middle east and Africa."
ExBellum is the dba for Smashed Titans Enterprises, as the firm is registered with the state. Kauffman declined to unpack the meaning of the actual name, describing it as "an inside joke."
The business moniker does not refer to Nashville's NFL football team, Kauffman confirmed when asked. (FWIW: Smash Titan is the name of a Suzuki bike.)

VNC