Having won a coveted slot within San Francisco's TechCrunch startup showcase, a father-son team from Nashville will pitch their developing tech company to West Coast investors, Sept. 8-10.
Nashville-based Statzen LLC, formed by Glen and Jackson Miller, fell short of winning a berth among the 50 startups that will take turns in the center ring of "TechCrunch50." However, they'll be among nearly 150 firms that will take turns making less formal presentations in the event's sidebar TechCrunch DemoPit, a second-tier venue that's also highly prized among tech entrepreneurs.
More than 1,000 firms from about 50 nations reportedly sought access to any level of TechCrunch exposure. Only two years old, the event is linked to the rambunctious TechCrunch blog, which, as reported by The New York Times, is in a heated rivalry with the 17-year-old DEMO technology conference, scheduled at roughly the same time in San Diego.

Statzen Chief Technology Officer Jackson Miller, 31, told VNC during an interview Friday that he knows of no companies - including giant Google Analytics - that are competing directly with his Statzen software and services for tracking reader attention garnered by individual blog content and search patterns.

Miller indicated he has only modest expectations of raising money locally and hopes ongoing conversations with local angels pan-out - but, he doesn't plan to expend an inordinate amount of energy chasing additional prospects, here. Miller hesitated a bit, possibly weighing the need to make a point often heard locally, but then added, "Nashville is just not a great town to raise money for a tech company that's not healthcare-based."

Nonetheless, he said it's possible ongoing conversations with local angels could lead to issuing term sheets here and he's been encouraged by at least one trusted advisor to continue to cultivate the local angel community. Even so, Miller seemed to feel obliged to explain that his seeming resignation regarding local investors stems from a need to conserve his own time; the impending TechCrunch appearance; and, very encouraging feedback he said the Statzen model has gotten from tech pros based elsewhere. Miller confessed, "I think [Statzen's] funding's kind of a foregone conclusion - I hate to say that..."

Though the company's currently far upstream of any revenue, Miller explained he believes that Statzen's independence from advertising analytics will strengthen confidence in its reporting. He noted that Google's Analytics division is under the same corporate umbrella as revenue-generating Google Adwords and other tools, contributing to what he described as growing discontent with Google's services and increasing concern about "having one company know too much" about a given online business.
He said Statzen, which is offered as a subscription service, provides unsurpassed detail regarding who's reading specific blog posts, via what blog-linked channels, and within blogs' specific topic categories - altogether, the kind of "reader attention" intelligence that can alter publishers' decisions about priorities for editorial coverage and other operational and business matters.
Referring to the tech sector's appetite for potentially "disruptive" ideas, Miller explained Statzen provides readership data not merely for a single online address (URL), but also for specific blog posts, subscribed newsfeeds, publisher-defined topics and, in its potentially most dramatic service, defining reader attention based not merely on clicks or searches for specific terms, but also based on analyses of patterns in readers' searches that reveal higher-level topic interests that overarch specific search queries.
Stazen's focus is on visitor attention accorded online text, rather than clicks on a single webpage or audience attracted by online advertising. Miller said while Statzen remains a work-in-progress, a Nashville publisher is now testing the content-analytics tool within its print and online media.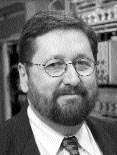 Both Jackson and father and CEO Glen Miller (left, circa 1999) are among co-owners of L2M LLC, which owns and operates two Plato's Closet franchised retail clothing outlets in the Nashville area. Jackson says he has been working on Statzen about two years at a pace that allowed him time for Plato's and for co-parenting his four children.
He said he and his father decided about three months ago to formalize the Statzen venture, press forward on development of the technology and seek outside capital. Fresh capital will accelerate development, recruitment of alpha and beta test sites and launching an aggressive marketing program. They registered Statzen with the Tennessee Secretary of State on July 31, according to the state's online database.
Prior to focusing on the family businesses, Jackson Miller worked with Janus Group Inc., a management and technology consultancy, where he provided business-intelligence analytics services for the company's very large corporate clients. He said he has also held such roles as senior application developer for Magazines.com, one of the Nashville's area's largest e-commerce companies; lead developer for Emma (Cold Feet Creative LLC); and, director of operations for CentreSource. He supported information-technology services for Belmont University and the See Forever Foundation, and has pursued a number of major personal tech-development projects over the years. Along the way, he said, he found time to study Jazz at Loyola University and philosophy at Belmont.
Glen Miller is a former Vanderbilt University director of telecommunications and director of information-technology services. He has also held similar staff or consulting roles at Middle Tennessee State University, Western Telecommunications Consulting, ITS Corporation, Southeastern Telecom and South Central Bell, among other roles. He earned an MBA at the Owen Graduate School of Management at Vanderbilt.

TechCrunch representatives have not yet replied to VNC questions submitted Friday about the event and Tennessee companies' participation, therein. VNC understands that at least one East Tennessee company has won a slot on the TechCrunch50 main stage, but that has not yet been confirmed for publication. The top 50 companies are sworn to silence until the event begins. ♦