UPDATE: Pathfinder Therapeutics is back on the money trail
By Milt Capps
Published Tuesday, May 20, 2008 1:48 pm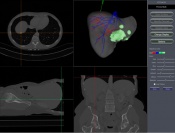 Pathfinder's Lynasys technology at work

During an interview with VNC yesterday, Pathfinder Therapeutics President and CEO Paul MacDonald expressed confidence his company won't be forced to emigrate from Nashville in order to obtain the venture capital it needs to become a going concern.

However, MacDonald said local VCs and state government could certainly help the company relax its white-knuckle grip on survival.

Just two years ago, Pathfinder failed in its efforts to secure Series A funding to build a business around the company's image-guided liver surgery technology.



MacDonald (at left) joined the company just before that 2006 effort stalled, but he is undeterred. He insisted yesterday that recent FDA approval of the Pathfinder liver-navigation system, plus strong results in clinical trials involving a prominent liver surgeon -- and a subsequent surge of interest among physicians -- have brought success within reach. "It's there and it's palpable," he declared.

That may be, but MacDonald estimated the company needs $2 million in fresh investment for the next 18 months of go-to-market operations, and he'd obviously rest easier with more: $4 million to $7 million "would be perfect."

Earlier this year, with funds running low, Pathfinder seized on FDA approval to turn again to "friends and founders" for more money. That move was aimed at bridging the gap between development and sales, while working to secure venture capital from larger players.

MacDonald said that repeated investment by locals reflects the fact those investors "feel the science is very compelling" and that Pathfinder is a real business in-the-making, and not a "makework project."

Thus, he said he hopes Pathfinder will also win support from the "sidecar" fund recently launched by Nashville Capital

Network, whose angel investors have previously invested individually in Pathfinder.

Asked for comment this morning, NCN Executive Director Sid Chambless (at right) replied, "NCN investors have been involved in Pathfinder and continue to have interest in supporting the company. The company's made a ton of progress and our investors continue to be interested in the company and the technology."

MacDonald stresses that Pathfinder has, in his view, the opportunity not only be "first to market" with image-guided liver surgery, but also to define and "architect" the market, ultimately becoming the standard of choice for soft-tissue surgeries, including not only liver, but also possibly pancreas, kidney, colorectal and eye-orbit surgeries.

Vanderbilt scientists, including Pathfinder co-founder and Vanderbilt biomedical engineering faculty member Bob Galloway broke similar ground through their earlier pioneering work in image-guided neurosurgery. MacDonald said Nashville's "brain trust" can repeat that earlier success and create a "beachhead" for commercialization of a new generation of image-guided devices.

At the moment, Pathfinder is directing educational and awareness efforts toward physicians within the nation's 125 institutions that host liver surgeries, and aims for trials in perhaps four more institutions this year -- including Memorial Sloan Kettering Cancer Center. At the University of Pittsburgh Medical Center, renowned liver surgeon Dr. David Geller has already used the technology with success and has become a Pathfinder proponent.



Alluding to VNC's recent report on Veran Medical leaving Nashville for St. Louis, apparently as a condition of obtaining venture capital, MacDonald seemed to draw a line in the sand: "I disagree with the notion that medical device, surgical device companies can't make a go of it here in the long term. We're going to make a go of it...," he said, later adding, "it's not easy, but we will do it."

MacDonald explained the venture has been kept going by Pathfinder's tough controls on use of capital; by grants from the National Institutes of Health and the National Cancer Institute; and, roughly $2 million in aggregate investment and support from Vanderbilt University, Pathfinder's founders, local Angels and such instate investors as Discovery Life Sciences Fund, and Clayton Associates.

He's not happy that Pathfinder, which now has about $1.1 million of its original $3.4 million NCI-NIH grant money, could have been sitting pretty with as much as $6 million, by his estimates, if the company had enjoyed access to state matching funds for such federal grants, as often the case in Alabama, Canada and many other locations. (In the recent emigrations of Nashville's BioDTech to Birmingham, Brentwood Vextec's R&D investment in Indiana, and Veran Medical's move to St. Louis, state and local incentives played important roles. There have been other recent examples.)

"We could've been looking at a situation wherein we didn't even need to avail ourselves of VC money" at this time, he said.

He said he believes it is "incumbent" upon state government to provide more help to firms such as Pathfinder, and said he has made that point to state economic-development officials. He said those officials have talked about possible assistance for several years, adding he hopes they soon come up with something "substantive."

Nashville investors' relatively low interest in medical-device investment has also been a drag. MacDonald explained that, "having beaten the bushes for a while already" he's now convinced "there is an immense amount of money in Nashville; but, it just so happens that [local investors'] degree of acumen within medical devices...is relatively lean."

MacDonald said that even MB Venture Partners, a Memphis VC relatively well experienced in and committed to life sciences, was interested, but has thus far opted not to invest, due to absence of a bigger lead investor.

Nonetheless, he said he believes Pathfinder can surmount the funding problem, partly because "the soil in which we are planted already has firm roots."

To illustrate his point, MacDonald notes that in addition to substantial local early investment, six of eight Pathfinder employees were living here prior to joining the company, and he is confident the workforce can grow to 20 or more in Nashville, without much difficulty.

Pathfinder Therapeutics is located in a 6,800-sq.-ft. space in offices neighboring 100 Oaks Mall, in which Vanderbilt University Medical Center is now anchor tenant. MacDonald, a Canadian soon 43, said the unforeseen co-location with Vanderbilt clinics could bring further advantages for his company. ♦