Venture Notes -- April 20, 2009
By Milt Capps Last Updated 2:29 p.m.
Published Monday, April 20, 2009 1:47 pm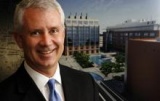 Innova's Woody
Startup-oriented VC Innova Memphis, a division of [corrected] Memphis Bioworks led by President Ken Woody, announced it has invested in 7-year-old Memphis venture Cagenix Inc., which produces CAD/CAM-designed dental implants and in Extra Ortho, which has an ortho trauma product. Woody told VNC this morning an A-round is nearing completion for a third investment in an IT services firm in the Memphis area. He said the unnamed company targets an "untapped" market. Innova doesn't reveal the sizes of its investments. The Innova venture-accelerator effort was spawned on the strength of a grant from MemphisED, an economic-development entity, to Memphis BioWorks. (Thus far during the recession, MemphisED has fallen short of its jobs-creation goals. Related MBJ story.)

Fred Goad (at right), former ENVOY president and a founding partner in Voyent Partners LLC in Brentwood, is reportedly among

investors suing Columbus, Ga.-based VC Don DePriest, whose tax woes and litigation may have contributed to DePriest's recent resignation from the TVA board, according to the KNS.

Green Hills-based Petra Capital announced its $6MM play in New Jersey, with York Telecom Corp. Petra earlier announced, a $5MM investment in NuView Systems (Boston area). Apparently, Petra's not a VC that's 'on strike'.

Upstart Memphis-based BioFuels America Inc. says it's trying to raise $20MM in private equity. CEO Pete Reeves is apparently closely aligned with Cole Porter, who is president of video-game maker MCR Inc. (Memphis). Reeves, based in Springfield, Ill., reportedly plans to start production by relaunching an idle Tennessee ethanol plant. Reeves has not yet responded to a VNC query. $20MM is a popular number for things Green: see earlier VNC report on Green-oriented Nashville-based CoreTech, as well.

The City of Chattanooga's Enterprise Center is holding a tech-transfer conference Friday, April 24; speakers include Adaptive Methods (Chatta.) and Yale execs. Write for info.

Memphis Life-Sciences community says it's 'test-tube ready' for Stimulus funding for research. Meanwhile, in Knoxville a 'Boatload' of Stimulus money challenges would-be DOE contractors. And, Tennessee's broadband Internet could get $150 million in Stimulus funding, TFP story here. Grant-seekers met with state officials in Nashville this morning.



Gov. Phil Bredesen answered KNS readers' questions about Solar and related issues, here. Today's comprehensive KNS story outlines Tennessee's response to the Solar imperative, with Oak Ridge NL once again at the center. In a third feature, Knoxville responds to Solar opportunity. Incentives listed here. Business impact here. Knox biz response here.

Music Row reported echo (formerly echomusic) is being shuttered in NV, and relocating operations to LA. Echomusic co-founder Mark Montgomery took the money and left, months ago.

ConduIT Corporation portfolio company Cell Journalist has teamed-up with L3 Communications-linked Baron Services (Huntsville) to expand weather-related content.

Memphis-area Firefly Websites is bootstrapping its way into a pretty elegant content-management solution, says MDN story.

Tech innovation and jobs creation: DC-based TechAmerica (formerly AeA, the CyberStates folks) put out a release leaving no doubt they know the Obama Administration's new (and first) chief technology officer, Aneesh Chopra, pretty well. Chopra will work closely with Vivek Kundra, the nation's new CIO, and others.

Al Gore's Current Media Inc. laid-off some San Francisco workers and withdrew its IPO, with an eye toward refiling in better
times. Last week's successful Tech IPO's notwithstanding, Forbes says VCs remain on the sideline. Foundation Capital (Menlo Park) VC Adam Grosser laid-out the case for encouraging venture capital amid the Great Recession, in Friday's WSJ. Smaller IPOs via boutique bankers is part of solution.

Health IT talk: Franklin-based MedInsights Inc., a managed-care provider, adopted VIIAD CareTicket technology, while Ernie Clevenger's Brentwood-based CareHere LLC touts its own med-tracking system. Shared Health (BCBST) said today has added to its tech suite, also. ♦