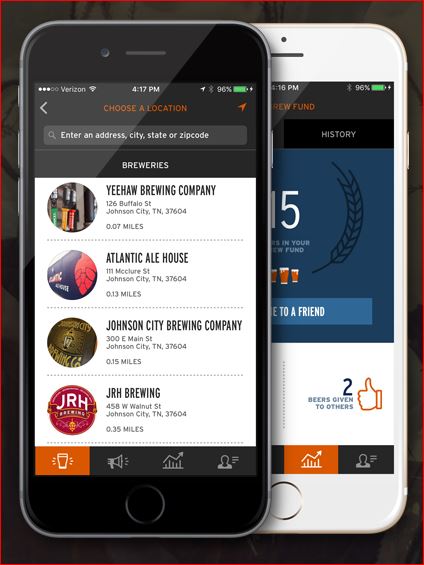 BREWFUND, the Johnson City startup with an app that helps you give, receive or trade gifts of beer from your favorite local breweries, is one of the Village 36 startups headed for Nashville and Launch Tennessee's 36|86 conference.
Co-founders David Nelson and Travis Rother, both natives of Columbus, Ind., previously worked together four years in a software-consulting company while stuyding at Purdue University.
Only they hold equity in the startup, at this time.
So far, they've been able to develop their website, backend and iOS app (approaching AppleStore launch) entirely inhouse.
The company was conceived less than a year ago, and incorporated in April.
Still, assuming they find attractive terms for equity or convertible, the duo is not ruling-out a Seed round of perhaps $200K to complement the $20K or so they have put in with some friends and family.
Their Nashville debut during 36|86 could shape the venture future for Nelson, 32, and Rother, 26. Here's our update on the 36|86 event.
They're scouting for members of their advisory board, particularly those who have experience generating strong growth in the beverage industry and who know the market.
The company relies for all legal services on Stephanie Grass and Tom Perkins with Paganelli Group in Indianapolis; and, for accounting they turn to Darla Kinser at Kinser CPA in Johnson City.
David Nelson
Travis Rother
Nelson and his pharmacist wife moved first to Johnson City for her career, and Rother will soon relocate there.
Competitors? They've spotted Beer2Buds.com and BuddyDrinks.com on the artisan-brew landscape.
Among horizontal players in gift-giving, the field is more crowded. VNC
.
---