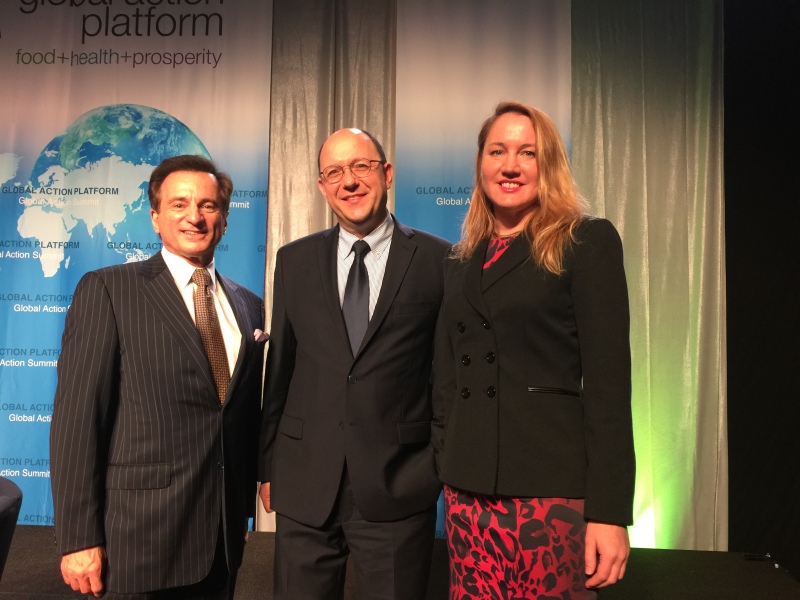 GLOBAL Action Platform (GAP), an international development program led by Nashville social entrepreneur Scott Massey, Ph.D., is exploring a strategic partnership that could earn GAP a significant role in global social-impact investing circles.
In a scenario that is still-unfolding, Washington, D.C.-based Aegis Health Security and GAP would partner to help institutional and other investors direct capital toward enterprises that are positioned to help nations and communities surmount challenges in Health, Food/Agriculture and Economics.
GAP is a program of Massey-led nonprofit Cumberland Center, based in Nashville. The group's annual GAP Summit took place earlier this week, drawing many development, investment and domain-specific influentials.
Fareed Zakaria
Much of the this week's Summit at Music City Center was conducted by Fareed Zakaria, who is host of CNN's prominent weekly public-affairs program, Global Public Square (GPS), and a contributor to The Washington Post and The Atlantic.
Yesterday, Aegis' worldwide Managing Director Remy Szykier joined Massey to confirm the two organization are in late-stage discussions regarding forming a partnership to support socially-responsible investing in target enterprises that are deemed likely to contribute to fulfillment of strategic development goals of GAP/Cumberland, the United Nations and other global actors.
Massey and Szykier said their proposed partnership could help drive as much as $500MM -- half a billion dollars -- worth of investment to favorably impact development.
If it proceeds as envisioned, the effort may be referred to as "the Challenge Impact Fund." However, rather than creating a fund, Aegis and GAP/Cumberland plan to be advisors to fund-managers, limited partners, targeted companies and other influentials.
Earlier this morning, Global Action Platform announced a new partnership and project in the Philippines that seems to be consistent with its capital-and-development objectives announced this week, but no word on partnership details.
The new Challenge initiative is not to be confused with GAP's early-stage innovation award, which was won earlier this week by Spiras Health, a startup that addresses underserved populations with asthmas and COPD. Spiras is likely to receive an investment or grant from Clayton Associates or one of its affiliates. Clayton's Landon Gibbs told VNC details are not yet being announced.
In the "Challenge Impact" program, Aegis aims to connect sources of capital with teams that are running deeply vetted enterprises aligned with global development strategies and goals, in order to deliver "market-driven innovation," Szykier said during a GAP session, yesterday.
The United Nations' 2030 Agenda for Sustainable Development is here. GAP's 2015 Global Action Report is here.
Though the Aegis brand is healthcare-focused, VNC understands that Aegis is fundamentally focused on "social determinants" of health and healthcare delivery; and, the partnership with GAP/Cumberland anticipates Aegis' applying its algorithms and methodologies to opportunities in all key verticals.
Szykier said during the Summit yesterday that Aegis' role in Challenge Impact initiative would include helping to define investment criteria (relative to development goals and other considerations); performing diligence and counseling to derisk investment targets; and, improving enterpreneurs' access to capital.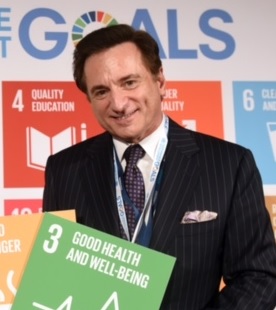 Scott Massey
Aegis says on its website that the company and its Aegis Health Analytics subsidiary serve clients by "developing and building funding models to tackle entrenched social problems and bring rigour and capital networks to the delivery of social change.injects market principles into funding in a way that stands or falls on results - both social and financial. Innovative financial products forge essential links between the market, government and society for the greater good."
GAP/Cumberland, meanwhile, brings expertise, institutional relationships and, among other things, the Nashville Summit platform for raising awareness of all these issues and opportunities.
VNC research shows that Szykier is a native Californian and is UC-Berkeley-educated (political science and economics). She has a hefty prior career in sales, alliance- and business development and related roles with both mature and early-stage companies focused on RFID analytics software, business intelligence, and other technologies. She held management posts with PeopleSoft, Intel, Intrepid Systems, Collabria, Query Objects, and others.
For more on Massey's earlier career, please see our 2011 story here.
Kitty Moon Emery
According to Cumberland Center's Form 990 for 2013, its board that year included Massey, as well as GAP/Cumberland Chief Operating Officer Kitty Moon; and, one Craig Oxford, the latter believed to be a Nashville-based entrepreneur. VNC has determined that Oxford is owner of High Emotion Audio, based in Nashville. He was founder of the nonprofit foundation that became the basis of Cumberland Center, and is no longer associated with it.
In 2010, GAP Summit and other activities were supported mainly by Cumberland University and other University partners. In 2013, the enterprise was essentially transferred to an existing nonprofit shell (Visionary Wellness, Inc.) and renamed Cumberland Center Inc., according to Cumberland's 990.
According to Guidestar and other information online, GAP/Cumberland partners and advisors have in the past included Web/software developer DevDigital; KraftCPAs; Baker Donelson; and, publisher Diplomatic Courier, among others.
For 2013, Cumberland showed about $471K revenue, mostly from contributions, and just over $300K in donated services and facilities. "Facilities" could reflect, among other things, the value of Cumberland Center's quarters in the emerging ONEC1TY development on Charlotte Ave., a stone's throw from HCA headquarters. Microsoft announced this afternoon it will move its regional office from Brentwood to the ONEC1TY site.
ONEC1TY is owned by Cambridge Holdings, a Dallas-based real-estate developer which also funds a number of initiatives touching-upon health and wellness.
Cambridge Founder, Chairman and CEO Jean-Paul Saada appeared Monday on a panel discussion on "Engines for Megacities," moderated by Zakaria. VNC


---