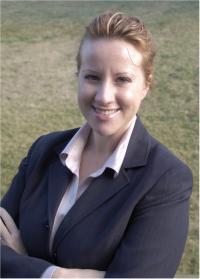 The year-old Angel Capital Group LLC, headquartered in Sumner County, pitched its deal-syndication services to more than 30 entrepreneurs and investors, during a meeting Thursday at Belmont University.
ACG Founder and CEO Rachael Qualls told the group ACG intends to improve its access to angel capital by allying with the Inception Micro Angel Fund, a 6-year-old network of North Carolina angel groups.
Qualls explained that, operating unilaterally, ACG fell short of its fund-raising objectives for its first year, and realized the need to syndicate deal flow. ACG raised about half the nearly $1 million it had sought.
Meanwhile, demand remains high: Qualls said she receives "at least 30" requests for assistance from entrepreneurs each month.
She explained ACG hopes its membership in the IMAF network and in another syndicate that is still on the drawing board -- the U.S. Capital Highway -- will put deals from U.S. entrepreneurs in front of Angels in Tennessee and beyond. Angels in Colorado, Georgia and Louisiana are expected to join North Carolina and Tennessee players, soon.
Among the speakers at Belmont last week were two entrepreneurs who told of the torturous process of pursuing investors.
Chattanooga-based Stephen Culp, founder of highly regarded SmartFurniture, said isolated entrepreneurs face a capital-raising process that is "wildly inefficient."

Culp (at left, on Inc.'s cover) said his experience with SmartFurniture and years he previously spent at Stanford University and in Silicon Valley convinced him a more rational focused approach to raising capital is long overdue. SmartFurniture investors include Delta Capital Management, Southern Appalachian Fund, Jemison Investments, Murphree Venture Partners, Bonaventure Partners and other management, staff and angels.
Similarly, Marc Finch, CEO of OptiVia Medical, a medical-device company based in Winston Salem, detailed his efforts over several years, including first-round submissions of 25 executive summaries or plans and ten angel-group presentations, four of which went to due-diligence, leading to nearly $700K in funding. He said he's now in a Series B effort for $1.5 million and has already made 15 plan submissions and five presentations. And, he's already looking beyond that to a $5 million raise. OptiVia is now an IMAF portfolio company.
Angel Capital Group has also announced plans to create TN Micro Fund I. ACG is soliciting up to $2.1 million from investors, with minimums of $15K and $30K for individuals and investing entities, respectively. ACG information online suggests investments could range from $25K to $200K or more in 15 or more companies. Qualls said ACG plans to create a second "Mega Fund" vehicle to invest in companies that aren't quite ready for venture-capital investment. Minimum investments would be $100K and $200K for individuals and corporations, respectively.
ACG has enlisted about 20 angels, thus far. The group has announced no completed investments since its formation 15 months ago. Qualls, 29, says ACG will soon attempt to activate an ACG division in Memphis, as well as in Nashville and East Tennessee.
The older Nashville Capital Network has more than 50 active angels. During the past five years, individual NCN-affiliated angels have invested more than $10 million in 19 investments in 13 companies. NCN recently created a $5.2 million NCN Angel Fund I for direct investments. Prior to formation of NCN in 2003, there was the Nashville Angel Network, which had originally been founded in 2000 as the Technology Funding Alliance. The original NAN angel network invested in seven companies, including five out of state.) ACG and NCN are not currently collaborating on any services or programs.