Self-funded, founders seek 1st investors for growth
Strong YoY growth within grocery brands
Global CPG majors said wanting innovation at-scale
Can serve strategic partner as innovation factory
---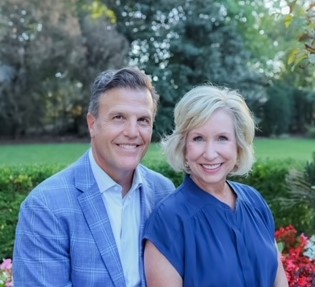 Founders John and Carey Arons
CAREY AND JOHN ARON, the spouses who are cofounders and sole owners of 30-year-old The Pasta Shoppe LLC -- which produces and sells pasta products for grocery chains, nonprofit fundraisers, and individual consumers -- are preparing to raise their first outside equity capital via a target-$2MM round.
The initial raise represents a bridge toward expanded distribution of their offerings, and is a likely precursor to a larger capital raise in 2024.
As COO John Aron explained during a series of VNC interviews, U.S. grocery chains and domestic and international pasta brands recognize that both the industry and consumers need Pastabilities® options.
This has become clear, said Aron, after decades during which rising numbers of consumers -- motivated by lifestyle, dietary or medical considerations -- steered their carts away grocery aisles laden with traditional pasta.
The Pastabilities brand promises include the real wheat taste and al dente texture that consumers crave. Its "better for you" varieties are produced using artisanal and larger-scale manufacturing techniques that yield products aligned with concerns about obesity, glycemia, diabetes and other nutritional concerns.
Based in Nashville, the founders' two primary lines of business are Pastabilities® packaged goods sold into grocery chains; and, specialty pasta products for use by fundraisers tasked with underwriting their groups' purchases of equipment, uniforms, travel, etc. -- with zero upfront charges and a substantial pre-set share of their group's sales proceeds.
The founders peg Pastabilities' targeted U.S. market at a minimum 132MM consumers. When they add to that figure the half-dozen or so Asian and Latin American markets they plan to target they see a total $1.4BN addressable market -- an innovator-sized slice of an overall global pasta market of $33BN.
The company currently produces 15 product variations (SKUs) and is currently in more than 3,000 U.S. grocery stores, including about 1,400 Kroger stores, many of which Aron said have recently posted triple same-store year-over-year growth.
Aron said he projects the company will be selling into at least 25,000 grocery stores by 2028.
He explained that, after much soul-searching in the past few years, he and President Carey Aron decided that they and their company are optimally positioned in the pasta landscape as "an innovation factory" or "on-ramp" for major pasta brands, in a category that is under-innovated.
The co-founders have thus far found more attractive the prospect of working with corporate strategics -- which have teams that are already savvy in CPG Food and food-health trends -- rather than with venture or private equity firms.
Aron confirmed that the company has in the past two years established contacts with representatives of the 10 largest international pasta corporates. He currently estimates a strategic partnership opportunity could be available by late 2024.
He said many sector incumbents are based in Italy or elsewhere in Europe, where in some nations lifestyles are different, economic and innovation incentives less plentiful, and consumer concerns regarding weight and glycemia less pronounced.
He added that conversations with representatives of major Italy-based pasta companies and other industry influentials have reinforced his belief that most dominant brands recognize their need for innovations that can be achieved by smaller, often artisanal businesses in North and South America.
Asked about what would happen following a hypothetical strategic sale, Aron said that under one scenario the founders could remain in-place as managers, guiding continued growth of the Pastabilities® line, as well as other product and marketing innovation initiatives.
Operating for decades in parallel to its grocery and e-commerce lines of business, Pasta Shoppe fundraising sales have sometimes proven somewhat counter-cyclical.
For example, the founders have previously said that during the Great Recession, the company worked with roughly 800 fundraising groups in 2008, versus about 2,000 groups in 2009.
The impact of the pandemic years has also had impact on philanthropy, according to this report.
The company sharply stepped-up its e-commerce pasta sales by 2008, creating a channel that persists today, representing a tertiary share of revenues, but often with disproportionately higher contribution to margins.
The Pasta Shoppe models 2024 sales of $6MM and currently employs 15 FTE, he said. According to Linkedin, Joann Tapp has been sales manager since 1995.
VNC research indicates the Pasta Shoppe's capital raise is likely to debut formally the first week in November -- i.e., just after the end of National Pasta Month, which is promoted each October by the National Pasta Association and other industry sponsors.
By 2020, said the COO, the spend associated with early efforts to gain trade awareness, grocery facings and shopper trial led to taking a fresh look at financing the future business.
Aron said that at that point he "would have been much more flat-footed" about setting course on the next leg of the business if he had not known that the imperative of "grain modernization" was rapidly becoming established and salient among Food-sector leaders and health-conscious consumers.
Though the need to achieve demonstrable consumer awareness and adoption are always key in CPG, he felt that the nature of the challenge and the market contours were "very knowable."
The company collaborates with other companies, as warranted. For example, Aron noted its long-running work with multi-generation family-owned Bay State Milling (Quincy, Mass.) in creating some pasta options using Bay State's high-fiber wheat.
The Pasta Shoppe's advisory board includes John Bearden, former CEO GMAC Realty; Mark Faulkner, president of Vireo Systems; and two Nashville men who run family offices: Frank Andrews of Nelson Capital (a son of Nashville icon Nelson Andrews); and, Kevin Crumbo, who is currently also interim finance director for Metro Nashville government.
Asked about other outside advisors, the COO said Nashville-based advisors currently include attorney Leslie Stophel Maclellan of Maclellan Law; Teresa Reynolds CPA of Grainger Reynolds & Associates; and, business advisor Kurt Riemenschneider.

The company banks with Truist Bank. Aron said he serves on Truist's Nashville Community Advisory Board. Both Arons have previously spoken about access to bank technologies and credit lines as important factors in their decades of revenue cycle and cash-management efforts.
The Pasta Shoppe website was designed by Shay Bocks. Packaging design efforts and related have been led by President Carey Aron, teamed with designer Marcia Romanuck of Atlanta.

Notably, while Pasta Shopped seems to have handily secured registration of the Pastabilities trademark, USPTO files online show that the efforts of others who sought to trademark the same word pretty much died on that hill. (Pasta Shoppe has allowed one New York State restaurant to continue using the name, with no license for use in CPG marketing, the COO explained when asked about that instance.)
John Aron, age 59, and Carey Clarke Aron, 55, respectively grew up in the New York City suburbs and in Nashville, where Carey attended Harpeth Hall.
Both earned undergraduate degrees at the University of Vermont at Montpelier, and found one another while working in the New York City area with RR Donnelly & Sons.
At two different stages in the company's history, John Arons was active in Entrepreneurs Organization's Nashville chapter.
Among other accolades, in 2012 The Pasta Shoppe was named in the manufacturing and logistics category a NEXT Award Winner (NEXT was then a program of the Nashville Area Chamber of Commerce, and is now run by Nashville Entrepreneur Center).
The Pasta Shoppe's plant is located at 2728 Eugenia Avenue, Dock Doors 30-34, Nashville (37211).
The Arons married in Nashville in 1992 and honeymooned in Italy, where, among other things, they say they enjoyed Italy's famous pasta and cuisine. Decades on, they have two adult sons.
RESOURCES
For deeper dives:

NCBI: 1 | 2 | 3 | 4 | MEDIA: 5 | 6 | 7 | 8 | 9 | 10 | 11 | VNC
. last edited 0709 11 October 2023
---