Convertible debt raise underway, precedes Series C in 2022
Revenue ramp accelerating after pandemic blow
Strategic ties yield corporate and cross-border opportunities
Tailoring new services for Health, Insurance, other sectors
Designs on offering Franchising
CEO values both Silicon Valley 'DNA', Nashville advantages
---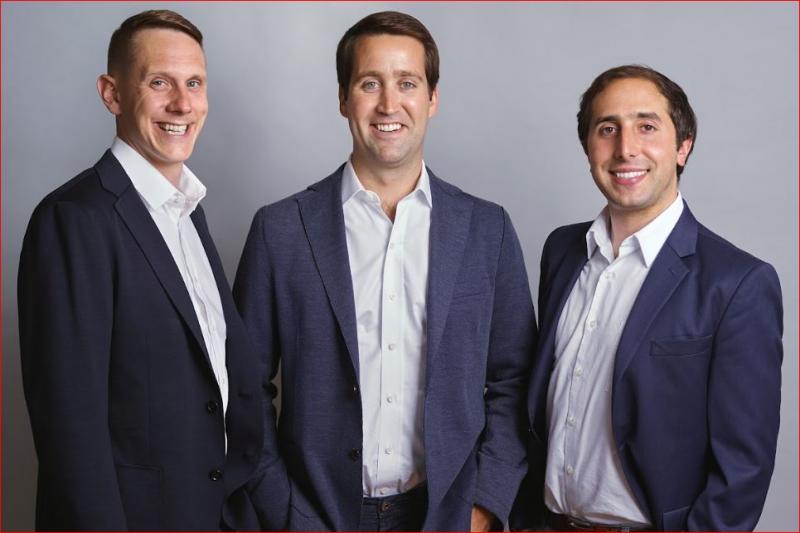 L-R: CoFounders Hunter, Frist, Alexander
YOSHI Inc., the gasoline- and car-care delivery business that serves employers, fleet operators and consumers, is ramping revenue, introducing more B2B2C offerings and building its workforce in Tennessee and beyond.
Yoshi also has underway a $10MM convertible debt raise, which is expected to bridge the company to a Series C raise, probably during 2H 2022.
Yoshi Co-founder, Chairman and CEO Bryan Frist also told Venture Nashville that the Nashville-based company -- born in Palo Alto and relocated here in 2020 -- will soon add electric vehicle (EV) recharging to its services portfolio.
That move is soon to be followed by a series of new e-commerce, on-demand and subscription-based services that are known to be valued by corporate and industrial workers, as well as by consumer motorists, their families and their employers.
Frist also acknowledged that Yoshi's roadmap includes expansion into new geographies at home and abroad.
Yoshi's cross-border opportunities seem concrete: Within the past week, General Motors announced that it had signed an agreement with Yoshi and Altawkilat - Universal Motors Agency, Saudi Arabia, to explore delivering vehicle services to consumers "wherever they are" in the Kingdom of Saudi Arabia.
Yoshi is also preparing to launch and-or accelerate revenue opportunities associated with Healthcare, Insurance and Franchising between now and early 2023. More on these matters, later in this story.
Since its inception, Yoshi has raised at least $38.8MM from outside investors, including a $2.1MM Seed, a $13.7MM Series A, and a roughly $23MM Series B round, as previously reported.
Yoshi is now operating in more than two-dozen service areas in seven states. By YE 2022, Frist said he expects Yoshi to be operating in a total 11 states.
The company's overall headcount is steadily rising and now stands at about 90 employees, with headcount ballparked at 300 companywide by year-end 2023. Its local executive offices are in e-Spaces in the Burton Hills office park of Green Hills.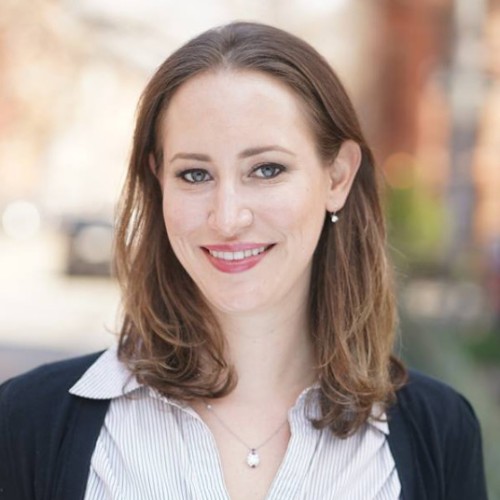 CFO Alice Jones
About 25 Yoshi team members are in the Nashville market, including Frist and CFO Alice Jones. Jones spent nearly a decade working in New York tech and finance circles before moving to Nashville for Yoshi.
(Clarified) Frist said the onset of the pandemic saw a quick drop in revenues of at least 50%, but he said the company's revenue "is now running at a rate three times higher than when we were going into the pandemic," at which point its revenues had reached what was then record-highs for the company. Non-gas services revenue is now approaching 50% of annualized revenues.
Proceeds from Yoshi's earlier Series B raise afford Yoshi operating runway through CY 2022, Frist said, adding that the company's monthly burn is "consistent" relative to on-going scale-up goals.
The major automakers of this and other nations represent one of Yoshi's key B2B2C channels for expansion of its business, domestically and internationally.
While Automakers are by no means the only major employers that could make Yoshi access available to their workforces, they also produce products into which a Yoshi app may be integrated -- via dashboards, for example -- further boosting recurring subscription revenue, as well as add-on product and service sales.
GM Ventures' stated investment framework seems congruent with the option of embedding Yoshi.
For, according to GMV, the firm focuses on "value chain and business model" targets that could extend GM's existing product offerings, and-or help GM identify new businesses with products or services for new or existing customers. VentureBeat reported nearly four years ago that Yoshi and some auto brands look to a future in which access to Yoshi offerings are embedded as a feature in automakers' vehicles.
While OEMs are, for now, its most promising channel for B2B2C scale and momentum, Yoshi founders have long made clear they view Greater Nashville as a home-base that correlates more broadly with Yoshi's target market of individual "everyday Americans" -- whether those Americans are reached directly (B2C) or via employer sponsorship or employee benefits programs (B2B2C).
That characterization of the market seems to pair well with Yoshi's declaration upon entering the 2016 cohort of Y-Combinator, in which it described its mission, thusly: "To help our members to keep moving in the safest, most efficient, and planet-friendly way possible, while delivering unparalleled customer service."
Asked yesterday whether the presence of other automatic or on-demand fuel startups that are based in the Bay Area might have influenced Yoshi's relocation to Nashville, Frist politely dismissed that notion.
He pointed out that, among other things, Nashville is much closer to many of Yoshi's current and prospective OEM customers and strategic partners -- and generally closer to the lion's share of the nation's general population.
Ford's recent investments at the West Tennessee Megasite (recently dubbed Blue Oval City) and in neighboring Kentucky simply reinforce the case for Nashville, said Frist.
Most readers will recognize that while Music City is only about 500 miles from the clustered headquarters of GM, Ford and Chrysler (Stellantis) in Motor City -- Detroit is a full 2,400 land miles from San Francisco.
EXPANDED LINES
Frist explained that the Yoshi team and its advisors have identified at least 10 additional synergistic opportunities supportable within the existing business, and is vetting the most promising.
For example, a few months ago, the company decided to test the use of its infrastructure and corporate fleet customer base to drop-off COVID19 rapid home tests to those enrolled for its services.
The first 100-or-so deliveries validated the new "YOSHI HEALTH" service offering, which is now ramping-up for the current season of family gatherings and holidays.
Frist noted that Yoshi Health product delivery and service/supply referrals may gain lift in the context of sustained home-based care. VNC notes this could also be relevant in the context of what is often referred to as "social determinants of health" (SDOH).
INSURANCE is another sector that Frist and his advisors are studying closely, with an eye toward an early-2022 debut. Yoshi could, for example, use FINTECH-insuretech to connect its subscribers with information about insurance coverage options and related resources.
FRANCHISING is getting strong consideration as part of the mix for the U.S. Yoshi could consider building a network of independent service providers, or use memo's of understanding to collaborate with service providers, internationally.
DISCIPLINE, CULTURE
Asked how Yoshi stabilized its business in the face of the pandemic, Frist said one of the most important steps was its early decision to pause new-market entries and focus on what were then five anchor markets: Nashville, Houston, Los Angeles, and San Francisco metro areas, as well as communities in southern Michigan that are home to General Motors workforce hubs.
Among other things, the Yoshi team also redoubled its emphasis on preserving the customer loyalty it had already accrued within both fleet and consumer segments. Frist said he tracks very closely Yoshi's net promoter score (NPS). It's NPS has been "hanging in the 90s" and recently hit 94, he said.
Frist said he believes other signs of success include the fact that Yoshi has signed-on to support workers of 20 or more GM worksites in the year ahead.
The CEO said he believes Yoshi's emerging culture is strongly consistent with its brand: "Yoshi" is derived from a Japanese term of praise and encouragement, which Yoshi Inc. uses to signal that it is always ready to help all kinds of customers "Get moving!"
The company's current core services span gasoline fill-up (premium or regular, with diesel coming soon), as well as Fuel Delivery, Car Wash, Car Detail, Engine Cleaner, Oil Change, Tire Check, Windshield Fluid, Windshield Treatment, Wiper Blades. EV charging is slated to begin in early 2022.
Yoshi delivery-service signups are made via AppStore or Android apps, or via its website. How it Works here. Corporate services here. The Yoshi Shopping Page here. Fleet-owner portal here. Pricing & Discounts here.
COMPETITORS
VNC research shows current or potential future competitors in Yoshi's space include Booster Fuels (San Mateo), GasNinjas (Coral Gables), Spiffy (Durham, N.C.), JROP (Royal Oak, Mich.), and YourMechanic (Mountain View), apart from other entrants in the industrial fuel and energy supply bracket. A number of other potential competitors appear to have ceased operations in the past two years, in both the U.S. and abroad. Local regulatory friction around fuel delivery seemed to be a contributing cause for at least one exit in the northwestern U.S.
DIRECTORS, INVESTORS, ADVISORS
In addition to Chairman/CEO Frist, the Yoshi board of directors includes Bay Area-based Co-founder Nick Alexander MBA, a tech veteran who still advises the Yoshi team; General Motors Ventures (GMV) Managing Director Wade Sheffer; and, ExxonMobil's Troy Simms MBA, who is the giant's director of business development for its U.S. Retail Sales Partnerships.
Collectively, Yoshi co-founders now hold control of the company. In addition to Frist and Alexander, Palo Alto-based Co-founder Dan Hunter MBA, remains aboard. They and others Bay Area veterans among Yoshi's nearly 100-person workforce -- as well as among the ranks of its investors -- are the reason Frist often refers to the value of Yoshi's "Silicon Valley DNA" within a company now optimally headquartered in Nashville.
GM Ventures remains the company's largest non-founder minority shareholder. GMC led the company's Series B and co-led the Series A with ExxonMobil.
VNC research indicates that, in addition to Yoshi founders, GM Ventures and ExxonMobil, Yoshi shareholders have in the past six years included Y Combinator, AltaIR Capital, AAF Management, Liquid 2 Ventures (NFL veteran Joe Montana), ZhenFund, Soma Capital, and SGH Capital, The Durant Company (Thirty5 Ventures, 35V), Arab Angel, among others.
Frist said Yoshi is advised by attorneys with Goodwin Procter and with Baker Donelson. Its accounting is with LBMC, and it works with bankers with JP Morgan Chase Commercial Banking and with Pinnacle Bank.
The CEO explained that the company has had no need for additional advisors, at this time, largely because its incumbent investors -- from GM, Y-Combinator, et al -- and the management team's combined networks afford access to high-caliber sources of advice and network expansion.
MORE ON THE CEO
Frist, 34, was born in Nashville, and spent age 8 through high school (St. Albans) in Washington, D.C., where his family lived while his father, Bill Frist MD, served 12 years as U.S. Senator and Senate Majority Leader.
The elder Frist is, among numerous other interests, co-founder of Frist Cressey Ventures, a Nashville VC firm, as well a Special Partner and chairman of the distinguished executives council created by Cressey & Co., the Chicago-based private equity firm. Bryan Frist said his father is not an investor in Yoshi.
Investment in the company by other members of the extended Frist family was zero at Yoshi's inception in 2015. Today, family investment represents a "tiny percentage" of Yoshi's outside investment, Frist said.
Frist earned his MBA at Harvard Business School (2015) and his undergraduate degree at Princeton University (2010).
Prior to earning his MBA, Frist worked briefly within Health Insight Capital, a subsidiary venture arm of HCA Healthcare, which was founded by his uncle and grandfather -- physicians Thomas Frist Jr. and Sr. -- alongside fabled Nashville entrepreneur Jack Massey.
Prior to co-founding Yoshi, Frist served as chief strategy officer for Chinaco Healthcare, which operated a hospital in Cixi, China and was founded by uncle Tommy Frist and Nashville healthcare entrepreneur Chuck Elcan. A Wikipedia entry says Bain Capital bought controlling interest in the company in 2017.
Bryan and Elizabeth Grote Frist have a daughter and two sons, and reside in Nashville.
Since founding Yoshi, Frist confirmed he has also personally invested in Nashville food startup Porter Road Butcher (Local Eateries Inc.); and, he is investor, director and advisor to Austin tech startup Pull Request, which offers a software code-quality review platform. VNC
. last edited 1559 16 December 2021
---