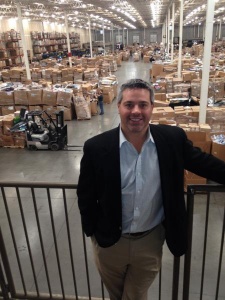 Update 4 Dec. 2015 - Boston PE Thomas H. Lee announced today its recap of and controlling interest in BargainHunt, with CEO Echols remaining aboard. Terms were not disclosed. -Ed.
ESSEX TECHNOLOGY GROUP, the wholesale liquidator and discount retail chain operator based near Nashville, has passed the $50MM sales mark by keeping watchful eyes on operations and technologies, and it may soon explore a capital raise.
Robert Echols, the 42-year-old CEO and majority owner who co-founded the company in 2000, told VNC that execution remains paramount for the company. Essex stands astride both the "loss mitigation" or reverse logistics market comprised of major retailers; and, and the consumer segment served by Essex's own Bargain Hunt discount-retail chain.
Asked about raising capital, Echols said Essex is "moving from a small to a mid-sized company," and 2015 "could be a good time for us to explore those possibilities."
Capital is likely to be a sharp focus during 2Q-3Q15. Related decisions will be shaped by "what we're learning from our organic growth" and, as always, influenced by valuation, he said.
Should it choose to pursue a raise, it would proceed early in the new year to select an investment banker, Echols said.
Asked about interest from suitors, Echols said each week he's likely to get at least one call from potential investors, institutional researchers and others. Essex does not rule-out M&A activity, if and when that makes sense, he said, adding that much of Essex's work is the sort that other businesses look to avoid -- "no one wants to do the [reverse logistics and salvage] process." So, there aren't many direct competitors on that side of its business.
Essex, which has just entered its busiest operational season, ahead of the holidays, is steadily developing its Bargain Hunt group, employing the spoke-and-hub model it has learned to replicate.
It will soon open its 29th Bargain Hunt store, in Tupelo. Mississippi will become its sixth state, in addition to Tennessee, Kentucky, Alabama, Georgia and Indiana. It aims to have 37 stores by the end of 2015. Dallas and Atlanta are among other attractive expansion markets, he said.
The profitable company has a variable workforce of about 700, with about 30 full-timers in its headquarters in La Vergne, in Rutherford County, adjoining Metro/Nashville.
Acting as a sort of arbitrageur, the company buys goods being discharged for any reason by a retailer or other seller; re-sells at discount ready-for-market items; and, repairs or salvages other products and components for resale or reuse.
The company "never stops" looking for information technology and software talent, given the importance of the Internet, point-of-sale, inventory, warehouse management and logistics and other technologies, said Echols.
Under CTO Neal Barnhill, Essex now has eight programmers and a half-dozen staff for IT hardware and infrastructure, he said.
Flexibility is a crucial trait of Essex's team members, said Echols. Hour to hour, change is woven into the fabric of life at Essex due to the nature of the industry -- the absence of forward intelligence regarding major partners' next buying or liquidation moves; the imperative of being responsive to analytics and other rapid market feedback; competition from online retailers, and other factors.
It pays to be versatile. Daily, the company seizes or rejects opportunities to buy or sell wholesale goods as varied as hardgoods, electronics, computers, toys, tools, lawn and garden products, and other categories. It buys and sells inventories, wholesale, and it provides export and other services, in response to continually varying customer demand.
Illustrating the ramifications of change, Echols noted that the company started as a wholesale buyer and seller of computers and components.
Within months of Essex's launch, rapid consolidation among computer makers was ignited among such players as HP, which in 2001 announced plans for its $25BN acquisition of Compaq. During that same period, Dell pushed harder to broaden its direct-to-consumer offerings. By 2004, Essex opted to emphasize bricks-and-mortar stores over branded Internet sales, creating its first store, in the Nashville market.
Bargain Hunt customers, themselves, are also change-agents. Its customer base is weighted toward consumers who are excited by the ideas of both "bargains!" and "hunts!" And, they can change their buying habits in response to economic conditions. One day, a customer might move from shopping thrifts and charity stores, to buying at Bargain Hunt. On another day, the same shopper might move on to TJMaxx, said Echols.
Its current advisors include accountants with LBMC; and, attorneys with Butler Snow, with Bass Berry & Sims and with Waller Lansden Dortch & Davis. It banks with SunTrust, and its agency is the Smith Group, based in Goodlettsville.
Pfeffer
Together, Echols and Chairman Phil Pfeffer, who acquired a stake in the company a decade ago, hold more than 80% of the company's equity, and individuals on its cap table are fewer than 10, said Echols. Peter Marcum, a co-founder of the company who also served in management at its inception, completes the board of directors.
Prior to Essex's launch, Echols worked in the Administration of then-Gov. Don Sundquist and in one of U.S. Sen. Lamar Alexander's two presidential campaigns. Echols earned a degree in history at Rhodes College in Memphis, in 1995.
Pfeffer is the former Chairman of Random House and a former CEO of Ingram Distribution. Now splitting his time between Nashville and a home in Florida, Pfeffer is as former member of the boards of boath Ingram Industries and Ingram Micro, according to information online. Essex has historically done a lot of business with Ingram Micro, Echols noted at one point.
Marcum is founder-owner of Nashville-based software and interactive agency DevDigital, the de facto to his earlier telecom and broadband ventures. VNC