CoreTech Industries Inc. President Greg Quinn says development of CoreTech Park has received zoning and related approvals from the City of Lebanon and Wilson County, allowing construction to proceed.
In a series of interviews and exchanges, Quinn provided VNC an update on CoreTech plans, affirmed that a wind-to-energy company is waiting in the wings to join CoreTech at the new park, and revealed that CoreTech may seek private-equity capital to accelerate production of its advanced concrete in three states.

CoreTech and City of Lebanon officials have been touting the CoreTech campus near I-40 and South Hartmann Drive as the first in the nation devoted exclusively to development and marketing of green technologies.
The "First" claim seems defensible, at least for the moment. VNC research suggests that many, if not most U.S. states and major cities, as well as some individual business and R&D parks, are focusing on developing and recruiting green companies. However, VNC spotted no other instances of a park currently marketing itself as exclusively "green"-oriented.

Beyond the boundaries of CoreTech Park, Quinn said his company plans to create at least three production plants for its concrete products, one-each in Middle Tennessee, Kentucky and Mississippi. Additional plants in other locations may follow those three, he said. No location has yet been chosen in Middle Tennessee for a plant, but Quinn said he believes the plant will be sited within a 60-mile radius of Lebanon.


Quinn (at left) also reaffirmed his previous statements that CoreTech expects to be joined in-residence at the park by another company that produces wind-to-energy equipment and systems. Quinn would not identify the company, but indicated the companies' agreement is firm.
In a brief discussion of CoreTech's capital requirements, Quinn said CoreTech, which has to this point planned to rely entirely on corporate resources to fulfill its plans, is now considering seeking up to $20 million from outside private investors in order to accelerate construction of production plants, to satisfy rising demand for its products.
CoreTech Park is one of a handful of business parks being closely watched by advocates of creating R&D parks in the Nashville area, as well as by real-estate developers; among those projects:

► Just south of Nashville, the Smyrna Airport Business Park offers tenants direct access to airport runways, as well as access to the adjacent Smyrna Industrial Park. Smyrna Airport is the state's third-most active airport, and has a runway adequate for "747-size" aircraft.

► Jackson, Tenn.'s TVA-certified megasite (still active, despite some reports to the contrary) is drawing particular attention, in the wake of Hemlock Semiconductors' planned investment at Clarksville's megasite.

► Meanwhile, the $4.2 billion May Town Center proposal for Davidson County's Bells Bend area remains under further analysis, in the wake of intense local controversy.

Quinn told VNC that CoreTech has ready access to up to $90 million to begin work on three buildings called-for in phase one of the project. Previous reports indicate the company's actual phase-one investment will be under $60 million.
The first CoreTech buildings will sit atop about 50 to 60 acres and contain about 230,000 sq. ft. of space, all of which will be occupied by CoreTech, beginning as early as 2010.

Quinn suggested that CoreTech could ultimately spend about $150 million on the park, which the company has said will generate about 250 CoreTech jobs during the park's two-phase development. Longer term, Quinn said the park could cover as much as 250 acres, and might employ as many as 1,000 persons in resident companies.

CoreTech Industries, Inc. is a wholly owned subsidiary of CoreTech International, Inc. (CTI), which has been based in Canada. Quinn said CoreTech's new Lebanon campus will become the parent's North American headquarters. The company currently has offices in Mt. Juliet.
CoreTech's CEO is Scott Brett (at right), apparently a longtime CTI executive who earlier worked in venture capital firms. Quinn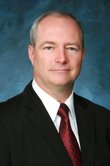 told VNC he is not at liberty to make public any details on Brett's previous career, and the company's website provides no additional detail on Brett.

Quinn estimated CoreTech has $100 million in reliable demand for its materials in its sales pipeline. Moreover, Quinn predicted demand will be heightened by U.S. spending on renewing national infrastructure; by demand for lower-cost structures; and, by continuing efforts to build or rebuild stronger structures in coastal areas vulnerable to hurricanes like 2005's Katrina.
According to Quinn, CoreTech's technique for making its concrete makes the product particularly useful in building precast structures for vertical installations, such as lofty wind-turbine towers.

Quinn noted that while a variety of aerated concrete products are in the marketplace, CoreTech's vertical-installation advantage puts it in a category with only about six producers in Europe and Japan. He said CoreTech's air-cured product also costs less than materials produced by autoclaving.
VNC research indicates that about 500 factories produce various breeds of aerated concrete products worldwide, and that the material has been around nearly 80 years, having originated in Sweden. However, only a handful of plants currently exists in the U.S.

Other producers, a number of which use more energy-intensive autoclaving, rather than air-curing, describe similar growth prospects for their businesses.

At least one of those potential competitors, Santa Fe-based Aercrete LLC, is expanding to serve the Southwest and is reportedly raising at least $8 million in private equity capital, for a venture that will also be supported by debt financing and equipment leasing. ♦