► PE: Arlington Private Equity Fund V LLC filed with nearly $4MM in on a targeted $100MM raise, with Birmingham-based Ken Polk leading, as CEO of Arlington Family Offices.
► OZ: OPAL Fund LP is an entity allied with Opportunity Zone-focused nonprofit Opportunity Alabama Inc., which is led by CEO Alex Flachsbart. Opal Fund has raised $13MM toward its stated $25MM goal. VNC research indicates the new fund is sponsored by 18-month-old OPAL Advisory, alongside impact investors Blueprint Local LLC and-or Blueprint Local Investments LLC, which together seem to comprise an opportunity zone platform.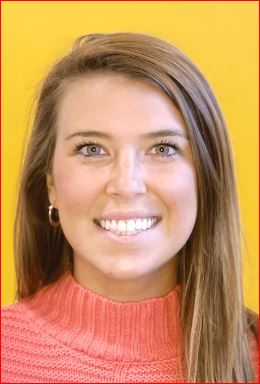 Evelyn Tichenor
► GOODMAPS INC., a for-profit sub of American Printing House for the Blind (APH) in Louisville, filed for a $1.5MM Seed convertible debt raise, which may have been oversubscribed. The startup, fka Access Explorer, was formed to advance accessible navigation using indoor digital mapping for those who are blind or visually impaired, according to Evelyn Tichenor MBA, who is Goodmaps' 23-year-old chief of staff. Its apps will employ camera-based positioning and an archive of images of participating venues that have been mapped by Goodmaps representatives using LIDAR imaging, laser measurements and video, all cloud-stored. When we spoke with her earlier this year, Tichenor said the 15-FTE business had several dozen beta testers in the U.S. and abroad. In future, it also plans to address needs of those with hearing and-or speech impairments, and some offerings will be useful for sighted persons. Another app on the drawing-board is for indoor asset tracking and management, with hospitals among target markets. Goodmaps received some pre-Seed funding from APH, which has been phasing-out its previous outdoors-only "NearbyExplorer" app. The startup will consider pursuing a Series A raise within the next 18 months. GoodMaps CEO: Jose Gaztambide, age 38. Goodmaps' advisors include attorneys with Frost Brown Todd; it banks with Forcht Bank NA; its accounting is with Dean Dorton; and, it receives some finance-related services from VentureFirst.
► MEDICAL HOME: CHRYSALIS Ventures, Louisville, joined a $2.5MM raise by Votive Health (San Luis Obispo), via a round led by Flair Capital Partners (Boston). Votive describes itself as a technology enabled network manager delivering complex care at home for people facing serious illness. Chrysalis Chairman David Jones Jr. JD has joined the Votive board. Release here.
Ginger Mayfield
► CHILDCARE: Vanderbilt University alumna Ginger Mayfield is founder of WYNDY LLC, which offers an app that allows parents to find, book and pay vetted, college babysitters. Based in Birmingham, it recently filed on its completed $3MM raise.

► PE: LEXINGTON, Ky.'s Middle Ground Partners last week filed on both its Fund II's raising $321MM vs a targeted $650MM; and, a $23MM raise for Middleground Partners II-X. We reported in January on the firm's $20MM raise for an Opportunity Fund, here. According to its SEC filings to date, its earlier Fund I hit at least $140MM. All filings here. Middleground's website here.
► FINTECH: Immediate Solutions Inc., a Birmingham, Ala.-based platform that enables workers to draw in advance their earned wages and then allows employers to recoup advanced wages at the end of a pay period, filed on its completed $7.2MM raise. CoFounders: CEO Matthew Pierce and CTO Jason Gwizdala.
William Burke
► SAAS Power: VIRTUAL PEAKER INC., Louisville, filed for a $2.3MM raise for its software platform "that manages residential electric demand. It applies machine learning and real-time control to internet-enabled appliances to reduce demand while minimizing negative impact to the residential customer." Crunchbase here. CEO: William Burke.
► STARTUP Pavr draws on your Google Calendar data to create insights and analytics. The Louisville-based business has a max-$300K WeFunder raise underway. SEC filing here.
► RECOVERY: Stay Clean (Get Clean Online LLC) launched a max $250K raise via the WeFunder portal. SEC filing here. The company was founded by Michael Coleman, its president; and, its CEO is Gene Gilchrist.
► eBLU SOLUTIONS INC., Louisville, said in its filing it has raised more than $3MM of its $6MM goal for its solution for benefits verification, prior authorization, financial assistance review, provider dashboard and more. CEO: Mark Murphy.
► GAMES: TECTOR INC., a Birmingham, Ala.-based startup focused on launching an online vertical marketplace and ecosystem for indie video game developers and their project team members, has filed a placeholder with the SEC for a forthcoming raise. The offering seems likely to include support of certain account functions, CRM, etc., with a beta debut by mid-CY2022. Founder: David Tector, a veteran of the sector.
► RESBIOTIC INC. raised about $8MM for cardio-respiratory health innovation platform created by University of Alabama at Birmingham clinician and pulmonary biologist Charitharth Vivek Lal MD FAAP for invention, creation and monetization of proprietary medical technologies to solve major health challenges, somewhat like an incubator or accelerator. Also on the filing is Timberline Management Company (family office) Manager Braxton Goodrich. SEC filing. Related UAB coverage.
► LOUISVILLE Innovation Radar, free signup, for access to map and database of regional entrepreneurial resources here, from Louisville Future and FlyOverFuture. VNC
. last edited 0634 29 April 2021
---