DYNAMO Ventures, a Chattanooga investor with a widening global footprint, today announced completion of its $43.21MM Fund II, which has already deployed money to at least three seed- or pre-seed stage companies, which are based in New York, Philadelphia, and Dublin, Ireland.
Dynamo Fund II LLC is likely to complete 25 investments during its first five years, Founding Partner Santosh Sankar told Venture Nashville.
Supply chain companies represent perhaps 80 percent of its portfolio, with mobility -- typically more consumer-focused opportunities tied to movement of people -- remains a subset of its holdings.
Fund II check sizes will range from $250K to $1.5MM, with Dynamo leading the round perhaps two-thirds of the time, Sankar confirmed, adding that "we rarely go on our own" and the firm generally prefers to "lean in" with other investors.
Market-standard convertible-debt, SAFEs, or priced equity instruments are employed, as warranted in its transactions.
Dynamo's portfolio page this morning showed Fund I ($18MM, raised 2016) and Fund II (raised 2019-21) have invested in a combined 32 companies, two of which have Tennessee roots -- Steam Logistics in Chattanooga and Workhound, which is split between Chattanooga and Des Moines.
Three Dynamo companies have only placeholders on the firm's portfolio page, each with the caption "Stealth. Coming soon!"
One stand-out investment among Dynamo's initial Fund II commitments is Berlin-based sennder, which has raised more than $260MM in the six years since its inception, including its recent $160MM Series D, which allowed the company, as TechCrunch put it, "to lay claim to a potential $1 billion valuation."
Fund II has also invested in Dublin-based Manna Aero and in Atlanta-based software maker Stord.
Dynamo's only exit, to date, was via the 2019 sale of Massachusetts-based ODYN (Armada Logistics Inc.) to California-based Turvo, on undisclosed terms.
Among the 29 Fund I-II portfolio companies that have been fully disclosed, 11 are based in London (3), Berlin, Nairobi, St. John's (Canada), Panjim (India), and Monterrey (Mexico).
The international component of Fund II's portfolio will probably be about a third of all Fund II investments.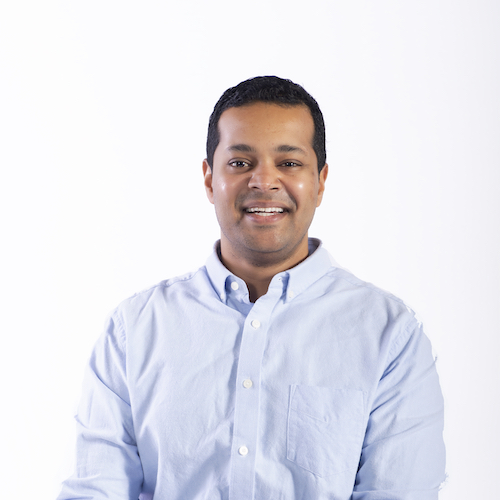 Santosh Sankar
Sankar said Dynamo's reputational growth since its founding in 2016, plus the extraordinary impetus of the coronavirus pandemic have contributed to the firm's recent progress.
He explained that the Dynamo team often secures an investment agreement by encouraging leaders of young companies to do a reference check among Dynamo's portfolio companies and investors.
He said the company focuses on developing dealflow that includes enterprise-modeled seed and pre-seed companies with credible potential to reach $1BN in enterprise value.
Some observers would say that Dynamo represents "smart money" for supply chain and mobility teams. Interviewed by VNC, Sankar essentially unpacked that concept:
He emphasized that Dynamo brings to the table "a prepared mind, we understand the problems -- and often very esoteric problems -- very deeply, and we dispense relevant product, fundraising and market advice."
In addition, he asserted that the firm has a demonstrably expanding network of connections with small and mid-size businesses that can become early customers of its portfolio companies.
Thirdly, Sankar said Dynamo can help portfolio companies connect with talented professionals that match organizational requirements that it examines.
The firm said in a press release distributed today that its LPs include "organizations and entrepreneurs with deep subject matter expertise in supply chain and are committed to helping portfolio founders execute on their vision."
Dynamo has also attracted institutional investors, including early-stage VC Cendana Capital, based in San Francisco and led by Michael Kim.
Not surprisingly, Dynamo also emphasized in its release that the "impact of the COVID-19 pandemic has served to remind us all of the trillion-dollar market that underpins the global economy -- the supply chain. Shortages of toilet paper or semiconductors, container ships stuck in the Suez Canal, and the importance of cold chains for the delivery of vaccines are just a few examples of how the pandemic has brought the global supply chain squarely into focus. Supply chains represent more than 10 percent of the global GDP, but are still largely managed and executed using manual processes and siloed, legacy systems. This inertia has led to an initial crop of venture-backed unicorns tackling the mammoth opportunity that includes Flexport, Convoy, and sennder."
Co-founder Barry Large
Dynamo Ventures, which initially operated an accelerator, then moved into institutional investment mode, was formed in 2016 by Chattanooga transportation entrepreneurs Ted Alling and Barry Large, who had founded Access America Transport, which they sold in 2014 to Coyote Logistics -- which was subsequently acquired for $1.8BN by UPS. One media report suggested the AAT-Coyote deal was priced north of $260MM.
Fund II updates are likely to appear eventually here on the SEC site.
Sankar said no investment bankers or other advisors were employed for its Fund II raise, which was executed by the Dynamo team. VNC
. last edited 0727 25 June 2021
---