Emma Inc., the 7-year-old provider of web-based email marketing and communications services company, has no plans to leave Nashville's urban core for the suburbs, even though its workforce may hit 75 by January. Emma employed only 25 two years ago.

"There's a real cultural benefit to being right here in the city," said Co-founder Clint Smith (left), during a recent interview at Emma's 11,000 sq. ft. headquarters on 8th Avenue South.
Smith said, however, that Emma has accepted the fact that in recruiting talent, the company must reach beyond Music City, sometimes allowing new hires to keep living right where they were found.
"We're always hungry," said Smith, explaining that the company is perpetually hiring in the face of rampant growth.
Smith explained Emma now serves "approximately 18,000 total customer accounts..., with roughly half of those being organizations we bill directly and the other half comprised of companies who work with our agency partners..." The company added about 700 customer accounts in October, he said, reflecting the continued pace of growth. Supporting such growth requires continual expansion of staff, Smith said, and "we're not always going to be able to find them here or lure them here."
For now, just a handful of Emma employees work in Denver and Portland, Ore. In 2009 at least one Emmateer is likely to plant the company flag in Austin, Texas, the home of such tech events as South by Southwest Interactive, in which Emma has participated. In addition, Smith said that despite the economy, "We continue to have the U.K. and Australian markets on our radar and anticipate making a push into one or both in 2009."

Smith wouldn't disclose Emma's exact annual revenue for 2008, but Emma's inclusion in the Inc. 500, plus the recent increase of Emma staff from 50 to 67 suggests the company has sailed past the $8 million mark in annual revenue. Smith, 37. and Co-founder Will Weaver, 36, are the largest owners of the company, with an unspecified number of senior staff also holding a stake. There's no outside money.
Emma's business model is evolving. The company now has in "soft beta" a new "concierge" service that will provide "premium" services designed mainly for small businesses, including custom design.
Smith explained that effective integration of Emma within a client's marketing mix rises in importance as clients expand use of social-media tools.
In this environment, Smith said, Emma's high-touch, brand-centered culture is a strategic advantage. Smith explained, "there are tons of low-touch or no-touch services out there," whereas Emma's emphasis on brand and personality make it easier to create offerings that go beyond "software as a service."

Local public-relations entrepreneur Silas Deane, founder of Logic Media Group, is among the most recent email-market entrants who say they're looking to compete nationally with Emma and other email campaign services. His new Fusion website indicates the offering has nearly 20 users, many of them Logic Media clients.
Taking-on a higher level of customer care is a challenge for any organization, but it's particularly challenging for a company that pushes a brand-image and persona that promise passion, professionalism, personal service relationships, intelligence and the ability to play well with others.
In the early years, Emma's success resulted from Smith's and Weaver's polite-but-driven entrepreneurial pursuit of leadership and amusement - as well as their prior Dot.com experiences and their penchant for keeping their business real, smart and friendly. Back then, when they needed help Emma's founders scouted their personal networks for smart, talented people who seemed to share their attitude and energy.
For example, Weaver told VNC that one of his most important hires was then-Product Development Director Marcus Whitney (at left), who remains "part of the Emma Emeritus team" and a business ally, despite the fact he now leads his own techcentric firm, Remarkable Wit.

Said Weaver (at right), "I don't know what I would do if I weren't working on something of my own," Weaver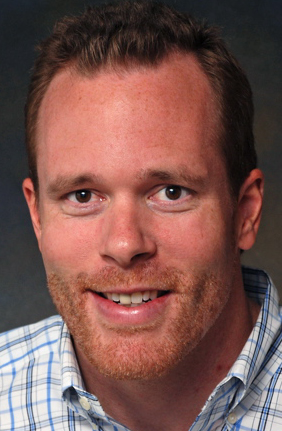 continued, "and seeing the same quality in Marcus and watching him grow his business over the last year has been truly inspirational." Whitney returned the compliment: Responding to a VNC query, he said that when he left "fun loving" Emma three years ago, his goal was simply "to help create more businesses like Emma..."
As Emma gets bigger, the company can no longer rely on workplace teamwork and cameraderie to embed the company's story and culture in new Emmateers. Rapid growth, Smith said, means "you don't get it through osmosis, anymore."
So, Emma is taking additional steps to "imprint" the brand and culture on employees, and to ensure the brand philosophy is passed along to others. Smith said that imprinting begins by recognizing that the people Emma most wants to hire are looking to work in a company that displays a "sense of purpose" and which views itself as part of a community. Said Smith, Emma workers are "looking for something bigger than just a company that's out to make a buck."
That's why in addition to trying to maintain its reputation for good service and fighting spam, Emma gives free services each year to some nonprofit organizations; and, commemorates adding new customers by planting trees.
Smith said maintaining the culture also includes "non-event" events, such as bringing out the company's kegerator for informal parties, and offering free lunch for everyone, once a week.
Perhaps most important, said Smith, is populating the company with people who "appreciate the [Emma] story." Then, "you tell the story," everyday, in many ways. That story-telling, he said, helps employees reinforce the company's values in one another, especially among the new arrivals who are joining Emma, all year long. ♦