ERM Legal Solutions, the Nashville startup that provides software for management of complex legal projects, is easing into a $1.25 MM A Round, according to Larry Bridgesmith, the firm's chief relationship officer.
It was Bridgesmith's name atop a op-ed piece Jan. 20 in The Tennessean, in which he argued the virtues of venture capital and announced that ERM was about to raise capital.
If its A Round is successful, ERM's plans call for having nearly 100 employees aboard 12 months after the A-raise is closed, Bridgesmith confirmed yesterday. The company is nested in the Nashville Entrepreneur Center, but has begun scouting for other space to lease, contingent on raising funding, Bridgesmith said.
Jerry Walters
ERM Chairman Ed Williams and President-CEO Jerry Walters, both currently based in Colorado, plan to relocate to Nashville when the startup gets funding and operational traction. CTO Jeanne' Naysmith is based in Birmingham, Michigan.
Bridgesmith was recently joined in Nashville by Sammye Woods in business development. She has been operating as a consultant in software services and project management, since leaving Nashville-based Little Planet, last summer.
Early-on, the management team considered headquartering in Colorado, but the opportunity to pursue a second priority sector -- Healthcare, of course -- and the increased availability of capital in Tennessee, were among factors militating toward making Nashville home.
ERM's board of advisors includes, among others, Cheryl Mason, who is VP for litigation with HCA, according to ERM's website and Linkedin; Jason Epstein, shareholder, Baker Donelson Bearman Caldwell & Berkowitz; and, Susan Lambreth, a former Hildebrandt Consulting Group executive. She's lived in Nashville 13 years, she told VNC yesterday.
A-Round proceeds will be applied mainly to staffing-up to support on-boarding and provisioning clients, said Bridgesmith. The pre-revenue company is now competing for business and Bridgesmith expressed confidence ERM will sign customers by March 1.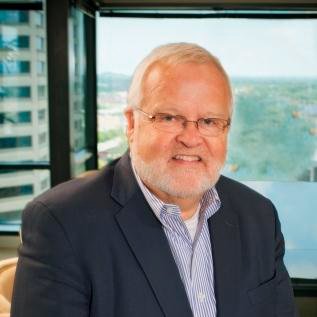 L. Bridgesmith
ERM projects that it will hit breakeven-or-better in Month 12 of full-bore operations, he said. Its growth in Year 2 and beyond could be customer-funded, but a B Round in possible as early as 2013, Bridgesmith acknowledged. Its business includes eventual consideration of M&A opportunities, he added.
ERM is capitalizing on what one blogger recently termed the "boomlet" in legal project management (LPM) technologies. However, while the Legal category is first priority for ERM, the Healthcare, Engineering and Sustainability sectors are priority future targets, Bridgesmith said yesterday.
That Law-sector boomlet is driven largely by the determination of corporate clients and law firms to manage costs and ensure predictable project outcomes. ERM technologies, including its patented algorithm, afford users ability to adjust and report on real-time dynamic changes in assignment, sequence, schedule, expenditure, documentation, cost and profitability. Those capabilities ensure that ERM will be able to stand-out from the crowd, according to Bridgesmith.
Current or potential competitors the LPM space include LexisNexis Redwood Analytics, Thomson Reuters ENGAGE and Microsoft Project, among others, said Bridgesmith. VNC research also shows relevant offerings from Intuit QuickBase, IntApp, Onit Apps and many others.
ERM's legal-project management software is integrated into client systems via Sharepoint, said Bridgesmith.
Its core technology is adaptible for verticals in addition to LPM; and, earlier versions were developed for use in process and project management by tool and die makers in the automotive sector, Bridgesmith explained. Roughly $650,000 has been invested in the technology in the past few years, he added.
ERM stands for "enterprise resource management." ERM Legal Solutions was originally branded under another name, but switched two years ago.
Bridgesmith is of-counsel with the Miller & Martin law firm; earlier in his career, he spent six years with Waller Lansden Dortch & Davis. He earned his J.D. at Wayne State University and his bachelor's in English at Oakland University.
Bridgesmith continues to serve as a senior fellow and associate professor within the Institute for Conflict Management at Lipscomb University; he is also president of the Tennessee Association of Professional Mediators and president of a consultancy, Creative Collaborations, according to information online. He obtained a SixSigma Green Belt certificate from Villanova University.
ERM's law firm is Baker Donelson Bearman Caldwell & Berkowitz, and it banks with First Tennessee.
Its accounting is overseen by its chairman Ed Williams, who is a CPA and was previously president of e-discovery firm Catalyst Repository Systems. VNC