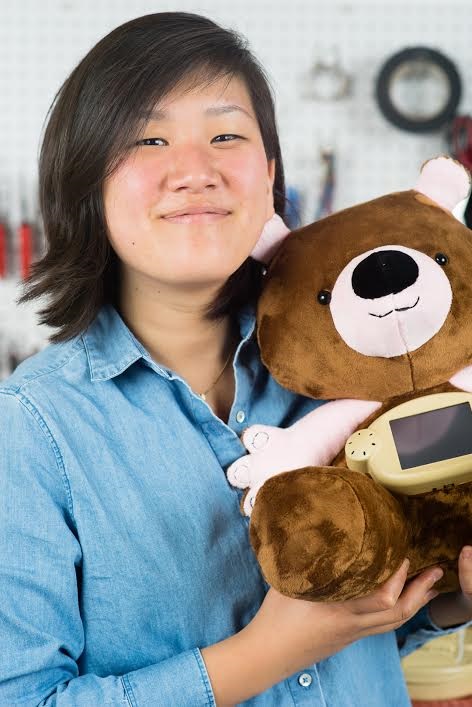 Update: Chung's Feb. 25 remarks are on YouTube.-Ed.
DESIGN for America Co-founder Hannah Chung, who is also co-founder of Sproutel, which makes interactive games for children who have chronic illness, will visit Nashville to discuss how "user empathy," play, iterative prototyping, inventor innovations and failures, and other factors can contribute to developing products and improving the world.
Vanderbilt University School of Engineering (VUSE) is convenor for the session with Chung, which is open to the community and represents another in VUSE's efforts to support Maker, Creative, Entrepreneurial and other innovation communities.
The event is Thursday, Feb. 25, at 4:10 p.m. in VUSE's Fetheringill Hall, Rm 134. That's the same venue as for the well-attended VUSE "Maker Space" forum previously reported by VNC. Recommended parking is Vanderbilt's 25th Ave Garage, Highland Ave.
Chung is one of four student/alumni co-founders of Design for America, which was formed with pivotal assistance from Founding Faculty Member Liz Gerber, an associate professor of Mechanical Engineering within the Northwestern University McCormick School of Engineering and Applied Sciences.
DFA's website explains that it fosters student-led studios on college campuses. The group's Extra-curricular Design Based Learning (EDBL) model its studios employ "is a response to the demands of the Millennial generation to make meaning and social impact through their professional practice." She acknowledged the process employed is sometimes likened to Lean Startup concepts for developing products and markets, and the communities they touch.
Chung, 25, told Venture Nashville that Sproutel's Jerry the Bear interactive platform, which supports children with Type I Diabetes, has achieved encouraging early adoption, and the product is back-ordered. Chung is Sproutel's chief creative officer (CCO) and Co-founder Aaron Horowitz is CEO. Chung resides in Providence, R.I.
Chung holds a degree in Mechanical Engineering from Northwestern University. Though in academe her initial interest was bioengineering, she soon realized that her affinity for the built or made world was strong, and she finished her studies in Mechanical. Her Linkedin profile reflects a lengthening list of honors and awards.
Crunchbase reports that Sproutel has secured $836K in investment and grants since inception in 2012. Chung told VNC the owners are not actively fundraising, but further raises will be considered, when timely.
She underscored that Sproutel is both "tech startup and social-impact startup," adding that the startup's current team of four full-timers "want to make money by doing good...and we want to work in a company that has lasting impact on people."
This VUSE event is congruent with Vanderbilt's ramping-up its new Innovation Center, which adjoins the new VUSE Engineering Building, set to open this summer.
The University's appointment of the inaugural chief of the Innovation Center, Robert Grajewski, was announced earlier this week.
Grajewski formally joins Vanderbilt on April 1. His schedule of multiple campus visits in the interim has not yet been finalized. VNC
.
---