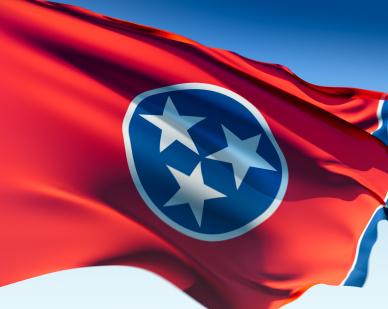 Update: May 12, 2021: LifeScienceTN's press release says the State is funding the SBIR-STTR program with $7MM for matching grants. April 13, 2021: In Gov. Lee's amended budget proposal for FY 22, he included $3MM for Small Business Innovation "to increase employment in Tennessee," an apparent reference to restoring SBIR funding for a program adminstered by LaunchTN.-Ed.
IN 1997, Tennessee Technology Development Corporation (TTDC) was established in state law as a private not-for-profit corporation that would operate under the guidance and oversight of the Department of Economic and Community Development (ECD).
TTDC -- which does business as Launch Tennessee -- recently underwent its periodic Sunset review by the Office of the Comptroller, as required by state law. Yesterday, according to legislative records online, Gov. Bill Lee signed into law a measure extending the TTDC charter through June 30, 2025.
However, there remains before the legislature and Gov. Lee the question of how much funding to provide for a single LaunchTN program for FY2022.
That program is LaunchTN's SBIR-STTR Matching Grant program, which was accorded no funding in Gov. Bill Lee's original FY22 budget proposal to the General Assembly.
Both LaunchTN CEO Van Tucker and Life Science Tennessee Executive Director Abby Trotter previously expressed disappointment at that omission, and indicated they would continue to make the case for support.
For months, LaunchTN allies expressed hope the nonprofit would regain a $3MM annual appropriation for the SBIR-STTR program, even though several sources told VNC that the volume of competitive applications statewide for such matching support often outstripped funding.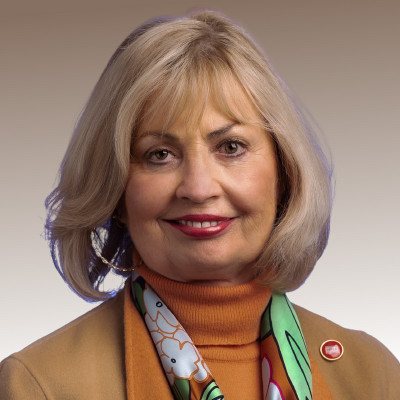 Chair Patsy Hazlewood
Earlier this month, State Rep. Patsy Hazlewood, who is chair of the House Finance, Ways, and Means Committee, said earnestly in committee and later reiterated during an interview for this story that she was optimistic that SBIR funding would make the final budget. Hazlewood is also an appointed member of the board of directors of LaunchTN.
VNC learned late today that Hazlewood has now proposed a budget amendment that would provide Launch Tennessee a full $5MM for the SBIR matching program in FY22 -- and on a "recurring," rather than non-recurring basis, which could reduce uncertainty about funding in future years.
A source familiar with the budget process said today that a similar proposed budget amendment from one or more state senators may also be in the offing.
Such a budgetary vote of confidence would seem likely to allay long-standing worries in some quarters that Tennessee has too often "settled" for too little as it pursues tech-enabled economic development.
If tech-commercialization gets fresh impetus via this year's budget, perhaps in the not-so-distant future still more ideas will get a fresh hearing.
Here's a smattering of some of the myriad ideas we've heard bubbling-up over months and years: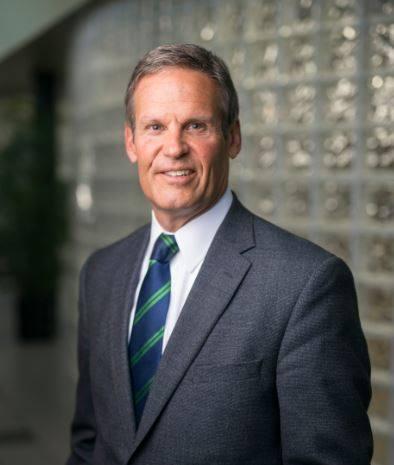 Gov. Bill Lee
1. ECONOMIC IMPACT -- Add to Gov. Bill Lee's Governor's Economic Development Conference (GOVCON) -- which seems likely to happen again this autumn -- a half-day session for participants in the Digital and LifeSciences business, advisory, technology and commercialization communities. Purpose: Give both economic development pro's and tech commercialization pro's a better view of the full economic development lifecycle and the synergies all actors represent, with emphasis on outputs that ultimately contributed to increased Household Income for Tennesseans. Obtain university, corporate and advisor sponsorships to cover the incremental cost of this.
2. MORE CORPORATE INVOLVEMENT -- Once the world settles down and more results from the SBIR grants program arrive, perhaps there can be talk of a parallel program of grants or credits to support market validation or commercialization of technology components, products or solutions by Tennessee-based companies. Maybe that could begin with companies that have participated in one or more of the Tennessee's four existing industry mentor networks for life sciences, energy, agriculture, and transportation/mobility, listed here.
3. MORE INDUSTRY MENTORS -- The aforementioned mentor networks seem highly regarded in most quarters. Perhaps, eventually, Tennessee will consider creating networks closely tied to such industries or fields as financial technology (Fintech), Data/Analytics (Analytics), and Cloud & Computing Infrastructure (Digital).
4. SCITECH VENTURE COOPERATION -- Another idea with fans among scientists, technologists and their teams, but with few overt champions, is the notion of funding a one-year Proof of Concept program to support advancement of new technology companies and jobs in the medical product field, thereby stimulating capital investment, entrepreneurs, and management talent that will contribute to regional economic prosperity. This program could be modeled along the lines of a 2018 proposal (PDF here), but its expanded ranks would include Austin Peay State University, Belmont University, Cumberland University, Fisk University, Lipscomb University, Meharry Medical College, Middle Tennessee State University, Tennessee State University, Tennessee Tech University, Trevecca Nazarene University, University of Tennessee Health Sciences Center, University of Memphis, and Vanderbilt University.
5. REDUCE TAXES -- One idea is to allow existing Tennessee businesses to have access to Franchise & Excise Tax Credits when they make corporate investments in unpriced rounds of spinouts, startups or early-stage businesses based in Tennessee. Similar to the way Tennessee's Angel Tax Credit was funded by credit-offsets tied to former Hall Income Tax on unearned income-tax obligations, the F&E-backed credit program would help further reduce effective corporate taxation. We note that the state's Industrial Machinery Tax Credit is currently used against both franchise and excise tax liability. Also, the General Assembly has in-process several bills related to job-tax credit and rural-relocation tax-credit and other proposals for companies, farmers, film-makers, adventure tourism operators and others, sample here.
6. MAPPING CAPITAL FORMATION -- There will surely be more work on capital formation and investment in Tennessee's tech-enabled Seed and Growth-stage companies. That work can build upon, among other things, the recent report by a LaunchTN Committee on capital formation. Also: Particular attention might be given to revisiting the concept of building a $50MM Fund of Funds affiliated with LaunchTN, as proposed in 2018 by former CEO Charlie Brock.
7. EDUCATION LEVERAGE -- This vein has not been deeply mined. Surely, some day we'll see a study and strategic plan that examines linkages among education, entrepreneurship, wealth creation and increased levels of both startup activity and corporate research and development, technology commercialization, and related metrics. Coincidentally, this afternoon we learned that State Rep. Karen Camper has offered a budget amendment that would provide grants for "Teaching Youth Entrepreneurship Incorporated." In the course of adding this idea, I recalled that then-gubernatorial candidate Bill Lee said in 2018 that he believed the remedy for lagging Tennessee progress in patenting, tech commercialization and corporate R&D lies to some extent in providing more education and training for students and workforce participants. Read more on that here.
8. BRANDING -- We hate to see good Web addresses idling. URL records online show that "TTDC" recently updated its ownership record for the web address TennesseeTechnology.org. LaunchTN, Life Science Tennessee and their allies might be encouraged to launch this site with a continual feed of discovery, development, licensing and tech-transfer, and commercialization news and information, much of it posted via an automated system by authorized staff of key stakeholders. To make the site distinctive, it could be titled, e.g., "Tennessee Technology Monitor, Powered by Launch Tennessee (TTDC)".
Background Notes
The SBIR-STTR Matching Grant program supports selectively awarding funds to help Tennessee researchers, innovators, technology transfer professionals and others who seek larger Federal SBIR-STTR grants that often spell the difference between life or death for those working to develop sci-tech-based products and tech-enabled business models for introduction to commercial markets. Here's our 2019 report on the program's progress, to that point.
Four years ago, in 2017, then-Gov. Bill Haslam said he thought Tennessee was "making some headway" in its efforts to secure patents, license intellectual assets, and ensure that such knowledge is commercialized within Tennessee businesses.
The act that authorized formation of TTDC in 1997 declared, in part, "That the purposes of the corporation are to contribute to the strengthening of the economy of the state through the development of science and technology, and to promote the development of Tennessee businesses by supporting the transfer of science, technology, and quality improvement methods to private and public enterprises..." (Read more here.)
Consistent with its shift in branding from "TTDC" to dba "Launch Tennessee," the current (amended and restated) TTDC charter stipulates that the first of eight enumerated objectives of TTDC dba Launch Tennessee is now: "To strengthen the economy of the state through the development of an entrepreneurial ecosystem that can support potential high-growth businesses, with a particular focus on technology-enabled small businesses..." (Read more here.)
This article -- a "back of the envelope" scenario or thought experiment -- is simply an attempt to suggest that both facets of TTDC -- technology transfer and commercialization, and entrepreneurship and capital formation -- are worth a fresh look, from time to time. VNC
. last edited 1822 30 March 2021
---