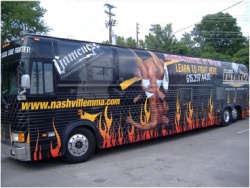 On Friday, Gov. Phil Bredesen signed into law a measure that creates a state commission to oversee boxing, kickboxing and mixed martial arts. The new law expands state oversight of combat sports. It may also accelerate a Nashville's entrepreneur's move into global economic development.

First, though, Shane Messer (at left), the erstwhile information-technology manager and founder of Nashville-based Incubator Group, intends to be among the first promoters to schedule a mixed-martial arts contest in Tennessee. That first event may be set in Nashville's Municipal Auditorium, perhaps as early as this fall, depending on how soon the newly authorized Tennessee Athletic Commission can get geared-up.
Messer, 33, is working the fight scene for two Incubator companies: Ed Clay's Nashville Mixed Martial Arts Academy on Allied Drive, one of the ten largest MMA gyms in the nation; and, Gameness, a provider of martial-arts gear. Although professional lobbyists hired by the Fedex Forum in Memphis and others carried the fight on Capitol Hill for a the new commission, Messer played a supporting role.
He found himself in that arena as a result of his role in the Incubator Group. Through the firm, Messer plays a variety of financial and other C-level jobs for his portfolio companies, which generate about $8 million in aggregate annual revenue. In addition to the martial-arts ventures, Messer helps lead Integrated Product Resources, which provides audio, video, lighting and other technical products and services; Suite Upgrades Inc., which restores hotel and executive-suite furniture and fixtures; and, provides pro bono services to Lawyers Without Borders (LWOB), a United Nations-linked nonprofit based in Hartford, Conn.
Despite his seeming success as an entrepreneur, Messer often seems eager to put business behind him. He recently told VNC his goal is become directly involved in economic development in other nations. He said he could imagine himself leading an effort to establish something like the Small Business Administration in another nation, perhaps Iraq.
Toward such ends, Messer is not only attempting to build wealth through the Incubator Group, he said he's also studying for undergraduate and law degrees via Tennessee State University and Northern California University, a nontraditional institution that prepares enrollees to take the California Bar Exam. As a result of these commitments, Messer told VNC that some weeks he spends no more than ten hours on portfolio companies, with the remainder of his energies devoted to his education, LWOB and his wife and young son.
Not surprisingly, Messer often sounds world-weary. In a recent interview, he ackowledged that having left home at 15 and having lived awhile on the streets, he's all too familiar with the "fear of being alone" and destitute -- fears he said "drove me to become obsessive about making enough money" to ensure he'd never feel stranded, again.

Intent on supporting himself despite his lack of experience and formal education, Messer gained computer experience early-on. He soon turned his talent into a job as information-technology manager for Aladdin in Nashville. Soon afterward, he began providing IT services to other clients, which, in turn, led to his serving as a small-scale private-equity investor and financial executive for startups and other ventures.
His efforts have been recognized. In 2005, Messer became one of ten persons worldwide who were named "Online Volunteer of the Year" by the UN's Volunteers Programme and its Online Volunteering Service, following Messer's nomination by LWOB.
Messer's first encounter with world attention came in 2003, when he launched a online contest called, "Find Those Weapons of Mass Destruction," which attracted media attention for about seven months during the Iraqi War and occupdation -- earning Messer more than $60,000. In 2005, Messer launched pro bono online project to helped refugees from Hurricane Katrina, matching homeless persons with available beds.
Messer said fitness and martial-arts were important disciplines for him as he emerged from years of tribulation. But, he said, today his work with Ed Clay and others "is more fun than anything..."
In nearly the same breath, however, Messer said he intends to strengthen the Gameness apparel franchise and will promote combatants with high potential. With promotions in mind, he said he recently bought a 45-foot tour bus, clad in MMA scenes, and has bought a condo in Costa Rica for entertaining fighters and other VIPs.