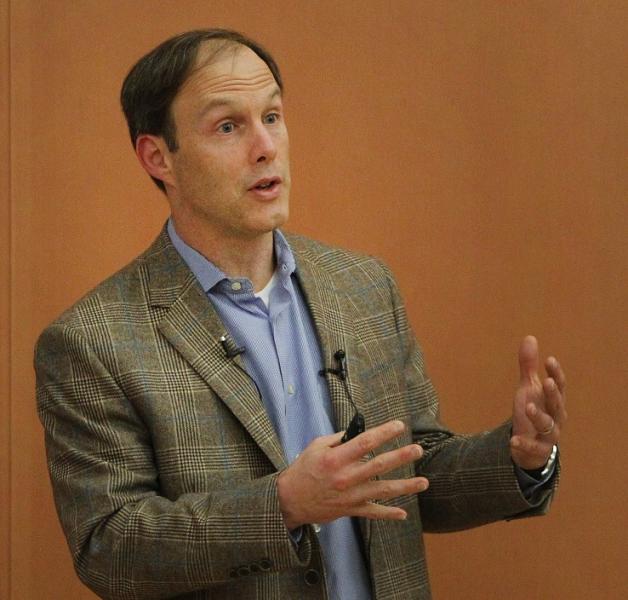 FROM SUNDAY onward, 24 Healthcare startups will be living in a special Heaven or Hell for early-stage ventures.
Jumpstart Foundry Chairman Vic Gatto said Jumpstart will gather its 17 new teams this Sunday night to share details on how the cohort (listed below) will operate.
Gatto said this evening that at the top of the Jumpstart funnel months back, there were approximately 500 companies that expressed interest, and that was quickly winnowed down stepwise to about 250, then 140 and ultimately the "Top 40" vying for admission.
That's when it got really hard, said Gatto, adding that at that point 75% of the would-be's already had revenue and Angel investment. Jumpstart and its investors have now committed about $2.7MM to the 17 companies, who'll be showcased during the JSF-affiliated Health:Further conference here Aug. 23-24.
Gatto said JSF has already received about 30 approaches from early-stage companies that want to be included in the next JSF accelerator cohort, which won't convene until 2017. The full team rundown appear later in this story.
Meanwhile, by Monday the 8 teams accepted into the HealthTech program sponsored by Google for Entrepreneurs at the Nashville Entrepreneur Center will be focused on their program. The cohort is listed below.
The dust may have settled a bit when, on June 1, the EC-based Project Healthcare will invite applications for the EC's first Health accelerator initiative since Jumpstart pivoted into its new model, as previously reported.
Asked this evening whether JSF might share its pool of excess applicants with the EC's still-open Project Healthcare, Gatto said he's entirely open to sharing data, and the EC would almost certainly be accorded a preferential nonprofit rate, rather than the corporate rate for the venture data from earlier stages in the funnel.
Google for Entrepreneurs HealthTech May 22-28 startups:
Adrastia Biotechnology - Michael Gilson, Angela Courtney PhD. - Davis, Calif. - Breast Cancer detection.
Care Advisor - Chris Gay, Dawn Gay - Chicago - Personal assistance for healthcare navigation.
Carely - Mike Eidsaune, John Sarver - Dayton - Mobile app for caregiving, to reduce stress and simplify coordination and communication.
Homeward Healthcare - Joe Gough - Toledo, Ohio - discharge planning, risk for readmission, compliance checks.
Huli - Alejandro and Steve Vega - Costa Rica - Directory of physicians, dentists for expats in Costa Rica, Panama.
LineGard Med - Spencer Jones, Jordan Mykleby - Little Rock - Averts IV dislodgement.
TickerFit - Avril Copeland - Dublin - Remote monitoring client compliance with lifestyle intervention prescriptions.
Scriptdrop -- Nick Potts, Larry Scott - Nashville - On-demand prescription delivery service.
2016 Jumpstart Foundry (a/o May 28, 2016)
• affirmhealth - CEO Mitch Evans - Nashville - Workflow software helps providers comply with state controlled substance monitoring programs. Evans worked earlier with JSF.
• AkibaH - Fathi Abdelsalam - Bay Area - GluCase smartphone case glucose meter supports taking glucose readings, obtaining coaching with synch to other mobile resources.
• Amblyotech - Joseph Koziak - Atlanta - Digital therapy company with patented game technology to treat Amblyopia ("Lazy Eye").
• BeckonCall - Andrew Steele - Scottsdale - HIPAA-compliant mobile platform streamlines on-call scheduling, communications, escalation, collaboration.
• BreatheAware - Peter Hermann, Curt Rosenthal - New York - SaaS training program for exercise, stress reduction.
• Calibrater Health - Tim Dybvig - New York - Offering joins real-time mobile patient feedback with issue tracking and reporting.
• CaredFor - Colin Pollidor and Parker Pollidor - Nashville - SaaS offering for community engagement, feedback and content. (The Polidors owned CellJournalist.)
• Cognuse - Andres Mellik - San Diego - Supports Continuum of Care for neurological and cardiorespiratory participants.
• Dose Healthcare - Cole Hawkins - Nashville - Dose is an on-demand urgent care service for patients at home, office or hotel and packaged services for smaller businesses.
• FitBliss - Navid Rastegar - Bay Area - Created by millennials, FitBliss is a wellness social-engagement and reward platform, built on Salesforce, integrates with tools and data.
• GreenLight Medical - Austin Dirks - San Francisco - Hospital medical technology procurement software connecting providers and suppliers, with collaboration and decision-support features.
• Healthy Bytes - Amy Roberts - New York - Nutrition counselors' platform for relationships, revenue from payers.
• Nicotrax - Kyle Linton - North Carolina - Hardware, mobile app helps track cigarette/NRT consumption and provide custom cessation plans.
• Punctil - Dennis Abrams - Saratoga, Calif. - Punctil solutions mitigates patient-wait queues for appointment fulfillment, improves payments and patient shows.
• Recoup Fitness - Matt Hyder - Denver - Products help with athletes' bodily recovery after exertion or injury.
• ScriptDrop - Nick Potts - Nashville - Also in GfE HealthTech above - On-demand prescription delivery service via pharmacist workflow.
• Sightbox - Travos Rush - Portland, Ore. - Membership-based vision care offering for contact-lens wearers, including eye exam, designed to obviate reimbursement frustrations.


This story will be updated as warranted. VNC
. lasted edited 5:57am 20 May 2016
---