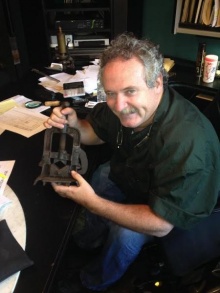 BARRY WALKER, the Maker who saved Marathon Village in Nashville from the scrapheap of history, told VNC that during more than 30 years of adventurous projects, "I never even thought of looking to somebody for money."
That sort of bootstrapping is regarded as antiquated by some, particularly those who are determined to scale their businesses rapidly, using debt or outside capital for fuel.
So, despite the scope of Barry Walker's gamble at Marathon Village, it's not likely that many of the entrepreneurs who gathered there in June for LaunchTN's annual startup event in Marathon's MusicWorks venue -- across the street from Walker's headquarters -- knew anything about Walker.
They knew nothing of Walker's resistance to taking outside investors, his near death in a motorcycle accident, or the fact that today he's still pursuing his vision for Marathon Village, to the admiration of many.
The collision happened on a June afternoon five years ago, when he lost control and ran head-on into an automobile on the winding Suck Creek Road that runs between the Tennessee River and Signal Mountain, near Chattanooga. He was pulled back from the brink of death more than once in the months afterward.
Several months later, throngs of Walker's friends and family held a fundraiser for him, to help with his medical expenses. He was still weak and partially paralyzed after months of intense care. Yet, he wrangled his doctors' permission to attend the fundraiser, which drew about 2,000. "I couldn't believe it," he said during interviews for this story.
He now works long hours again, sometimes drafting plans late into the night, occasionally spending the night at Marathon, in an area set-aside for that contingency.
The story of the tenacity of Walker, now 56, has often been told: How when he began buying the Marathon site in 1986, it was a shambles, overgrown and overrun by thugs, addicts and prostitutes. A place where bloody murder was committed. A place Walker often patrolled with a handgun at his side. A place he protected and restored, bit by bit, often using salvaged resources.
It is 28 years and half-a-lifetime since Walker bought his first piece of Marathon property in 1986 -- 46,000 square feet of space for $52,000. It took another $300,000 to acquire the balance of the sprawling, derelict properties, including the historic Marathon MotorWorks auto factory, its central administrative building and other structures, most built during 1881-1912.
Though Marathon's location was once viewed as "an island" by some local commercial real-estate developers, increasingly it is surrounded by other major developments, with property investment money now pouring into the city, as widely reported.
Sometime in 2016, the remaining portions of Marathon Village's six-building, 200,000 square-foot footprint are likely to be refurbished and fully leased. Walker has just-shy of 100 tenants in-residence now, and said he has a queue of businesses and professionals waiting to take suites and studios, as they come online. Ultimately, Marathon will be home to 115 or more tenants.
Even before that last Marathon bit is completed in Nashville, Walker plans to complete a related project in his hometown of Jackson, Tenn. There, the goal is to begin leasing 12 studios he's developing in a 14,000-sq.ft. building in Jackson that was the original home of Southern Engine & Boilerworks, the predecessor of Marathon Motors.
With Auto manufacturing booming again in Tennessee, it bears note that 2014 is the 100th anniversary of the end of active production under the Marathon brand.
However, VNC's visit with Walker made clear that the company's history, and Nashville's role in it, are very much alive in his mind. And, with the help of his family and a small team of his personal assistants who encircle him, Walker spends each day pushing renovations forward and researching every iota of Marathon history.
In line with his passion for Marathon's history and the importance of the structures, themselves, Walker told VNC that upon his death the deed to Marathon is to go to the Tennessee State Museum.
His plans call for permanent museum-type displays and educational activities within Marathon Village's four-block footprint. He also has in mind a two-volume history of the plant and its namesake automobile. For that project, he's spent much of this month traveling to Marathon-linked sites in Pennsylvania, Ohio and Indiana.
The proliferation of more pressing projects sometimes cause Walker to push-off into the future such additions as his long-contemplated Gearheads restaurant concept, for which there is currently no firm timeline.
More important is the fact that a steady stream of ideas and committed projects "keep my brain occupied," he said. As a still-active man with some mobility constraints, he's determined to "use my brain to the fullest extent," to avert the sort of decline that he believes can follow severe injury.
He juggles many opportunities in his mind, simultaneously. For example, though he owns several original Marathon motorcars, he continues to negotiate with farflung owners, including one in Latin America, to acquire one or more of the handful of remaining Marathon vehicles known to exist.
Walker collects other relevant items: During a trip last week in Hershey, Pa., he bought an antique Herff-Brooks automobile that was produced by an Indiana company that took over much of Marathon's auto business. Herff-Brooks had previously handled national sales for Marathon, according to information online.
"If it wasn't for my projects, I'd probably be dead. So, if I die, I need to die after I get it finished," he said.
His block-by-block perseverance and roll-your-own style have not only preserved the historic texture of Marathon, but embued it with a gravelly earthiness that some might call authenticity or funk.
"Patina" is one of the words that comes to mind for Walker admirer Ronnie Wenzler, who is managing director and principal of developer Cassidy Turley, which also has a penchant for adaptive re-use of "interesting" buildings.
Wenzler told VNC that he imagines Walker "could've taken money for the property a hundred times, but he's working on a very personal vision."
Noting that he was speaking "with the greatest respect and love," Wenzler went on to say he suspects Walker would have been "a terrible partner" for anyone who didn't share his temperament and vision; or, who was more interested in rapid, "efficient" development, fueled by heavy loads of debt.
"God bless him," said Wenzler, "New buildings just don't have some of the old, wonderful shapes and timbers and colors of places like Marathon, and it wouldn't have been that way if Barry hadn't been who he is."
Walker, said Wenzler, is a classic example of a person -- undercapitalized, by conventional standards -- who "had a vision and who's just put his hands on something and with nothing but grit, was able to make it work. It's so great to see somebody like Barry, who recognized a long time ago that old buildings of character could be meaningful in a new life.
Wenzler told VNC, "Marathon is now a front-row-and-center sort of property, and it being an 'edgy' place helps him, now. The emergence of the 're-use' ethic among young people is another factor" that helps Marathon, said Wenzler. "People are looking for what's authentic. There is no doubt in my mind that's Barry's vision from long ago is going to continue to be realized, and is going to be succesfful," he said.
Wenzler's perspective is shaped by his own firm's industrial-to-office projects, include Sawtooth Building (SoBro), Bow Truss Building (Germantown) and Sheds on Charlotte Avenue.
When asked about his persistence in the face of monumental challenges, Walker doesn't claim to have extraordinary courage.
Instead, he explains he loves hands-on yeoman's work, and tries to take only calculated risks. Pressed on the issue, he acknowledged that he is probably different than people who "mainly have in their mind that they can't do something."
When he confronts a challenge, he said, "I just go step by step, and walk into it." Asked to say more, he smiled, sighed a bit and said, "All I am is a doer. I just get onto something. I like doing stuff that nobody else is doing. If it's not a challenge, it's not any fun," he said.
The afternoon was waning. Walker brightened, and invited a reporter to follow him for a quick tour.
Deftly and smoothly, Walker whipped his motorized chair down hallways, navigating effortlessly into the heart of a large, well organized workshop and storage area, deep within his headquarters building.
In that space, even the quiet seemed old, the light diffuse, leaving the room in soft focus. Walker's often hurried, idea- and history-packed comments slowed. Relaxed, he turned his chair toward his visitor. The interview was ending.
There were, and there occasionally still are dark days, he acknowledged. But, he said, the fact that he's always looking ahead to his next challenge helps a lot.
He was asked whether he sees himself as a hero, as some observers have suggested.
"No, I don't feel like a hero," Walker softly replied, comfortable being a man who simply does what he must do next.
He's particularly grateful, he said, for his wife of 18 years, Debbie Walker, who works with him at Marathon on many fronts; and, for their teenage daughter, Callie, who is also sometimes involved in projects.
Walker recalled with obvious pleasure that, on a Father's Day not so long ago, Callie's gift to him was to ask him to teach her to weld.
He doesn't yet have a publisher for his history of Marathon Motors and the story of the decades-long effort to restore the Village, nor has his expansive knowledge of Marathon yet been set to paper.
For now, Barry Walker simply keeps stepping into his work, happy enough to know that he still holds in his hands the power to forge the next chapter in Marathon's history, as well as his own. VNC
_______________________
Postscript: Walker's outside advisors today include Brentwood accountant Tim Osborne; real-estate attorney Rob Hill; financing consultant Tim Goddard, a former banker; and, recently signed Reliance Bank. Nashville bass player David A. Guy is among those onboard, helping with the exhaustive research on Marathon that Walker undertakes.
Walker has other real-estate holdings, including a roughly 300-acre property along the Cumberland River, near Scottsboro. He plans to sell much of that property, keeping an 80-acre riverfront portion, he said.
Before Marathon Village gained traction, Walker was mainly known for the work of his Ingenuity Shop, which he didn't close until about 10 years ago, and which he credits for producing the money to get Marathon going. Ingenuity initially concentrated on making audio-visual consoles, cabs for elevators and other furniture. In later years, the business focused heavily on production and services for Vanderbilt University and its Medical Center.
Among Marathon Village's nearly 100 current tenants are, in addition to Marathon Music Works (owner Chris Cobb is allied with Knoxville-based Ashley's Capps' AC Entertainment, the Bonnaroo people): Atiba Software; Lightning 100 (WRLT-FM); Antique Archeology, led by "American Picker's" co-picker Mike Wolfe; Imogene + Willie's denim-clothing company; Hal Cato-led social startup Zeumo, provider of an enterprise communications management solution; Garage Coffee; Green Brier Distillery; the Studio 121 interior-design firm; Bang Candy Company; Corsair Artisan Taproom; Otis James fashion accessories; and, 'O' Gallery art. ♣
---