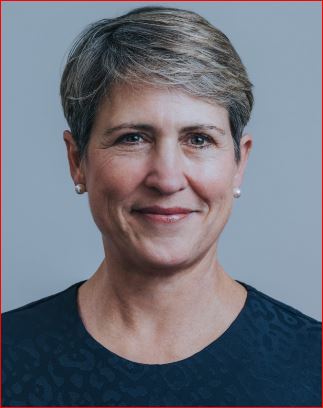 Update 5 Feb. 2022: New Markets Tax Credit SB0900 legislation is to be on the Feb. 8, 2022 agenda of TN Senate Commerce-Labor Committee. Dolan said today she's doing some work with Advantage, but not on NMTCs.-Ed.
MARGARET DOLAN CPA MBA, a former CEO of Launch Tennessee, is now consulting to Advantage Capital Partners.
Advantage, a private equity firm and small business lender, also now has lobbyists advocating for consideration of a proposed state tax-credit program that Advantage says would induce more equity investment in community development entities that invest in active low-income rural and urban businesses that have their principal operations in Tennessee.
Interviewed for this story, Dolan said that, drawing on her long experience with related matters in Tennessee, she is now working under professional-services contract with Advantage to contribute to that firm's efforts "to strategically figure-out a commonsense approach to New Market Tax Credits for Tennessee."
The U.S. Treasury's Community Development Financial Institutions Fund (CDFI) explains the New Market model on its website here. An accompanying fact sheet, dated April 5, 2021, shows numerous community development entities (CDEs) serving Tennessee, among other states, right here. Added: Related PEW Charitable Trusts resource on related matters, here.
Dolan said she is decidedly not acting as a registered lobbyist for the tax-credit program, but is helping Advantage understand the Tennessee landscape, viewed in the context of both enterprise and entrepreneurial business sectors.
"We have an amazingly attractive business environment in Tennessee -- we know this, and for that reason we have a lot of businesses coming to Tennessee," both starting-up and relocating here from elsewhere.
"Given how badly Tennessee needs more access to capital," Dolan said she views the tax-credit proposal as "one of many opportunities that I hope Tennessee will take advantage of, because we need more [availability of] capital for our startups."
Advantage has also retained registered lobbyists from Stones River Group LLL to advocate adoption of Senate Bill 0900 (Sen. John Stevens R-24) and House Bill 1218 (Rep. Ryan Williams R-42), captioned "New Markets Development Act".
This week, as has happened several times since the bills' introductions in February, discussion of the House and Senate bills were each deferred in committees.
HB1218 might next be taken up April 14 by a House Finance Ways and Means subcommittee. On the Senate side, the measure has been deferred indefinitely to the "Final" calendar of the Senate Commerce and Labor Committee.
Asked about next steps for the bills, Stones River President and Partner Mark Cate told Venture Nashville the future of the legislative effort is in the hands of sponsors Stevens and Williams.
Cate added that he thinks some members of the Senate committee remain "intrigued" by the New Market proposal; but, while they would like further information and discussion, some members have also indicated that they believe it's "very late in the session" to evaluate "something this substantive."
VNC notes that the abovementioned April 5 fact sheet from Treasury shows that an affiliate of St. Louis- and New Orleans-listed Advantage Capital does not yet list Tennessee among predominant markets it serves.
However, on the same fact sheet, an affiliate of New York-based Enhanced Capital does show Tennessee among its markets served.
Many readers will recall that -- 12 years ago in 2009 -- lobbyists from both Advantage Capital and Enhanced Capital helped ignite interest in the Tennessee General Assembly regarding "CAPCO" development-investment models.
By year-end 2009, that intermittently contentious policy exploration led other Tennessee innovators to devise and launch the state's TNInvestco VC program, which, by some accounts, led to more than $130MM investment in Tennessee startups, via 10 newly formed TNInvestco VC funds.
It remains to be seen whether the current Tennessee New Market proposal will become a dead letter, or trigger further innovation.
Dolan announced her resignation from the CEO post in early in 2020, after leading Launch TN and doubling-in-brass as a member of a pandemic-response task force created by Gov. Bill Lee and then-Finance & Administration Commission Stuart McWhorter.
At that time, she said had made a very difficult decision to pursue a possible role in a new startup associated with impact investing.
She told VNC she remains interested in that still-undisclosed venture, but has, at least for the moment, shifted her attention to other consulting opportunities, while the startup-in-stealth continues its preparations.
Dolan consults from her "neil Strategies LLC," which she registered in Tennessee in 2015.
She idled her consulting practice while serving 22 months (2018-20) as the nationally recruited CEO of Launch Tennessee (Tennessee Technology Development Corporation, or TTDC).
Prior to LaunchTN, Dolan served two years as president-CEO of LocalShares LLC, which launched the Nashville Area ETF.
Earlier, she served a total of nearly 23 years in the headquarters of Ingram Industries, fulfilling a range of tax- and family-office management and community philanthropic duties for the privately held company.
She earned her MBA (Management) at Owen Graduate School of Management, and her bachelor's in business and accounting at the University of Tennessee - Knoxville, in 1983. Her Linkedin here.
Asked to explain the name and brand style of her consultancy, Dolan said "Neil" is the name of her late father, an exemplar to her. And, the letters in that name -- lower-cased -- represent an acronym for "nuanced, executable, inspirational, longitudinal."
She said those four words reflect important considerations for her in management and leadership, while also influencing her view of her mission and work-to-be-done. VNC
. last edited 5 Feb 2022 1041

---