If it involved a new musical opening on Broadway, New York City might wish Nashville and Cleveland good luck, by saying "Break a Leg!" as the curtain rises.
In reality, business groups in all three cities are pursuing similar medical trade-center projects; and, this morning Michael Resnick, executive vice president with New York City-based World Product Centre Marketing, said his team wishes "all those other projects success."
In an interview today with VNC, Resnick said he believes the WPC project, which emphasizes continual, rather than periodic exposition activity and intensive educational and professional training offerings, is markedly different than both the $300 million Nashville Medical Trade Center, which was announced in May by Trammel Crow's Market City Management; and, the proposed $420 million Cleveland Medical Mart.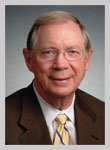 A recent publicity release from WPC quoted Nashvillian Clayton McWhorter (at left) as a fan of the Big Apple project. McWhorter is the widely known former president and chief operating officer of Hospital Corporation of America; the founder of private-equity investor Clayton Associates; and, most recently, a champion of healthcare reform through two nonprofits, the Rolling Hills Group and ShoutAmerica.

The July 1 WPC release quoted McWhorter saying the WPC "offers an indispensable tool that healthcare professionals need, to further elevate the bar in commercial partnering, technology assessment, education, and quality standards."
Asked about that quote by VNC, McWhorter said with a note of wry humor that he had agreed to be quoted only because he had been asked that favor by a longtime business associate, Chuck Lauer.

Lauer is a member of the WPC sales and marketing team, but was for decades the publisher of Modern Healthcare (Crain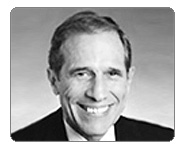 Communications). In that earlier role, Lauer (at right) dealt personally with HCA and other U.S. healthcare influentials and advertisers, during a span that witnessed the rise of the investor-owned hospital industry.
McWhorter said that while he is not participating in the Nashville effort, he has been aware of it since being approached by Nashville-based businessman Dan McVickers. He said McVickers started the ball rolling on the Nashville Medical Trade Center project by contacting executives with Trammel Crow and gathering local interests.

McVickers told VNC today he is very familiar with the projects emerging in Cleveland and New York City, but believes "Nashville is perfect" for such an institution.



He explained Nashville's advantage lies in such factors as its concentration of healthcare industry, geographic location, transportation resources and Nashville's lower costs of construction, operations, lodging and transportation. McVickers said that the trip must make sense economically for individual healthcare providers, as well as for highly compensated executives.

McVickers noted he has logged many hours over the years traveling to farflung tradeshow destinations, in furtherance of his portfolio of small businesses.
McWhorter indicated that while he suspects a legitimate case might be made for health-medical trade centers in Nashville and-or New York City, he's not actively participating in any such projects and hasn't subjected the issue to his "A-to-Z" evaluation.

If he were, however, to undertake the kind of evaluation, he said he might find, for example, that there are detrimental effects, perhaps including undermining nonprofit groups' revenue from trade shows that are now scattered about the country.
Meanwhile, Resnick said his sales and marketing team is promoting the proposed NYC venue "nationally and internationally," though he would not provide specific tenant targets based in the Nashville region.
Both Resnick and John Strong, president of World Product Centre Marketing, sidestep the issue of city rivalries, arguing that regional venues will not undermine a leading role for WPC, and emphasizing what they describe as WPC's comparative advantages over other sites.
Strong recently penned a column for readers of Cleveland's online Med City News, in which he lays out the case for WPC. In that piece and in Resnick's interview with VNC this morning, each gentleman stressed New York City's location at what they describe as the epicenter of a unique regional concentration of healthcare services, education, transportation and professional resources, as well as the city's legendary cultural assets.
Strong (at right) also stressed in his column that WPC is uniquely prepared to tap into the corporate finance and venture-capital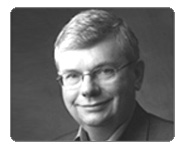 community, and to provide a venue for introduction of innovative new technology and services.

WPC and its competitors also place varying degrees of weight during presentations on the issue of increasing scrutiny by government, courts, payers and corporations regarding business-provider relationships and potential or actual conflicts of interest – a factor they say bolsters the case for centralized open marketplaces conducive to transparency and ease of access.
Illustrating WPC's aggressive efforts, Resnick said today his organization is proceeding vigorously with creating additional partnerships, in addition to the eleven companies recently named as charter sponsors of WPC.

For instance, Resnick said WPC is close to completing a partnership agreement with a major nonprofit in the healthcare-facilities and systems design space, as part of an effort to establish the WPC community as home to the nation's healthcare "thought leaders."



VNC research identified as potential candidates for such an alliance a wide array of groups, including The Center for Health Design, the AIA Academy of Architecture for Health, the American College for Healthcare Architects, the International Interior Design Association, American Academy of Healthcare Interior Designers, the International Facility Management Association, the Nursing Institute for Healthcare Design and the American Society of Interior Designers.

WPC is also closely allied with the Greater New York Hospital Association and its subsidiaries. A spokesperson for Tennessee Hospital Association confirmed for VNC this morning that THA is not part of an alliance with the trade center project in Nashville.
Using an example he seemed to pick from the air, Resnick noted that if, for example, Hill-Rom Services, based in Indiana, wanted to demonstrate their hospital beds and other goods, they could simply travel to the WPC, rather than visiting smaller venues throughout the year.

VNC research indicates that Hill-Rom is scheduled to exhibit in Nashville at least twice this year: once during a HealthTrust Purchasing Group event, and once during a conference sponsored by Tennessee Hospital Association. ♦