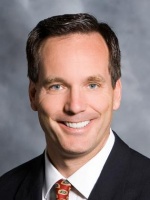 Frank Grant, based in Nashville, is the "face of healthcare" in North America for Cisco Systems, the San Jose-based networking giant that's fast-approaching $40 billion in annual revenue.
As Cisco's senior director for North American healthcare, Grant serves as a linchpin for the company's healthcare-sector sales, which recently passed the $1 billion annual mark. That was twice Cisco's healthcare revenues for the previous year.

Grant's role makes him responsible for translating among a broad range of healthcare-technology stakeholders, and affords him a great vantage from which to spot emerging healthcare technology trends.

Grant, who'll turn 48 Monday, told VNC yesterday that despite spending the majority of his workdays on the road, he's excited by what lies ahead in the healthcare sector. He's clearly hoping that Cisco and Nashville, itself, can put the region's collective healthcare knowledge to better use.
In a recent interview with VNC, Grant acknowledged Nashville still faces some hurdles, but said "Nashville's been known as an innovator in healthcare for a long time, and I think that to go to that 'next level' in Nashville, technology is going to be the key to get there." He added that he and others from Cisco are "talking with a lot of people" to harness Nashville's entrepreneurial spirit. Cisco healthcare customers include HCA, Ascension Health, The Mayo Clinic, Universal Health Care and others.
Within Cisco's deep portfolio, Grant pointed-out telemedicine via Cisco HealthPresence (TelePresence adapted for the healthcare sector) as a key to improving healthcare access and affordability. HealthPresence clinical trials are underway in Aberdeen, Scotland.

In addition to watching the healthcare industry, Grant and his colleagues must monitor people, organizations and a broad innovation landscape within Cisco, itself.

Just yesterday, for example, Cisco announced new standards and security guidance for protecting patient financial information during transactions in healthcare settings and in pharmacies -- terrain that is continually shifting, due to technologic changes and legislative and regulatory mandates. In addition, Cisco's industry-solutions group has its own approach to the healthcare industry; and, Cisco's Internet Business Solutions Group runs a C-level healthcare consulting practice. Other Cisco units -- like Cisco Mobility Healthcare -- also regularly announce new tools for improving healthcare productivity and care quality. In addition, Cisco is populated with executives who strongly influence the healthcare IT sector on a daily basis -- one example being Danny Sands, M.D., Cisco's recently appointed senior medical informatics director and a member of the faculty of Harvard Medical School. ♦



P.S. — Grant is by no means alone within the ranks of Nashville-based tech experts who consult continentally

and internationally. For instance, former Metro Government Information Services Director Richard McKinney (at right) is in his third year as a state- and local-government consultant for Microsoft, and spends the majority of his time on the road, while based here. Similarly, Dr. Ray Wagner (at left) is based here as managing vice president for Gartner Inc., specializing in information security, privacy and secure-business enablement for the global information-technology research and consulting organization, which is based in Stamford, Conn.
Related Articles