Updated: May 25, 2016 - CardioNXT raised $1.5MM from Chattanooga's Solas BioVentures. March 12, 2015 - Edwards left Veran in 2012 and is currently Colorado-based and in "stealth" mode with two startups, CardioNxt and AF Therapeutics, cardiac medical techcos. He told VNC today he loves Nashville and wouldn't rule-out one day moving back here with his family. His LinkedIn is here.-Ed.
Veran Medical Technologies has relocated from Nashville to St. Louis, following investment in the company by two St. Louis companies.
Sources said over the weekend that Veran's efforts to recruit Nashville venture capital had not been fruitful and that investments by St. Louis-based Prolog Ventures and Advantage Capital Partners were conditioned on Veran's relocating. Investment details were not disclosed. [Veran's release this afternoon said the total raise was $4.75 million, led by Prolog. Ed.-4:35PM]
During an interview yesterday, Veran Founder, President and CEO Jerome Edwards acknowledged there'd been "sort of cursory discussions with some [Nashville] VCs," but that it had quickly become obvious that "medical devices is really sort of out of the comfort zone" for VCs located in a city that, in constrast, enjoys regular success in "hospital roll-ups," surgery centers and healthcare information technology.
Edwards and other sources made clear that Veran, while supported in a previous round by Nashville angel investors, believed it needed institutional capital to accelerate marketing of Veran's IG4 Navigation System. IG4 guides physicians conducting minimally invasive lung-cancer biopsies or ablating cancerous tissues.
Time is of the essence for Veran, because the lung-cancer market has been estimated to be worth $1 billion for medical-devices makers, and once a foothold is established in that domain, other therapies, organs and tissues may be targeted.
Edwards said the latest investment will be mainly used for sales and marketing to secure "early-adopter sales," getting major medical institutions to use IG4 and then "get podium time" for the product at major medical gatherings. Three institutions are using IG4, and Edwards said a number of other takers are in the pipeline and expected to come through, near-term. The business-development push is expected to drive Veran ranks from its current seven-member team to twice that number, in short order.
Insisting Veran's move is no indictment of Nashville, Edwards continued, "At the end of the day, it's all about people and connections." He explained that Veran board member Frank Bonsal of Red Abbey Private Equity and other ventures had introduced him to Greg Johnson, founder of Prolog. Edwards quickly found that Johnson had a long track record managing acquisitions and investments for St. Louis-based Monsanto Company, and, among other achievements, had managed to relocate another targeted-surgery company, Stereotaxis, from California to St. Louis.
Edwards was philosophical about leaving the city that he repeatedly said he loves, wondering aloud, "I don't know, I mean, certainly we could've garnered investment from the Nashville area -- but, you know, is that really necessary or right? ...I think each region should sort of stick to its strength. I mean Nashville's strength is healthcare and healthcare IT -- and it's pretty capital- rich, you know, and money is flowing in from the coast." He added that smart investors "realize you probably [do best to] stick to your knitting."
Edwards explained also that he and his management team had migrated to Nashville from elsewhere after careers in the medical-devices industry, so they weren't irrevocably rooted anywhere. Edwards is accustomed to long treks for opportunity, having immigrated to the U.S. from Sri Lanka in 1984.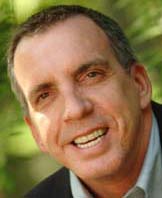 Ultimately, said Edwards, "you just do what you need to do." Echoing Edwards' comments, Bruce Lynskey (at left), a Veran board member and advisor to Edwards since before Veran was formally created in 2003, said yesterday, "Nashville does not really have any VC firms that are comfortable with a tech-intensive medical device system, and consequently, nor does it have a significant number of medical device firms. ...St. Louis does have a small but growing critical mass of medical device firms -- and a growing labor force that can fulfill these needs."
Lynskey, who is a member of the faculty of the Owen Graduate School of Management at Vanderbilt University where Edwards earned his MBA four years ago, confirmed that Veran's "relocation to St. Louis was a stipulation of their recent round of funding -- not an unusual situation for early-stage ventures. ...There were a number of Nashville-based angel investors and institutions that funded the company in its first round of financing, and those investors are still highly supportive of the firm."
Meanwhile, one of Veran's investors, Will Fitzgibbon of Extension Advisors LLC, said in an interview Sunday that while "it's all good, the company's doing well... we're sad to seem them move." He added that he believes Veran "didn't want to move," but crucial funding hinged on relocating. Fitzgibbon expressed regret that during the second round that triggered Veran's relocation, "plenty of local firms had the opportunity to invest in it and declined to."
Both Edwards and Lynskey are members of the Entrepreneur Project, an initiative of the Nashville Area Chamber of Commerce and closely allied Partnership 2010. The goal of the Entrepreneur Project is to determine what actions Nashville leaders might undertake to increase the formation and viability of innovative knowledge-intensive companies. The Project is formally to report its finding to Partnership 2010, next week.