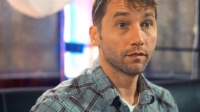 STARTUPBUS, the business cooker on wheels, expects to off-load nearly 200 entrepreneurs from its six buses in Nashville, just ahead of LaunchTN's 36|86 conference, June 8-10.
But, Nashville's role as the group's destination city could be a one-shot deal, rather than a permanent gig, confirmed Mitch Neff, 37, who is global director of StartupBus, a program of San Francisco-based Silicon Valley Foundry.
The program is now in its fifth year in North America and is currently accepting "pre-applications," with acceptances done by screeners.
Routinely while sponsors are being finalized, final ticket prices (usually under $300 each) and estimated room and board charges have not yet been announced. This year's major sponsor will soon be announced, said Neff. Last year, it was Elance.
StartupBus' finalists' presentations will be held live during LaunchTN's 36|86 event at Marathon MusicWorks, following two days of semi-final bake-off. Buses will be arriving from San Francisco, New York, Florida, the upper MidWest and the South-Central U.S.
Each traveler is to be essentially hand-picked, based on prior StartupBus participation or recommendations by other alumni and staff, to ensure that teams are both talented, tight and populated with people who can tolerate the "pretty grueling" race to create a newborn company in just three days. Each regional bus "conductor" is asked to shoot for a 50:50 Male-Female team mix, though that's remains tough, said Neff.
If all goes well, Nashville may get the nod for one or more additional years. "We'll see how it goes," said Neff.
Neff, by the way, is a 2006 graduate of Middle Tennessee State University, where he earned his bachelor's in entrepreneurship. He's a dedicated contractor for Cisco Systems and works with an interactive agency, as well, according to his LinkedIn profile.
He confirmed that when city alternatives were presented to the StartupBus global council -- which also considered Atlanta, Los Vegas, Denver and other cities -- he joined others in making the case for Nashville. Let it be further noted that Neff made that case, notwithstanding the fact that Tampa is now his home and his wife, Deborah Alvarez Neff, is operations director for the Tampa Bay WaVE accelerator and coworking facility there.
Though StartUp Bus talks of "building teams," not about building durable companies, per se, Neff noted that StartupBus alumni Max Mullen and Brandon Leonardo co-founded InstaCart (which promises same-day delivery of grocery and home essentials, and which has raised nearly $280MM in less than three years).
In 2014, a Tennessee company -- OTL On The List -- made the finals in the StartupBus competition. Though not the ultimate winner, the company has pressed forward.
Austin's SXSW Interactive had for several years been the StartupBus destination, until the cost and timing of that event no longer fit StartupBus needs, said Neff. SXSW Interactive 2015 resumes in 10 days, running March 13-17.
But, don't feel too sorry for Austin. The overall SXSW offering attracts more than 70,000. And, again this year, plenty of Tennesseans are expected there.
SXSW officials told VNC that in 2014 nearly 400 Tennesseans (including about 250 Nashvillians) attended one or more SXSW tracks, and 140 Tennesseans (66 from Nashville) joined SXSW Interactive. VNC
---