NASHVILLE-based augmented-reality (AR) venture VideoBomb is preparing to beef-up its board of directors by adding two serial entrepreneurs with tech-acceleration and investment savvy, while simultaneously mapping next steps toward raising capital.
Gil Amelio, former chairman and CEO of what is now Apple Inc., and Jerry Dackerman, a veteran of tech-centric businesses that were variously engaged in M&A, reverse mergers and consulting, are both set to join the board of directors of VideoBomb, according to Founder, Chairman and CEO Chad Marcum.
The board's fourth member is Cam Newton of Relevance Capital, an early investor.
VideoBomb explains that its extended-reality (XR) services portfolio uses AR and computer-vision technology to present videos and other "digitally immersive" content when a smartphone camera is focused on designated design-elements of participating brands' packaging, landmarks and other "real-life surfaces" within the physical world. The platform includes data-gathering and analytics capabilities.
The revenue-generating startup aims to serve major brands across an array of industries. Until about 18 months ago, it was focused on partnering with music and other entertainment celebrities and brands.
VideoBomb is now available via its mobile app for Apple/iOS. In 1H CY2021, the company will introduce both its Android app and its middleware technology, the latter of which obviates the need for consumers to download a mobile app and reduces pressure for VideoBomb to keep up with proliferating standards.
Marcum emphasized that while VideoBomb will continue to encourage consumers to download its mobile app, "We're not trying to be the next Instagram." Rather, the company looks to deliver digital assets that are readily accessed by consumers via multiple paths, particularly via the websites and other promotional media of brand sponsors.
Marcum, 38, said that VideoBomb -- a dba for 7-year-old Ripple Music Inc. -- has raised less than $900K in outside capital since inception.
He declined comment on the accuracy of a recent online investment-monitoring report that VideoBomb now aims to raise $4MM.
Looking father out, he acknowledged he has had some informal discussions with VCs and others regarding a potential future Series A.
Asked about competitors, Marcum said there are at least a half-dozen entrants with some relevance, but he named only Blippar (a decade-old London firm that had raised more than $130MM before it was bought out of administration in 2019 by Candy Capital); and, Norwest-backed 8th Wall Inc. (Palo Alto), which has reportedly raised more than $10MM.
At its launch in 2013, VideoBomb was heavily focused on fan engagement for celebrity performers allied brands.
Thus, the company's early investors included such influential Music-industry executives as Nashville's Joe Galante and filmmaker Shaun Silva of Tacklebox Films.
Initial angel investors in Nashville also included Fred Goad, who is also a member of the board of Relevance Capital. The company's first outside money came from Dan MacLellan and Leslie MacLellan.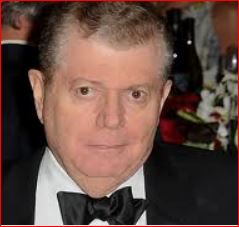 Gil Amelio
Jerry Dackerman
Inbound directors Amelio and Dackerman are respectively managing partner and senior partner in Beneventure Partners, according to that firm's website. Dackerman is also founding partner of Integral Performance, a consultancy.
Marcum declined to comment on the status of investments, if any, that may have been made by the two newly designated board members.
Amelio, now 77, was a member of Apple Computer's board of directors before he was tapped to serve as chairman and CEO during 1996-97. He was instrumental in bringing Steve Jobs back to Apple, according to a Wikipedia entry.
Prior to his Apple days, Amelio had served as president of Rockwell International; and, as chairman, president and CEO of National Semiconductor Corporation, among other enterprise posts. He was also a senior partner in the former Sienna Ventures, a seed- and early-stage tech VC.
VideoBomb's fractional CFO is Scott Emerson (CFO Services) and the COO remains Mike Kneeland.
Marcum said he is in discussion with a candidate chief marketing officer from the ranks of major U.S. brands.
Its current attorneys include Michael Mills of Klein Solomon, Ed Landquist of Patterson, and Chris Sloan of Baker Donelson. Its accounting is handled by Peter Deming of Jacobs Cohen Assocs. The company banks with Pinnacle.
The company's advisors or contractors have also included The Brand Hotel founders, Kerry Graham and Don Transeth, both based in the Nashville area; plus, Ignite Animation Founder Jamy Wheless of Petaluma, and artist Kelsey Montague of Denver.
Earlier, the company's PR was with New York City-based Rubenstein. Marcum said the company may soon renew its relationship with Rubenstein or tie-up with another PR firm or fractional PR executive.
Marcum said he also maintains close ties to a number of formal and informal advisors, including Nashville musician and artist advisor Ed Eason; Stephen Linn of Project Music and Entertainment (Nashville Entrepreneur Center) and Michael Torrence PhD, a technology strategist who is also president of Motlow State Community College.
Chad Marcum earned his BFA, Architecture at Savannah College of Art and Design, after earning his bachelor's in business administration at Belmont University. His LinkedIn is here.
Marcum, wife Molly Marcum and their infant daughter reside in Nashville. Molly Marcum is a member of the Retail real-estate team of Boyle Investment Company.
For more detail on VideoBomb's earlier days, see our 2016 story here. VNC
. last edited 1905 16 November 2020
---