THE recent sale of Nashville-based Overdog was a one-off asset transaction involving transfer of technology and cash between two former collaborators.
The buyer, Saratoga Springs, N.Y.-based Odd Networks, was itself spun-out 14 months ago from MadGlory, a game/entertainment-oriented software developer.
On Friday, Venture Nashville interviewed Odd Networks principals for a followup to our earlier report, which was published ahead of the transaction's announcement.
For details on Overdog's nine-year journey and investors, including the Launch Tennessee-administered INCITE program and a TNInvestco-funded VC, please click here. Overdog apparently raised more than $6.7MM prior to the transaction.
Co-Founder Walker
The interviewees were Co-Founder and CTO Kris Walker and VPs Jon Keller and Mitch Patterson.
Odd Networks Co-Founder and CEO Brian Corrigan was not on the Friday call. He is, according to his LinkedIn, also MadGlory's managing partner and principal engineer.
Also from the interview on Friday:
Odd's spin-out mission was to develop an over-the-top (OTT) streaming content business targeting consumer living rooms.
Odd's founders became aware of Overdog's valuable OTT standing as an Microsoft Xbox1 interactive-gaming application.
Via sister company MadGlory, the group performed some outsourced development work for Overdog during the roughly 18 months prior to the asset sale.
Though both Odd Networks and three-year-old MadGlory have been bootstrapped since their inceptions, Odd's founders are contemplating raising perhaps $2MM outside capital, perhaps during 2H16.
Potential investors' desire to see Odd Networks and Overdog somehow combined was a consideration driving the asset buy.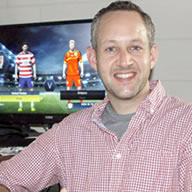 Steve Berneman
Former Overdog CEO Steve Berneman and Co-Founder Hunter Hillenmeyer retain some interest in Odd Networks and serve as advisors. Both men are Vanderbilt University alumni and were featured in an earlier VU report on alumni active in gaming and hybridization of entertainment sectors. Berneman recently became entrepreneur-in-residence at the VU Owen Graduate School of Management.
By the time the transaction was announced, other former Overdog employees all had jobs lined-up elsewhere .
Odd Networks has 8 FTE staff (none based in Nashville) and plans a new-product launch this summer.
Unless perhaps it undertakes a capital raise, Odd Networks does not have allocable resources for further M&A. If warranted, the company is more likely to partner with other companies to gain access to additional technologies. VNC
. last edited 0738 17 May 2016
---