UPDATE: Despite Levine's confidence, judging June 27 resulted in another proposal winning -- a mixed-use plan dubbed "Between the Bridges." Levine's proposal ranked 6th of 8 proposals, largely because the World Trade facility was its only feature, covering only 4 of Thermal's 12 acres and not addressing other community needs. As originally reported:
At Vanderbilt University, nine prominent companies are keeping 85 consultants awake long hours these days, as the "Accelerator" summer business class rushes headlong toward its July 3 finale at the Owen Graduate School of Business.
Meanwhile, today a total 110 Accelerator students, mentors and faculty are in Louisville being briefed by executives with Humana and Yum! Brands. Tonight, their two-day bus trip will end back at Vanderbilt, where for many the official 12-hour day will run on, into the wee hours.
Humana is asking Accelerator students to come up with a new healthplan aimed at the Hispanic marketplace. Yum! Brands has ordered a new strategy for marketing Kentucky Fried Chicken to Millennials, to augment the company's sagging sales to aging boomers.
The students are farther along in tackling seven other assignments: On Friday, for example, the eight Accelerator teams will present Gresham Smith and Partners the ideas the firm requested for new uses for the city's 12-acre Thermal site, which has gone begging since the idea of a "Nashville Sounds" baseball stadium faded away.
Each client chooses a winning team's idea. To the victors go an assortment of prizes that are less important than the notches in the belts of these budding entrepreneurs.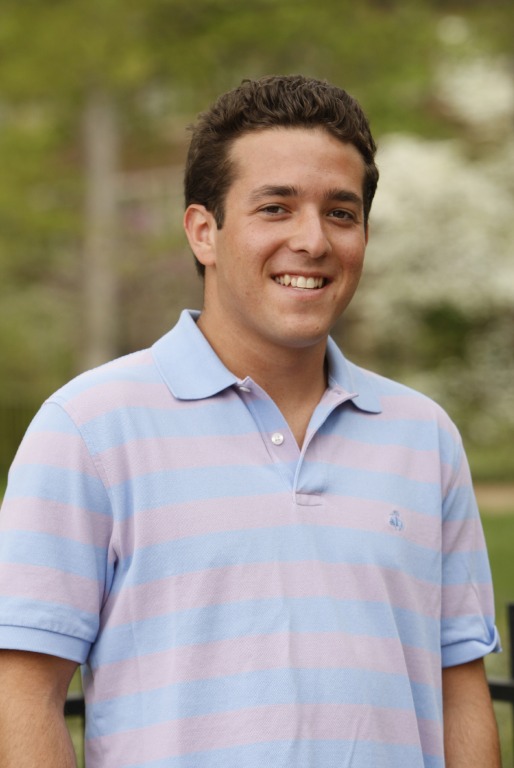 Accelerator student Jason Levine (at left), a 20-year-old VU undergraduate and a New Yorker, told VNC in a recent interview he is confident the winning Gresham proposal will be his team's idea for creating a World Trade Center on the Thermal site.
He said the proposal – which will emphasize Nashville's global role in health care – is justified on the basis of both economics and branding for the city. Levin said he learned only after the WTC idea occurred to him that a local entrepreneur recently secured a franchise to create a World Trade Center Nashville somewhere in Middle Tennessee. Until receiving the Gresham assignment, he added, neither he nor any of his team had ever heard of the Thermal site.
The trade-center proposal probably strikes a chord with Levine's mentor and Accelerator Faculty Director Michael Burcham. Although 49-year-old Burcham lives in Nashville, he commutes to work weekly as CEO of New Jersey-based ParadigmHealth (Alere Medical Inc.), a disease-management firm.
Other Accelerator work underway includes these challenges:
Griffin Technology – The class recently presented the Franklin-based iPod/iPhone accessory maker ideas for leveraging the new-generation iPhone that Apple will unveil on June 29. Griffin CEO David Owens a former Owen GSM faculty member, was among executives who briefed Accelerator teams.

American Airlines – seeks design and marketing of new travel packages for small businesses.

Bridgestone – an action plan for raising public awareness of the company's many "green" initiatives, which the company believes now go relatively unrecognized.

Caterpillar Financial – ideas for strengthening the corporate headquarters' waste reduction, reuse and recycling program.

William Morris Talent Agency, Country artist Eric Church – in pursuit of ideas for channel marketing and online promotion for Church's new album, due out this fall.

LiveScribe – the Oakland, Calif.-based firm is looking to students for new interactive uses for its computerized pens, all part of a revolution in the use of pen and paper, according to the firm.

With tuition running $8,500 per student, and with jobs and interships possibly hanging in the balance, the students are putting enormous energy into their clients' challenges. Of the 85 Accelerator students, all but about 20 will return to studies in the fall, including most of the roughly 55 Vanderbilt students in the class.

Levine said that chats with friends who are attending summer business programs elsewhere has convinced him they spend most of their time sitting in classes, studying cases and running errands for faculty, while "instead, we're doing real projects for top companies."
An energized Levine continued, explaining, "Gresham and most of the other companies are so interested in having us as young consultants to them because of our creativity," he continued, adding the companies seem to value "the fact that we are not institutionalized... We're fresh young minds that have vivid imaginations, so [Gresham executives emphasized] that the sky is the limit for this project."
In promoting Accelerator, VU and Owen make frequent allusions to the brooding Donald Trump, "The Apprentice" reality TV program and academic "boot camp."
However, Burcham told VNC in a recent interview that within Accelerator "we try to avoid" nastiness and humiliation -- "we don't fire people and send them home, but we do try to ensure they are engaged" and try to compell them to "think the way their company is thinking." He adds, "There's a level of maturity that comes with that, and the sooner they grasp that, the better off they'll be in their careers."
This year's 85 Accelerator students were selected from among about 400 applicants, Burcham said. He said 24 faculty participte as staff to varying degrees, as well as a dozen or so MBA students.
Burcham said BMW and eBay are among companies that have already signed-up to sponsor Accelerator 2009. Sponsorship levels vary, he said, but all companies get nine teams' best thinking on the problem or opportunity they assign them, and the companies own all intellectual property associated with their respective assignments. All Accelerator students sign non-disclosure agreements for each of the nine corporate clients. ♦
P.S. — Burcham and Levine told VNC that Levine, who is a junior at Vanderbilt, will probably be the first VU undergrad to earn a degree in business. Levine is working with university officials to craft an interdisciplinary degree. Currently, while students may take management or economics courses, the university's only B-degree is the Owen GSM's MBA.