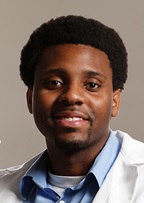 CHARLESON BELL's comment during the recent Maker-Space Planning meeting at Vanderbilt University really stuck with some of us in the audience.
As reported by Venture Nashville, the purpose of the December event was to gather community input regarding the future mission of Vanderbilt's new Innovation Center, due to open this summer. Related IC coverage here.
Bell, 30, has not only earned three degrees in Biomedical Engineering in Vanderbilt's School of Engineering, but is still pursuing postdoctoral work as a principal appointment on campus, while helping shepherd three potential startup businesses.
Entrepreneurs must first be innovators, because important new ventures are invariably driven by ideas, Bell told the Maker-oriented audience in December.
Thus, he said, the VU Innovation Center must be a place that helps "foster ideation," as well as a place that is "inclusive and open."
Bell's scholarly and entrepreneurial efforts have gotten a good bit of exposure on campus, witness this index.
In addition to his principal appointment at VU, Bell has three lines of inquiry, development and commercialization now underway.
BioNanovations Corporation, with an initial short-term Vanderbilt University intellectual property license at its core, has gotten the most attention. Bell is advancing new technology to accelerate the time for identifying potentially deadly Staph infections from days to minutes. He has earlier grant wins under his belt, and is preparing to compete for an NIH-backed STTR grant that could bridge his company to completion of its product in the form investors can relate to. His visits over the past year or more have shown him the way forward, he told VNC.
Bell, whose hometown is Pawleys Island on the South Carolina Coast, is simultaneously pursuing development of a business built around Flash Crystal (near-field communications technology), which is offered by his Crystal Innovations startup. The device allows users to "initiate the wireless transfer of media (music, video, books, documents, photos, portfolios, contact information, etc.) from the internet directly to a user's mobile device. A little larger than a quarter, this device forms a bridge between physical and digital media distribution models," according to his LinkedIn profile.
A third business, bluField Inc., is an Internet of Everything (IoT) play, representing "an interconnected system of Bluetooth beacon networks, which creates a high-resolution grid of a real-world geographic area. [...The] bluField system is a turn-key solution for those entities which seek to implement beacon technology with content management and a dedicated contextual application." Bell is pursuing this with John Mark Eberhardt, president and COO.
We just wanted you to know. We'll update coverage on Bell's endeavors, as warranted. VNC
.
---