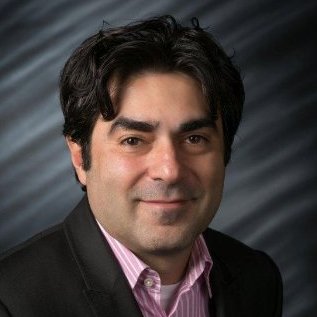 Updated 28 Nov 2018 1010: We regret to inform you that Sal Novin passed away at age 45 on Nov. 24, 2018, after several years battling Glioblastoma cancer. A celebration of his life is to be held Saturday, Dec. 1, 2018, at NTC Tech Hill Commons, 500 Interstate Blvd S (37210), 1:30pm-4:30pm. Details here. Our earlier coverage of Sal is here.-Editor.
SAL NOVIN, the 44-year-old Nashville technologist and entrepreneur who leads the HPA unit of Cognizant here in town, suggests an alternative to the traditional investment-oriented cohort model for startups.
Among other achievements, Novin was the 2009 "Innovator of the Year" honoree of the Nashville Technology Council (NTC) and was the tech-sector honoree of the Nashville Emerging Leaders Award (NELA) in 2008. He is a member of the NTC board of directors.
That and other recognition came after a series of entrepreneurial achievements. For more on his career, his views on the potential impact of Nashville healthIT talent, and his breakthrough startup Healthcare Productivity Automation (HPA) and its sale to now-Cognizant, see our stories here and here. His Linkedin is here.
Venture Nashville asked for Novin's thoughts following word of the termination of the cohort accelerator component of Project Healthcare, which resided at the Nashville Entrepreneur Center.
Novin explained that the concept outlined below is something he has for some time been considering implementing for a future startup initiative, but he's "happy to help" others implement the model, or variations, thereof.
We'd welcome your thoughts. Here's Novin's proposal, paraphrased by VNC (errors of interpretation are ours):
"This approach is a revenue/sales-based approach, rather than a funding-based approach," said Novin. The goal is not simply to get funding early-on, but to get an onboarded client/customer, who is also a potential investor. The process, as Novin outlined it:
A select cohort of startups individually pitch their tech solutions to a panel of potential corporate customers, who serve as judges. It's like "Shark Tank" for Buyers, rather than for Investors.
The judges ally and/or compete, guaranteeing each worthy startup's owner that they will use the prototype product, solution or service; validate or invalidate it with respect to each buyer's return on investment, security and other factors; and then procure the tempered offerings that result. "Procure means ZERO investment -- they are hiring the product/services only," Novin stressed.
Each company that enters the adoption/validation process might earn investment options, ahead of other investors.
In evaluating each startup's offering, the corporate buyer/judges -- who, again, are not investors at that point -- ultimately choose to say "No thanks, Pass"; or, they say, for example, "Sure! I'll do it for $5,000 for prototype development and $5,000 upon prototype completion, plus the $2,000/month you asked for ongoing support and maintenance."
If multiple buyers on the panel collaborate on an offer, they might share and allocate payments among themselves.
Either way, the buyers set the solution's development and to-market timeline, e.g., six months for the initial prototype and six months to go live if the prototype is successful.
Buyers may exit the deal, if the entrepreneur misses such milestones.

"The startup can accept, negotiate or drop out" of the process, Novin said. If the process runs to fruition, startups end-up with clients (not investors).
Novin added that the Nashville Entrepreneur Center and other institutions and advisors who serve and support early-stage companies might choose to provide packages of goods and services to the thoroughly vetted startups that emerge from a process such as he described.
Readers may sense that Novin's approach is reminiscent of corporate "reverse pitches," such as those once conducted in Knoxville and Chattanooga by Launch Tennessee. In reverse pitches, corporates pitch to seemingly qualified vendors and entrepreneurs the solutions the corporates need developed.
Novin did not "name" his model. But, given his apparent taste for motorcycles and rollerblading (okay, and ping pong), perhaps "Zero2Traction" (Z2T)? VNC
.
---