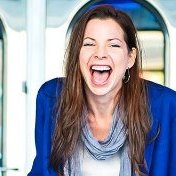 Note: We seldom do farewells for the living, but we must note Nashvillians who will both speak their minds, and listen.-Ed.
KATE O'NEILL, the Nashville-based strategist who targets "meaningful experiences" for customers and other stakeholders, will soon be based in Manhattan, she confirmed for Venture Nashville.
O'Neill, a 41-year-old native of the Chicago area, said she currently plans to continue operating as KO Insights, building on projects she's done over the years for New York City-area clients and Nashville clients.
She is engaged to marry photographer Robbie Quinn, a New York native reared in New Jersey. Quinn has also been based in Nashville in recent years. O'Neill said her home in Nashville's Germantown is all-but-sold.
O'Neill, who is currently a member of the board of directors of Nashville Technology Council, says the move reflects no lack of affection for Nashville, where she has lived nearly 12 years. VNC's earlier O'Neill coverage is here. Her LinkedIn is here.
She said, in part, "I believe this city more and more has what it takes to be world-class. And I plan to continue talking Nashville up no matter where I am."
Going forward, she'll emphasize, for example, "working with companies to develop more effective and meaningful relationships with customers, [using] behavioral, strategy and digital data insights -- basically, to help companies achieve growth, but also to learn something in the process so that they can build on it."
O'Neill said she's also interested in "partnering with civic organizations to develop strategies for meaningful place-making."
In most assignments, she said, she used a "digital experience model to test and validate" elements of any stakeholder program to improve odds of successful campaigns and initiatives. VNC
---