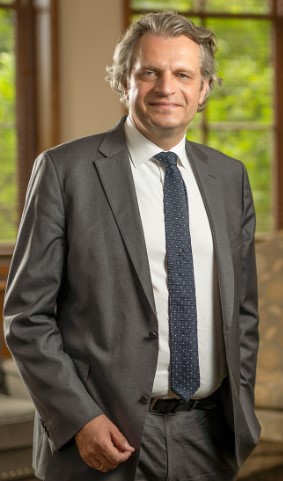 VANDERBILT University plans to hold its next Summit on Modern Conflict and Emerging Threats on April 17-18, 2024, which will be the third annual event in the series.
Each Summit in VU's series has drawn scores of leaders from military, intelligence, scientific, engineering and other fields who have important roles in shaping responses by the U.S. and its allies to extant or emerging challenges and opportunities that are difficult to manage in an increasingly complex and networked world.
Vanderbilt said in today's announcement the 2024 Summit will again feature "internationally recognized leaders and experts in intelligence, academia, military and industry in an exploration of cyber conflict, artificial intelligence, peer competition and emerging threats."
This year's event was May 4-5 at the VU Student Life Center and drew an estimated 300 speakers, registrants, VU faculty and administrators.
Guests participating in Summit II included, in addition to academics from Vanderbilt and several other universities, speakers associated with the National Security Agency; Central Intelligence Agency; the Republic of Estonia (related here); the Cybersecurity & Infrastructure Security Agency; U.S. Cybercommand; U.S. European Command; the U.S. military academies for Army, Navy/Marine, Air Force and Coast Guard enrollees; the U.S. Army War College; the Carnegie Endowment; the Hoover Institute; The Wall Street Journal; and, corporate execs and advisors, including those from In-Q-Tel (a VC close to the national intelligence community); Krebs Stamos Group; and, MITRE Labs, among numerous others.
In the wake of this year's Summit, Vanderbilt Chancellor Daniel Diermeier told VNC he believes the 2023 event marked the establishment of the event as "a destination" that is increasingly recognized as a place "where people go to talk about the futures of conflict in all its forms."
During this year's Summit, the chancellor stressed that Vanderbilt is determined to ensure that it maintains "deep dialogue and conversations" with policy-makers, as well as military and intelligence leaders.
He also told this year's conferees that Vanderbilt's "culture of radical collaboration" is a vital factor in VU's performance within partnerships.
The chancellor told VNC he believes that, in time, the Vanderbilt Summit will garner recognition as an iconic annual gatherings focused on critical national and-or international issues, and is likely to be known for its focus on guiding and mobilizing academic, military and other resources toward addressing momentous national and international requirements.
VNC's subsequent scanning of relevant major U.S. conferences (including, e.g., the recent Aspen Security Conference, which has separate iterations in Aspen and in Washington, D.C.) showed a great deal of relevant activity within many academic, policy and security organizations.
However, few if any of the other programs seemed to be working under a mandate similar to VU's determination to achieve strong linkages between the process of producing strategic insights and the rapid iteration and delivery of requisite expertise, point solutions or platform offerings.
Our sampling of other institutions included, for example, the University of Chicago, Georgia Tech, Johns Hopkins, Stanford, Princeton, and Rice University -- the latter a decades-old VU rival for undergraduate recruitment that has established the RU National Security Research Accelerator.
Vanderbilt has been building its record on this track for decades.
Among many other examples, Vanderbilt has announced various direct and indirect collaborations with such groups as the National Security Agency, U.S. Army Futures Command, the U.S. Air Force Office of Scientific Research, the Defense Advanced Research Projects Agency (DARPA), the U.S. Marine Corps, and others.
Among many other initiatives taken since Diermeier's arrival, the university has also launched, e.g., the Global Scholars in Residence Program, which builds on the work of the university's International Strategy Working Group.

Though the Summit series is made possible by the engagement of many people marshalled within Vanderbilt and beyond, the Summit series seems to have largely been driven mainly by Chancellor Diermeier and Special Advisor Brett Goldstein. They also collaborated at The University of Chicago, where Diermeier was had become Provost, and Goldstein was, among other roles, a senior advisor to The Pearson Institute for the Study and Resolution of Global Conflicts.
VNC's previous coverage of Diermeier (and on the executive search that led to his appointment), is located here.
Since Diermeier, now 58, became chancellor on July 1, 2020, he has often publicly expressed his conviction that 150-year-old Vanderbilt and its host city have in recent years each reached historic inflection points of growth, development and impact.
He also emphasizes that Vanderbilt scholarship has earned significant global recognition, while its expertise and research and development efforts have proven valuable in tackling important work benefiting the Nashville region, the United States and beyond -- often in partnership with government agencies, corporations, entrepreneurs, professional advisors and others.
Diermeier seldom fails to emphasize that Vanderbilt and its allies must continually address strategic "lacunae" -- or, as he said at another point, the "gaping holes" in knowledge, funding, technologies or other variables.
Such gaps, he said, must often be met without hesitancy or trepidation by faculty, administrators and partners, alike, in order to produce "down to earth" engineering, biomedical, analytical and other breakthroughs with some dispatch, in the face of threats and opportunities.
That said, Diermeier acknowledges that the university naturally has "more ideas than resources."
Given that reality, he said, VU must prioritize university and sponsor requirements that are "a good match" with Vanderbilt's research capacity, and should weight choices with consideration of each candidate project's projected impact and value.
He cautioned that if tempted to undertake projects that, upon close examination, seem inadequately resourced to achieve success, Vanderbilt faculty and-or staff should be sufficiently "comfortable in our own skin" to set aside the candidate project, and waste no energy looking back, worried that another institution with funds at-risk and "a superabundance of confidence" might pursue the relinquished target.
He said he believes Vanderbilt's long-standing emphasis on fostering interdisciplinary collaborations is one of the main sources of continued growth of the university's confidence and discipline.

Underscoring the point, he pointed out that deft global collaboration is rising in importance in a period of rapid situational changes and decision-making that was unknown in the 2,500 years or so that preceded the current era -- an apparent reference to the present wave of digital technologies, artificial intelligence and other accelerants.
Vanderbilt aims to be increasingly collaborative, he added, citing the example of the university's track-record of continual collaboration with Vanderbilt University Medical Center -- and with VU's own School of Nursing -- can further boost the "metabolism" of biomedical innovation at Vanderbilt.
Sharpening that point, the chancellor underscored the importance of maintaining the standards of confidence, courage and performance that he believes helped Vanderbilt navigate the waves of the COVID pandemic.
He said Vanderbilt should not let its collective confidence and other strengths that were heightened during the pandemic subside or give way to malaise, but should, instead, pursue good-match opportunities swiftly, calling upon such personal traits as authenticity, courage, alacrity, and agility.
Demand for new solutions from the U.S. Department of Defense and other national security agencies is well documented online. We found numerous documents describing the relevant agencies' requirements and budget proposals for near-term, as well as far 2030 or beyond.
Speakers and details of presentations and panel discussions of both the 2022 and -23 Summits are here. Full agenda here. Summary page here.
VU this afternoon provided a roadmap to excerpts from this year's Summit II:
This story will be updated as warranted. VNC
.last edited 2 August 2023 0549
---