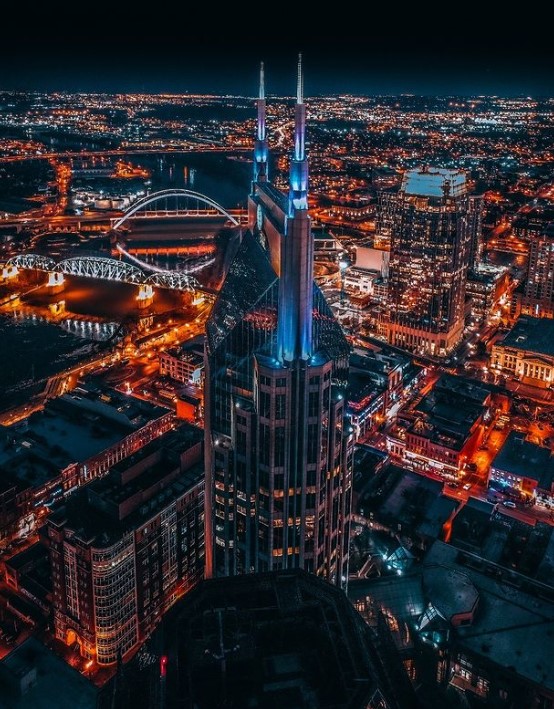 YES, of course, the information below represents just the tip of the proverbial iceberg of events now scheduled to take place in and around downtown Nashville during the roughly 30 days between September 5 and October 3.

Perhaps these ad hoc notes will spare readers -- and this scribbler -- some scurrying-around, later. We appreciate help from the team at Nashville Convention and Visitors Bureau in putting this together.
Sept. 5-7
Blacks in Technology 2023 BITCON Annual Conference. Speaker Lineup Up here. Sponsors include CodeCrew, Black Women in Tech, Microsoft, Google, INTUIT, Disney, Juniper Networks, Asurion, Uber, among others.
Schedule and agenda here.
Sept. 6
Empowering Women Entrepreneurs - U.S. Patent & Trademark Office and Nashville Entrepreneur Center special panel led by Director of the United States Patent and Trademark Office (USPTO) Kathi Vidal, in-person or virtual. Panelists include senior execs from Launch Tennessee (TTDC), Sweet Bio, Atmus Filtration Technologies, Warner Music Nashville, Heels & Handshakes, and USPTO/DOC. Registration here.
Sept. 6-10
Psych Congress (HMP Global, Malvern, Pa.) addresses treatment approaches, psychopharmacology, mental health research. Agenda here. Music City Center and live stream. Register here.
Sept. 7-9
NAFER: National Association of Federal Equity Receivers (Hoschton, Ga.). Think, e.g., of the Silicon Valley Bank turmoil. Registration. Resources: 1 | 2
Sept. 13-14, Sept. 14-15
AHIP 2023 (1) Consumer Experience & Digital Health Forum (2) AHIP 2023 State Issues Retreat - America's Health Insurance Plans (Washington, D.C.) Music City Center.
Sept. 18
Inaugural seminar of Vanderbilt Center for Research on Inequality and Health -- Understanding LGBTQ+ Youth in Times of Change, featuring Stephen Russell, director of the School of Human Ecology at University of Texas, Austin. Details and registration (open to community).
Sept. 18-19
Nashville Health Care Council Kickoff Day 1 + Finance & Innovation Day 2, Country Music Hall of Fame. Includes a dozen compelling sessions over two days. Landing page here.
Sept. 18-21
2023 Crowe Healthcare Summit. Renaissance Nashville. More info here.
Sept. 19-21
3686 Festival of Launch Tennessee (Tennessee Technology Development Corp.), venue: Wildhorse Saloon. Very Robust plans for of 50+ Speakers showing as of Aug. 28, including entrepreneurs, VC/PEs, government officials, advisors and others. Supporting partners: Pinnacle Financial Partners; Vanderbilt University. Having recovered its pre-COVID strengthen, and then some, the design of this 10th event in the series seems to signal, a priori, that 3686 is becoming a super-regional destination event, with aspirations for much more. More info here.
Sept. 19-22
2023 Nashville Healthcare Sessions, coordinated Nashville Health Care Council. Country Music Hall of Fame. This and some other events mentioned in this calendar roundup are jointly promoted. They are separate, but "associated" events. More information on the Sessions program here.
Sept. 19
Project Fintech Inaugural Cohort Introduction event, Nashville Entrepreneur Center, No charge, Registration here.
Sept. 19
Women Business Leaders (WBL) in Healthcare, Nashville Health Care Council, City Winery. Details here.
Sept. 20
Healthcare Artificial Intelligence Sessions, Brock Family Center for Applied Innovation, agenda here, free registration here. Speakers and moderators include persons with Blattner Technologies, Ampersand Partners, Annalise-AI, Darvis, Nnference, Unity-Ai, Belmont Data Collaborative, Meharry Medical College, Vanderbilt University, Vanderbilt University Medical Center, et al.
Sept. 20
Health Innovation Day venture showcase, onsite at Nashville Entrepreneur Center, in partnership with Project Healthcare, Nashville Health Care Council, and National Coordinator for Health Innovation Technology (ONC). Virtual registration also available. Details here.
Sept. 21
Project Healthcare, Telehealth Academy III, The Bell Tower 400 4th Ave. S., 7:30a-4:30p. Register here. Topics include industry headwinds, VC/PE views, legislative outlook, sustainable innovation, a fireside chat with an Oracle exec, and more. Both the EC and Project HC are LaunchTN regional partners.
Sept. 21-22
Tennessee Hospital Association (THA) Annual Meeting. THA Members only. Produced by THA and AXIS Medical Education. Events page. Full session details here. Loews Vanderbilt Hotel.
Sept. 26-27
ISSA Middle Tennessee's INFOSEC Nashville Conference 2023, Music City Center. Speakers includes Shark Tank regular Robert Herjavec. Other speakers are drawn from FBI, HCA, Vanderbilt University, ISSA, State of Tennessee, Tend, Medalogix, others.
Sept. 26
CYBERSECURITY for Startups presentation by Bart Holzer, fractional chief security officer, at the Nashville Entrepreneur Center. Free registration here.
Sept. 29
BIOSTATICS: Ethical Healthcare through Innovations in Biostatistics: Advancing Informative Analysis, Data Coordination, Health Equity. 8:30 a.m., Langford Auditorium. Vanderbilt University. Onsite and streamed. Registration page.
Oct. 2-3
ANALYTICS SUMMIT, Nashville Technology Council, venue: Renaissance Nashville. Plenty of AI, Data and more. 40 speakers, including keynoter Asha Saxena.
Post Script: Until the onset of Covid19 disrupted in-person meetings and repeatedly led to event cancellations, etc., we maintained a running VENTURE CALENDAR of regional and statewide events that we found relevant. Please let me know your thoughts on any of this, at any time, via LinkedIn. -Milt Capps
. lasted updated 1138 11 Sept. 2023
---