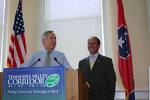 LAST UPDATED 12/23/08 0842 - M2M Chairperson Andrea Loughry told VNC Dec. 22 the theme for the TVC summit here will be "AMERICA COMPETES." On Dec. 23, Tara Marlow of Tech2020 told us TVC's May 27-28, 2009 event will be at Oak Ridge. The story as originally reported:
U.S. Rep. Zach Wamp has made good on his promise to bring a major regional tech-driven economic-development event to Murfreesboro, the heart of U.S. Rep. Bart Gordon's congressional district.
The news provides further impetus for efforts by Murfreesboro-based Mind2Marketplace, a nonprofit group that aims to support technology commercialization throughout Middle Tennessee.

The Oak Ridge-based Tennessee Valley Corridor's Southeast Partnership event is set for November 2009, according to Sandy Ponder, M2M executive director.

Among other things, M2M seeks to leverage Gordon's prominent role as chairman of the U.S. House Science and Technology Committee strengthen federal programs for high-tech initiatives that involve Oak Ridge National Laboratory, acadème and industry throughout the corridor served by TVA. Heretofore, Wamp has been a key congressional champion for support of programs benefiting Oak Ridge, Chattanooga and the corridor.



As reported earlier by VNC, 3rd District Congressman Wamp last summer promised friend and colleague Gordon (left) to use his influence as a co-founder of the Corridor group to bring the event to Murfreesboro.

Gordon and his 6th District were added only last summer to the Corridor's constituent base, 13 years after the group's founding through the impetus of Chattanooga native Wamp.

The event is expected to draw hundreds of the region's state and local economic-development officials, as well as representatives of research-oriented universities, corporations and utilities that are active within TVC's service area, which includes Middle and Eastern Tennessee, Southern and Eastern Kentucky, Northern Alabama and Southwest Virginia.
This year, TVC's fall partnership event was held in Asheville, N.C. A larger event, the TVC Technology Summit is held each spring. The 2009 venue for that event has not been announced. ♦