Thursday, March 31, 2005 (No. 53)
Editor & Publisher Milt Capps
For previous issues or date of next issue, visit the news archive.

Ray Capp
Becomes President
Nashville Technology Council
April 1, 2005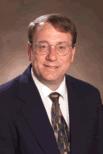 William W. Stead, M.D.
Professor of Medicine
and Biomedical Informatics
Director - Informatics Center
Assoc. Vice Chancellor
for Health Affairs
Vanderbilt University
Medical Center
April 7, 2005



Joel Jensen
In the Spotlight
Finally, Buzz and Spin are dying. Now: Transparency in Technology Communications.