The leaders of two platoons of State economic-development professionals will each face a reckoning in 2010.
Matt Kisber, Gov. Phil Bredesen's commissioner of economic and community development and a former power-wielder in the Tennessee General Assembly, will have almost certainly have relinquished his post before the next governor is sworn-in a year from now.

By then, Kisber may have been fated to watch for months as the General Assembly debates the merits of the budget proposal submitted by Bredesen. Kisber will probably also have watched as the Governor Elect and that person's Cabinet designees appraise the programs and initiatives Kisber will have left in his wake.

During the same span, Eric Cromwell, president and CEO of State-funded Tennessee Technology Development Corporation, will either win fresh funding to secure TTDC's mission, or will be forced to watch as TTDC become a near-zombie, perhaps alive in some fashion, but lurching along, uncertainly.

TTDC went through a similar near-dormant period in the early days of the Bredesen Administration, as Kisber and others in the Bredesen Administration considered directing funds that might have gone to TTDC to another group. The Administration ultimately funded TTDC, under the leadership of Cromwell, who had previously worked for Kisber within ECD.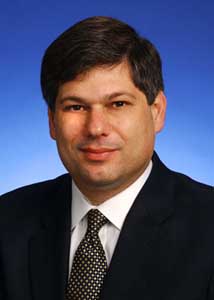 In response to a query for this story, Kisber (at left) told VNC, in part, "We're mindful of the fact that the next Administration may choose to follow many of the initiatives launched under Governor Bredesen or may choose to undertake new initiatives. That's why I'll spend the next year making sure I leave the Department of Economic and Community Development well positioned for my successor to build on our accomplishments. Tennessee has a long-established tradition of both parties working together on economic development and its my intent for that tradition to continue."

Kisber's response to VNC included a promise to explore ways to expand the "momentum" that has been
created "throughout the solar value chain" by Tennessee's successes in recruiting investment by Hemlock Semiconductor (at Clarksville) and Wacker Chemie (in Bradley County). Kisber said he'll "diligently" focus personal attention on the "next steps" required for infrastructure development for the Haywood County megasite and the Solar Farm that is to be colocated there.

In addition, Kisber cited focal-points that include (presented in order chosen by VNC):

► Helping communities "take a new look at their strategic plans in light of the national recession and work with them to develop strategies aimed at expanding entrepreneurship and targeting companies likely to feel the first wave of recovery." At another point in his response, Kisber added, "In tough economic times, its easy for both companies and communities to fall back into old, unproductive habits and we've made great progress in helping communities develop a strategic approach to job creation, but there's still more work to be done.

► Continuing to "execute on our strategy of sustainable job growth and continue to focus on bringing early and mid-stage capital into Tennessee, seizing on advantages in health care, technology, sustainability and logistics." Kisber made that statement without direct reference to the TNInvestco capital-formation program, the expansion of which is likely to require collaboration between Kisber and Cromwell, with Revenue Commissioner Reagan Farr also putting an oar-in.

► Building on "significant progress with new investment from Europe and continue to make inroads in Asia. Our goal for 2010 is to extend the 'Tennessee brand' throughout those regions through our foreign offices and broaden awareness of Tennessee's business climate in the business and investment communities there."

► Continuing "to work with communities to align education resources around the real workforce needs of business and industry..."

► Working with the Tennessee Department of Revenue "to maintain and enhance Tennessee's nationally recognized business climate, [and] working closely with members of the General Assembly to make sure Tennessee retains a high level of competitiveness."



Speaking for TTDC for this story, Cromwell (at left) told VNC that if Tennessee is to "improve the business climate for innovation and job/wealth creation" in 2010 and beyond, TTDC must succeed in capturing "the imagination and engagement" of "powerful leaders" in the executive and legislative branches of state government.

Cromwell said he believes TTDC achieved those ends among executives in the private sector. Now, he said TTDC must demonstrate the relevance of TTDC's transformational economic mission throughout the halls of Legislative Plaza, if it is to win adequate "credibility" and funding. Cromwell has heard from legislators and others that the message must be made clearer.

Cromwell said his "priority focus for 2010" will be "securing the engagement of leadership capital" to support TTDC in its public-service initiatives.

In a series of e-mail exchanges with VNC, Cromwell indicated this translates into recruiting "elite leaders" from "industry leading" corporations and institutions, and winning their support for continued development of "a statewide 'competitiveness agenda' and [for strengthening the] integrated support systems that improve [the state's] business climate for innovation and job/wealth creation."

Cromwell acknowledged, as he has previously, the fact that TTDC's heavy reliance on working via stakeholders within "industry, academic and non-academic research institutions, and state government" requires TTDC to grapple continually with a complex and challenging operating environment, in which it is sometimes difficult at a given point in time to quantify results achieved.

Both Kisber and Cromwell have on several occasions each made clear that TTDC must now demonstrate its progress to date,

if it is to gain further funding to continue its work, given the state's straitened economic and budget circumstances.

During the past two years, TTDC has worked with a pool of about $5 million to advance technology-commercialization, capital formation and entrepreneurial support and development throughout the state. That funding will be largely depleted by July.

Looking ahead, Cromwell said "The importance of effective communication and alignment is all the more important with 2010 being a year of transition and change - [the] end of TTDC's value demonstration project, [the] conclusion of the Bredesen Administration[, the] emergence of new gubernatorial leadership, coming online of at least six TNInvestcos," and other factors.

Cromwell indicated he believes that if remaining barriers to alignment of state resources and objectives can be achieved, the state will be rewarded "with higher rates of job creation and wage growth in the second decade of the 21st Century." ♦
Related Articles